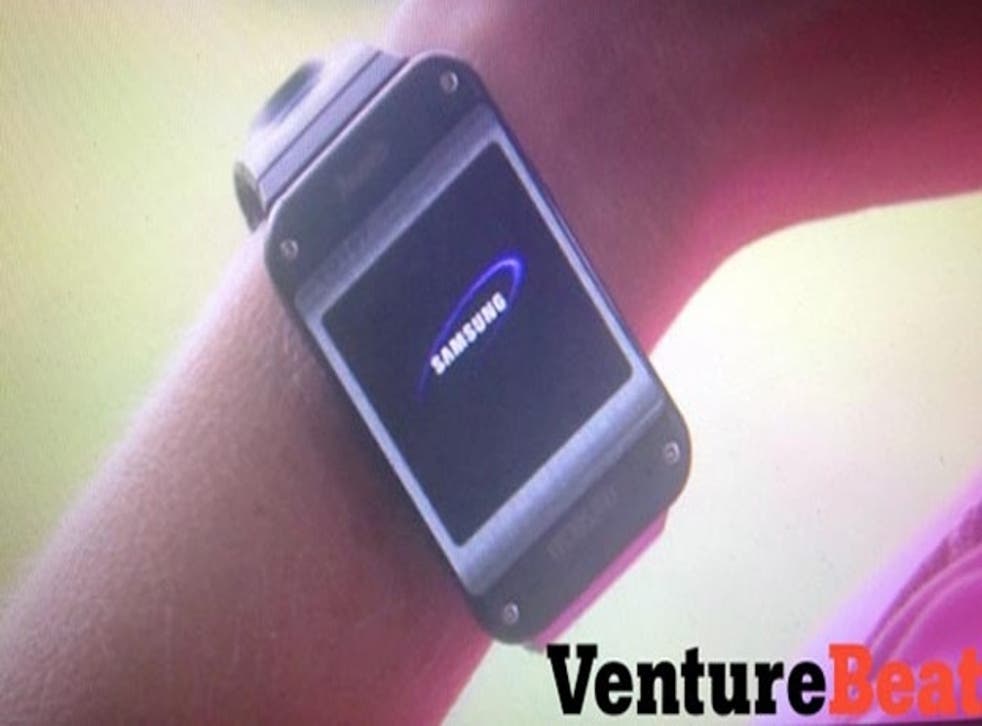 Pictures of Samsung's Galaxy Gear smartwatch leaked ahead of IFA
However, there are contradictory reports as to just what features the device will include.
Leaked pictures of Samsung's forthcoming Galaxy Gear smartwatch have emerged, with the tech world somewhat disappointed by the device's large design. Sources speaking to VentureBeat showed off an alleged Gear prototype with a 2.5-inch screen and a chunky rectangular shape.
However, it's also been noted that Samsung are notoriously security conscious and that the leaked prototype might not be identical to the final product. Om Malik has reported speaking to several industry sources who claim that Samsung has "a different, more finished product" to announce at simultaneous events in New York and Berlin this Wednesday. The Berlin event will be one of the main attractions of the IFA - a long-standing trade show for consumer goods.
The specs of the Gear include Bluetooth and Wi-Fi connectivity, a battery life of 24 hours and a high quality OLED screen. There will reportedly be a camera, microphone and speakers built into the watch's strap and the whole thing will be powered by a dual-core processor, probably offering around 1.5Ghz of processing grunt.
However, it's still unclear exactly where the Gear will be positioned along the spectrum of independent/companion devices. VentureBeat have reported that that device will offer "Wi-Fi for Internet access, including e-mail, even when it's not connected to a smartphone," but GigaOm are claiming that "The device won't have a browser and will need the phone to tether to the Internet."
Similarly, despite the phone's capacity to make phone-calls The Verge are suggesting that the Gear will find mind success by "[appealing] to fans of fitness trackers like the Nike Fuelband and Jawbone Up".
With on an onboard heart-rate monitor and various health-orientated software to track individual's movement and diet, the Gear could certainly function in this capacity, but whether its extra features will be a selling-point or a distraction remains to be seen. All we know is that Samsung will be giving us the full story this Wednesday.
Join our new commenting forum
Join thought-provoking conversations, follow other Independent readers and see their replies