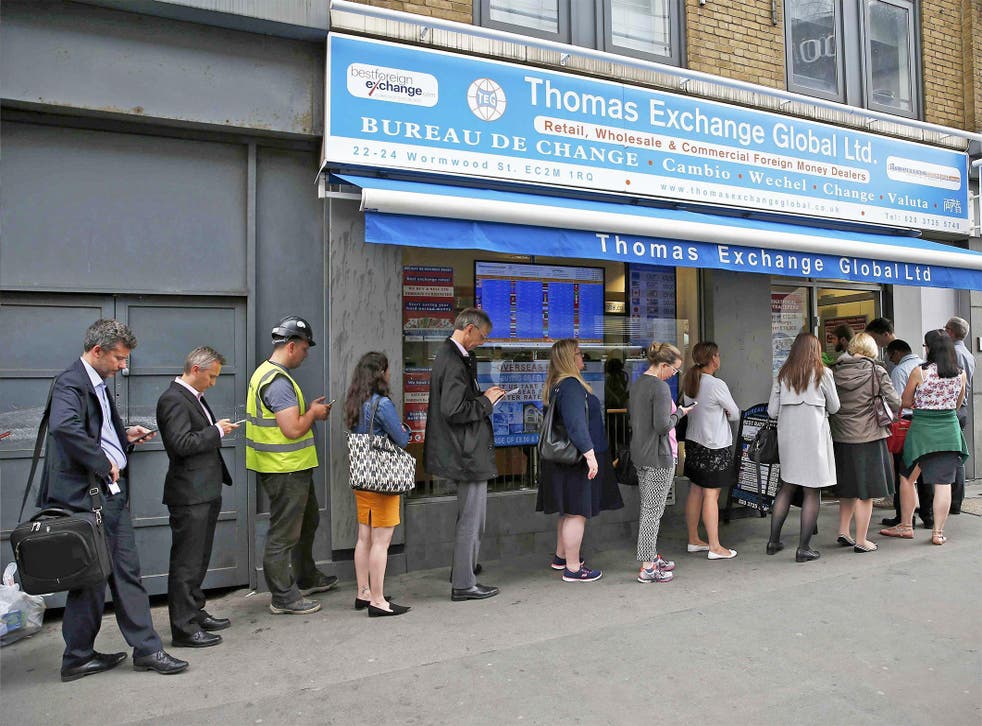 Pound sterling to US dollar conversion sites break as people attempt to find out how poor Brexit has made them
XE.com appeared to have buckled under the strain, as searches for pound sterling rocketed to record highs
Websites are buckling as people try and find out how poor Brexit has made them.
Straight after it became clear British would leave the EU, the value of UK currency plunged as much as 10 per cent amid investor fears about Britain. That means that anyone looking to buy outside of the UK will find their money will go much less far.
But people attempting to work out just how much worse off they were found websites set up to had broken. XE.com – which offers foreign exchange services of all kinds – appeared to have broken as a result of being the top result for people searching the conversion between US dollars and British pound.
EU referendum - in pictures

Show all 18
Those searches rose to historical highs in the wake of the result, alongside a huge rise in searches for "buy gold".
Sterling sank more than 8% against the US dollar on the morning after the vote, falling from 1.50 dollars to 1.36.
6 ways Britain leaving the EU will affect you
Experts said that the fall was "simply unprecedented".
"The pound has fallen off a cliff and the FTSE is now following suit," said Dennis de John, managing director of UFX.com. "Britain's EU referendum has been a cloud hanging over the global economy for the past few months and that cloud has got very dark this morning.
"The markets despise uncertainty, yet that is exactly what they're faced with this morning. The shockwaves are likely to reverberate for some time and the warning lights are flashing brighter now than ever."
At the same time, more than £100 billion was wiped off stock markets. The FTSE 100 Index was down 423.8 points to 5915.7 as the market resembled a sea of red, with banks, housebuilders and travel firms falling sharply.
Join our new commenting forum
Join thought-provoking conversations, follow other Independent readers and see their replies