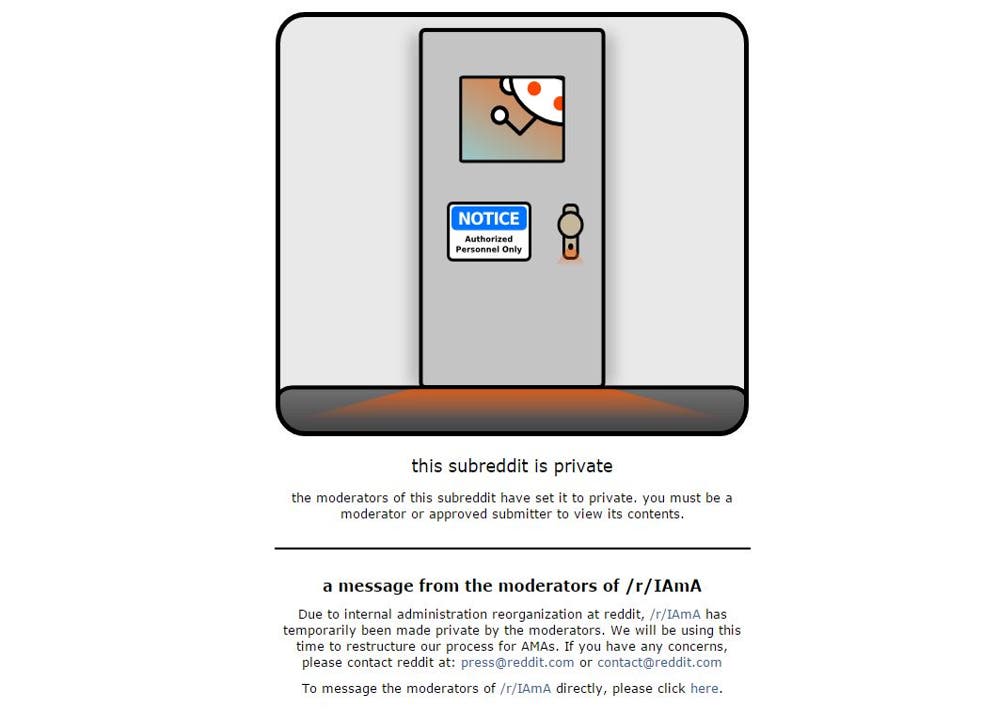 Reddit in revolt: Moderators shut down popular parts of the website in solidarity with fired friend
Victoria Taylor was a key member of the site's Ask Me Anything team
Reddit has been plunged into crisis as several of the site's most popular subreddits have switched to private mode following the unexplained dismissal of Victoria Taylor, a key member of the site's behind-the-scenes team.
Taylor, who was the main facilitator for the site's question-and-answer community 'Ask Me Anything', was fired yesterday, causing all sorts of problems for Reddit's most mainstream offering.
In response, r/IAMA shut itself down — and was joined by other huge communities from Reddit's frontpage including r/videos, r/gaming, r/AskReddit and r/science. It's anyone's guess as to how long the blackout will last.
Taylor was involved in a number of subreddits, for which she organised 'Ask Me Anything' sessions, and her dismissal has left many of them without the know-how or capacity to make them happen, including ones already on the books.
Nallen, a moderator for r/science, said: "I am going to have meaningful problems in the r/Science AMAs; Victoria was the only line of communication with the admins."
And imakuram, a moderator for r/books, said: "We have several AMAs upcoming in r/books and have no idea how to contact the authors."
This is a big deal for the website, because its AMAs are its most high-profile output — among those interviewed by the internet community are President Obama and Bill Gates.
According to the Reddit rumour mill, Taylor's termination was caused by a mess-of-an-AMA with Reverend Jesse Jackson, but Reddit has not given an official reason.
Karmanaut, one of the moderators of r/IAMA, said: "We learned that Victoria was unexpectedly let go from her position with Reddit. We all had the rug ripped out from under us and feel betrayed. Before doing that, the admins really should have at least talked to us."
According to an r/OutOfTheLoop summary of the debacle, though the shutdown was triggered by Taylor's dismissal, it was the culmination of long-simmering tensions between moderators and administrators over respect and communication.
It reads: "There is a feeling among many of the moderators of reddit that the admins do not respect the work that is put in by the thousands of unpaid volunteers who maintain the communities of the 9,656 active subreddits, which they feel is expressed by, among other things, the lack of communication between them and the admins, and their disregard of the thousands of mods who keep reddit's communities going."
Nallen said: "Dropping this on all of us in the AMA sphere feels like an enormous slap to those of us who put in massive amounts of time to bring quality content to reddit."
A statement from r/AskScience, which has not shutdown, is currently number 1 on the Reddit front page: "We wish to spotlight our solidarity with the subreddits that have closed today, whose operations depend critically on timely communication and input from the admins. This post is motivated by the events of today coupled with previous interactions AskScience moderators have had in the past with the reddit staff.
"This is an issue that has been chronically inadequate for moderators of large subreddits reaching out to the admins over the years. Reddit is a great site with an even more amazing community, however it is frustrating to volunteer time to run a large subreddit and have questions go unacknowledged by the people running the site."
The only response from admins reads: "We get that losing Victoria has a significant impact on the way you manage your community. I'd really like to understand how we can help solve these problems, because I know r/IAMA thrived before her and will thrive after.
"We're prepared to help coordinate and schedule AMAs. I've got the inbound coming through my inbox right now and many of the people who come on to do AMAs are excited to do them without assistance (most recently, the noteworthy Channing Tatum AMA)."
Update: The controversy has put fresh pressure on CEO Ellen Pao. A petition for her to step down - which was started three weeks ago - has now received nearly 14,000 signatures.
Join our new commenting forum
Join thought-provoking conversations, follow other Independent readers and see their replies