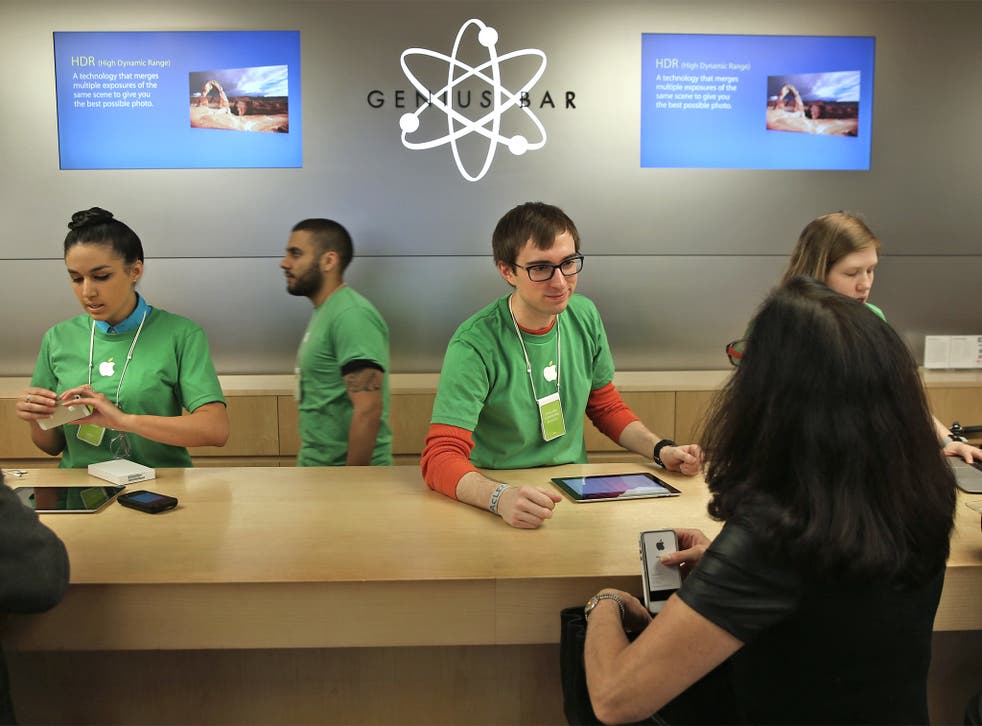 Rotten Apple? British public loses faith with tech giant's retail arm
Have we fallen out of love with Apple? Shoppers have certainly lost faith with the technology giant's high street stores. They have slumped from being our favourite shop to falling out of the top 10, according to the latest annual high street survey from consumer group Which?
In a double whammy of disaster for the firm, Google has today overtaken Apple as the World's Most Valuable Brand, according to BrandZ Top 100 Global Brands.
After three years at the top, Apple slipped to number two on the back of a 20 per cent decline in brand value, to $148 billion. Apple's problem is the growing perception that it is no longer redefining technology for consumers, reflected by a lack of dramatic new product launches since the iconic iPad appeared back in 2010.
But among UK shoppers, the company's stores have fallen from favour after customers complained about the difficulty of booking an appointment with its Genius Bar service, which helps consumers with technical problems.
There's a general feeling that there's no point in offering the service if it is seemingly unavailable. Anecdotally, some Apple users report annoyance at staff who are perceived to be self-regarding hipsters happy to have the chance to patronise uninformed punters.
The company has already taken steps to address its retail challenge by recruiting the woman who turned around the fortune of Burberry. Angela Ahrendts rescued the brand and turned it into a global luxury favourite.
She began her new job this month and her major task is a revamp of the Apple Store sales experience at the firm's 424 shops in 16 countries.
Early reports suggest she wants to redesign the total experience, right from the point in which a customer finds a product, to how they discuss it with employees, even to how they pay for it.
And that won't be before time, if Which?'s survey of 12,500 consumers is to be believed.
Apple has become a victim of its own success. It effectively broke the retail mould a decade ago when it opened its flagship Regents Street store in London. Since then fans have been happy to be seen queueing around the block for new products or even updates of old ones.
But that cultish love affair is ending as customer service issues take precedence over the attractiveness of the company's hardware.
Which? editor Richard Headland, said: "We've seen time and again that people won't settle for bad customer service. Stores giving people the care and attention they want have happy customers who return."
That's a lesson that Apple seemingly needs to learn all over again. And the firm it can take lessons from in the UK is cosmetics chain Lush, which was voted favourite shop in the Which? survey. Customers praised the "personal" aspect of its attentive customer service and staff were described as "friendly" and "helpful".
No mention, you notice, of "sneering hipsters".
Meanwhile spare a thought for poor old WH Smith. It came last in the survey for the second year in a row, with shoppers complaining of "crowded stores with limited stock". When Henry Walton Smith started the business in Little Grosvenor Street in London in 1792 he couldn't have envisaged the heights the chain climbed, and the depths to which it then fell.
Around the corner in Regent Street there're lessons to be learned that that, too.
Top 20 shops: How they rated
1 Lush (83%)
2 Disney Store (82%)
3 Richer Sounds (81%)
4 John Lewis (80%)
5 Waterstones (80%)
6= Clarks (79%)
6= JoJo Maman Bébé (79%)
6= Lakeland (79%)
6= Screwfix (79%)
10 White Stuff (78%)
11= Bonmarché (77%)
11= The Perfume Shop (77%)
13 Apple (76%)
14= Independent electricals (75%)
14= Jones Bootmaker (75%)
14= Maplin (75%)
14= Sony Centre (75%)
18 Dunelm Mill (74%)
19 Wilkinson (74%)
20= Early Learning Centre (73%)
20= The Body Shop (73%)
Join our new commenting forum
Join thought-provoking conversations, follow other Independent readers and see their replies