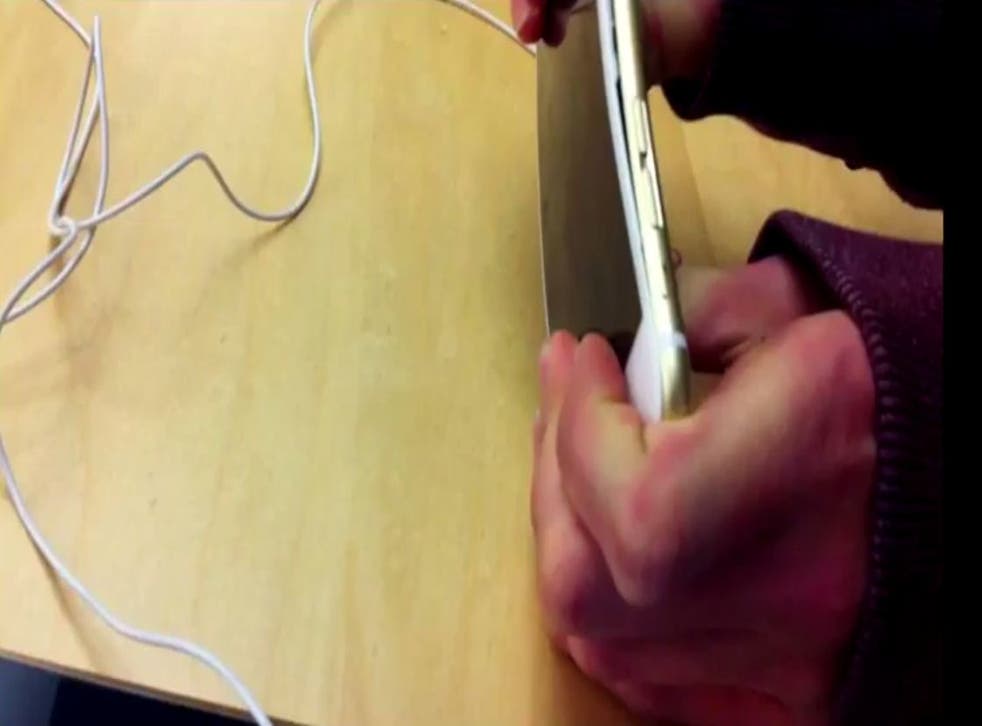 iPhone 6 bending: Teenagers film themselves going into Apple store to test 'Bendgate' reports
Teenagers say they wanted to test whether reports of phones bending were true
Two teenagers have filmed themselves going into an Apple store, bending an iPhone 6 Plus until the screen pops out and leaving before they're caught.
The pair are seen on camera at the start of the footage claiming that they want to test reports that the new iPhone 6 Plus can be bent out of shape when it is put in people's pockets for long periods of time.
'Bend gate', as it has become known, has marred the launch of Apple's latest smartphone.
The boys, whose behaviour shouldn't be condoned, claim that Apple had dismissed the reports too easily.
On shaky footage (filmed on an iPhone 4), they can be seen going into an Apple store in the UK to bend an iPhone 6 Plus that is on display.
They succeed, with enough force, causing the screen to be popped out before then quizzing an Apple employee as to whether the 'Bendgate' reports were true. They claim the employee replies that reports of the bending were an "online rumour".
iOS 8: The nine best features

Show all 9
At the end of the clip, one of the teenagers tells the audience: "We were in the Apple store bending and breaking their iPhone, which I'm guessing is like criminal damage or something, I guess. I don't even care to be honest because it's Apple's fault – they're kind of false advertising saying it's the best iPhone but clearly it's not if it can bend in your hands and pocket."
Apple have yet to respond to The Independent for comment.
Join our new commenting forum
Join thought-provoking conversations, follow other Independent readers and see their replies