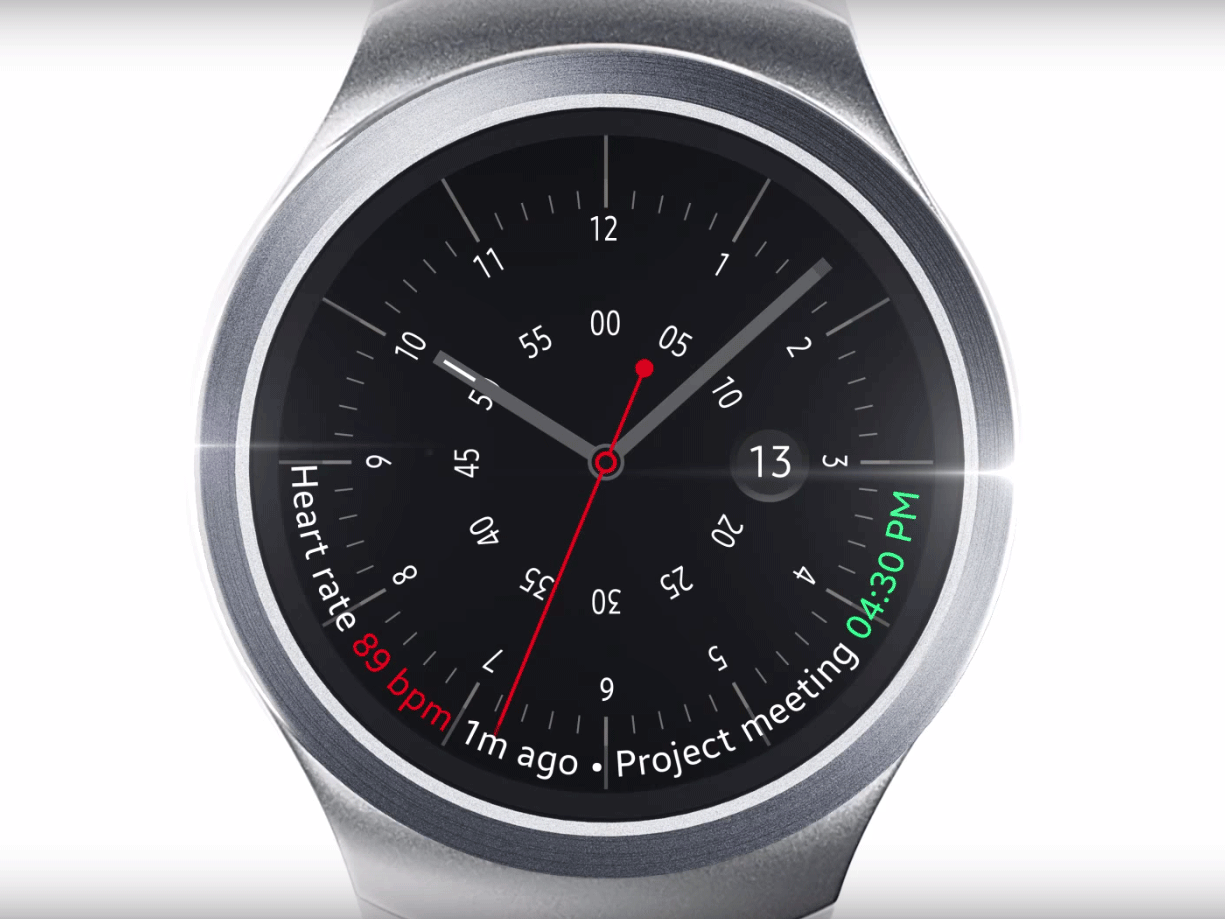 Samsung Gear S2 smartwatch: Samsung releases teaser for its answer to the Apple Watch
The round smartwatch looks like it will be partly controlled through a rotating bezel
Much was made of Samsung's announcement of the Galaxy Note 5 and the Galaxy S6 Edge+ at a New York conference last week, but the company also released a short teaser for their answer to the Apple Watch - the Samsung Gear S2.
The previous iteration of this watch was the Gear S - a fairly bulky device with a curved screen, that was more a small smartphone that attached to your wrist than a real smartwatch.
However, based on the teaser, the S2 looks much, much more elegant.
It actually looks like a real watch, with a circular face and a metal case and band - which may be optional, as it is with the Apple Watch.
The interface looks much better too, since it's actually optimised to make the most of the device - rather than simply being a shrunken phone as the Gear S was.
The teaser doesn't give too much away, but the features look pretty standard - so far, we've seen a weather service, some nice-looking maps, fitness features (including a heart monitor), and naturally, messaging and calling.
There's plenty of great-looking watchface designs as well - based on the trailer, the whole thing, from the design to the operation, looks fairly slick and minimalist.
One watchface option is a classic 3-hand design, but with small notifications around the bottom edge - in the video, it shows the user's heart rate and an upcoming meeting.
It'll be interesting to see how the Gear S2 works with messaging - despite the Gear S's size, it did have a small qwerty keyboard built it. It'll be interesting to see how texting works on the new version.
Unfortunately, the trailer just show the watch on its own, without an arm for scale, so there's no way of knowing yet how big it's going to be.
But in a very exciting development, the company has hinted very strongly that the Gear S2 will be controlled partly through a rotating bezel (that's the metal bit around the watch face).
The video shows lots of 'turning' animations around the side of the face, and the video's description on YouTube reads: "What's next is circular. The new Samsung Gear S2 is coming. Ready to turn."
The digital crown on the side of the Apple Watch has been praised for its ease of use, so a well-done rotating bezel could potentially make this watch a must-have.
There were speculations that Samsung's new smartwatch would have this feature as far back as May, and now the company has all but confirmed it.
At any rate, the trailer doesn't give too much away. We don't yet know anything about the size, the specific features, and most importantly, the price.
However, it does finish with the words: "Berlin 09.03.2015".
So hopefully we'll know more about this great-looking smartwatch in a couple of weeks.
Join our new commenting forum
Join thought-provoking conversations, follow other Independent readers and see their replies