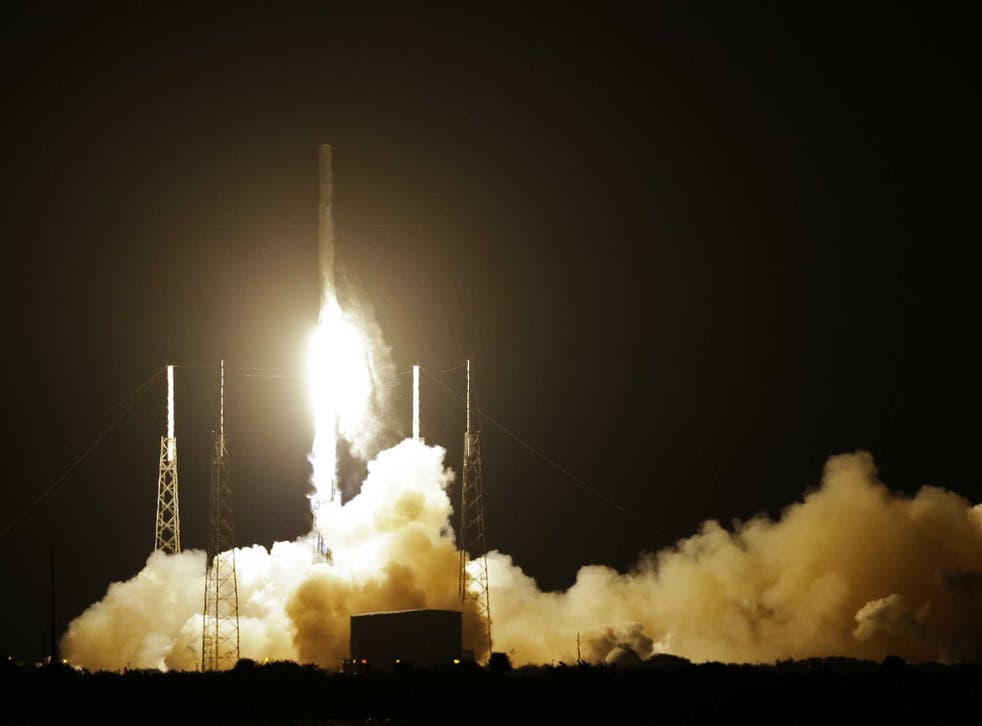 SpaceX's Falcon 9 rocket deploys cargo to ISS but fails to make a successful 'soft landing' on return to earth
Founder Elon Musk tweeted the landing was 'Close, but no cigar this time'
Rose Troup Buchanan
Saturday 10 January 2015 11:41 Comments
SpaceX's uncrewed Falcon 9 rocket has landed "hard" having detached supplies for the International Space Station (ISS) and after a delayed launch.
The Falcon 9 took off this morning at 9.47GMT, after being delayed because of a problem with its "thrust vector control actuator", and successfully detached more than 5,000 pounds of cargo and scientific instruments for ISS in its Dragon module.
Founder of SpaceX Elon Musk tweeted during the successful take-off and return to earth, writing: "Rocket made it to drone spaceport ship, but landed hard. Close, but no cigar this time. Bodes well for the future tho."
Mr Musk also implied that the rocket had fractured on returning, adding in another tweet: "Will piece it together from telemetry and … actual pieces."
The unprecedented 'soft' landing was acknowledged to be the hardest stage of the rocket's journey: SpaceX planned to bring the 70ft wide, 14 stories tall rocket down on an ocean platform just 300ft across and 100ft wide, 200 miles east of Jacksonville, Florida.
The company compared the attempt to balancing "a rubber broomstick on your hand in the middle of a wind storm," according to The Verge.
Falcon 9 appears to be relatively "fine" condition according to Mr Musk, but he also tweeted that: "Some of the support equipment on the deck will need to be replaced."
Register for free to continue reading
Registration is a free and easy way to support our truly independent journalism
By registering, you will also enjoy limited access to Premium articles, exclusive newsletters, commenting, and virtual events with our leading journalists
Already have an account? sign in
Join our new commenting forum
Join thought-provoking conversations, follow other Independent readers and see their replies