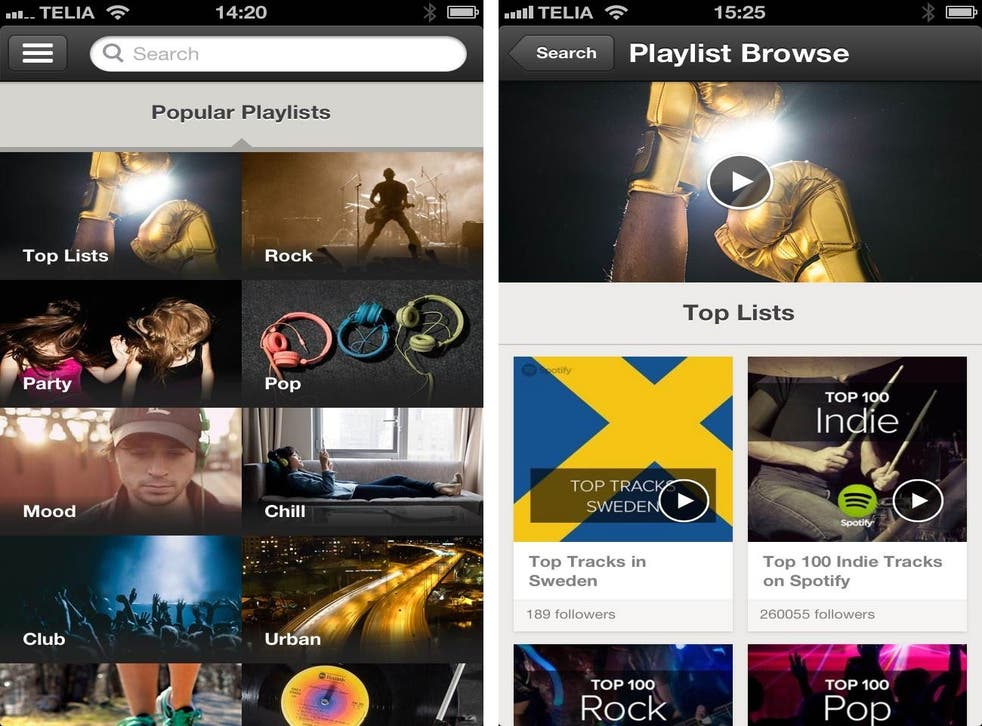 Spotify's Browse adds handpicked playlists for that 'human touch'
New additions to the music streaming site hope to differentiate Spotify in an increasingly hectic marketplace
James Vincent
Monday 05 August 2013 18:11 Comments
Music-streaming service Spotify is continuing to broaden its functionality by adding a new feature called Browse that curates playlists "for every moment of your day, handpicked by our experts."
The playlists will be handpicked by Spotify's staff and will promise suitable accompaniment for different events in your day ('the party tonight, the hangover tomorrow') as well as for different moods.
The new service will be gradually rolling out for iOS and Android devices and will be set to complement the streaming service's Discover function which offers music recommendations to users based on past listening habits and other algorithmically-scrubbed data.
Spotify hopes that Browse will add a "human touch" to the service with chief product officer Gustav Söderström saying: "We don't rely on one source for recommendations in real life - and music discovery can't be one dimensional."
The update will also include changes to simplify and expand Spotify's messaging system, again, adding social functionality to a product that started life as simply a searchable music library.
The changes are part of a larger groundswell of support from investors and tech companies in music streaming services. During their 2013 developers' conference Apple announced the launch of iTunes Radio, a free streaming service supported by ads, and back in May Google launched Google Play Music All Access, offering a free 30 day trial before charging users $9.99 a month for access.
However, despite the interest from various companies, it's still not sure whether the shift in the digital music industry from ownership to access is sustainable. Spotify and Pandora both operate at a loss (€58.7m and $16.1m respectively in 2012) despite increasing revenues, and there are bitter running battles between artists and license-holders about royalties.
Thom Yorke has been amongst the high profile dissenters, arguing that despite Spotify paying out 70 per cent of all its revenue to artists the service still doesn't offer enough support to new artists.
And it isn't just Spotify and Pandora swimming alongside sharks like Google and Apple - there's also Rdio, Deezer, LastFM and forthcoming service from headphone-makers Beats.
Despite the attempts by companies like Spotify to differentiate themselves with more social functionality and music-discovery features, there just seem to be too many similar services on the market. Until a few players establish dominance (or work out a better revenue system) it seems unlikely that Thom Yorke, or the new artists he speaks in defense of, will be satisfied.
Register for free to continue reading
Registration is a free and easy way to support our truly independent journalism
By registering, you will also enjoy limited access to Premium articles, exclusive newsletters, commenting, and virtual events with our leading journalists
Already have an account? sign in
Join our new commenting forum
Join thought-provoking conversations, follow other Independent readers and see their replies