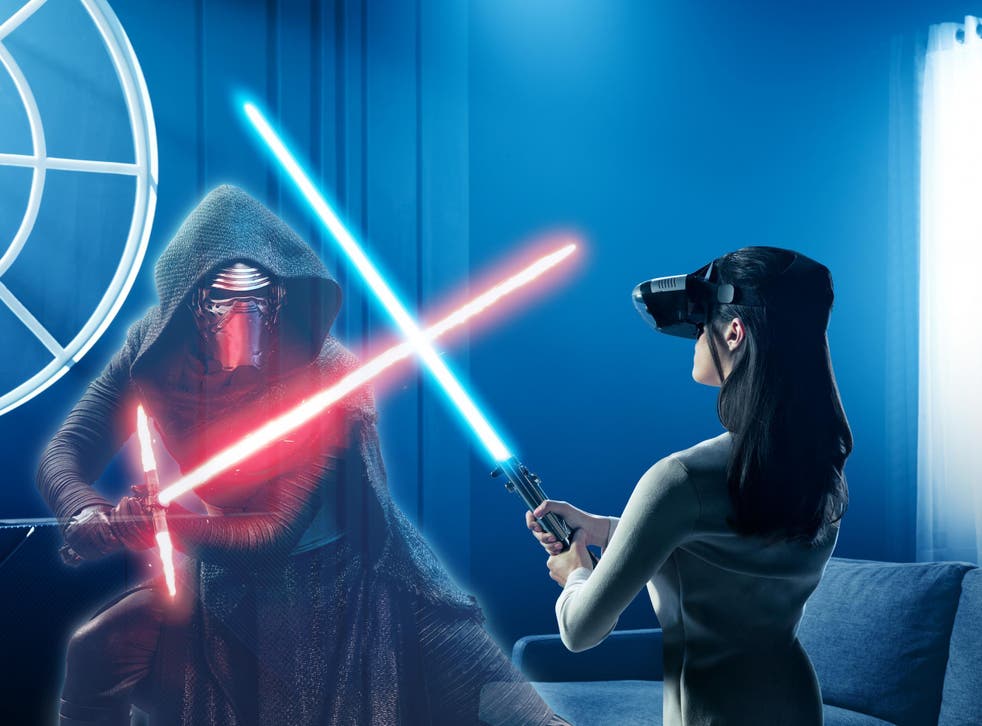 Star Wars: Jedi Challenges is the lightsaber game every fan has been waiting for
Invite Darth Vader into your living room and fight him
Lenovo and Disney have unveiled Star Wars: Jedi Challenges, an augmented reality game that's likely to prove extremely popular when it comes out just before Christmas.
You can battle the likes of Darth Vader and Kylo Ren with your own lightsaber, right in your living room.
I got to try a demo version of the game at the IFA 2017 technology conference, and it was incredibly fun.
Star Wars: Jedi Challenges augmented reality game

Show all 10
First though, the hardware and software. In order to play, you need to purchase Lenovo's smartphone-powered Mirage AR headset, a Tracking Beacon and, of course, a lightsaber controller.
You also need to have a compatible phone, with enough power to run the game properly.
The iPhone 7 Plus, iPhone 7, iPhone 6S Plus, iPhone 6S, Samsung Galaxy S8, Samsung Galaxy S7 Edge, Samsung Galaxy S7, Google Pixel XL, Google Pixel and Moto Z have all been confirmed to work with the app, but more handsets will be added to that list.
Once you've downloaded the Star Wars: Jedi Challenges app to your phone, you can slot it into the headset.
It's a chunky piece of kit, but is light enough, at 470g, to feel comfortable. Lenovo says it's designed for 13-year-olds and above.
It pairs with the lightsaber controller, a delightfully geeky device that's said to be modelled after the one used by the likes of Anakin Skywalker, Luke Skywalker and Rey.
It also hooks up to the Tracking Beacon, which sits on the floor and allows the Mirage headset, which has two built-in fisheye sensors, to track your movements as you play.
And you absolutely will move. As the Mirage is an AR headset, you can still see the real-world objects around you as you play, but we'd recommend clearing the area of any clutter before getting started.
I went head-to-head with a digital version of Kylo Ren – Darth Vader is another opponent you can take on – who kept me on my toes by constantly retreating and advancing.
Prompts that appear on the display show you where to point your lightsaber in order to block his attacks, and the haptic feedback you feel when you time your move just right is very satisfying.
It's even better when you actually get a strike in, but you absolutely can't be afraid of looking like an uncoordinated idiot.
The entire experience takes a moment to get used to, but once you're in the zone it's wonderfully enjoyable. I was cautious at first, backing off whenever he lunged at me, but when I got into it I really got into it.
The people watching me play were brutally honest about how woefully un-Jedi-like my technique was, and how pathetic my numerous squeals of surprise, fear and joy were. I thought they were exaggerating until I saw the pictures afterwards.
Despite being a lousy fighter, I eventually defeated my foe. Fortunately, Lenovo assures me that tougher levels will be available.
You can also play Holochess, where you control holographic alien board game characters, and Strategic Combat, where you "marshal the forces of the Republic, Rebel Alliance, and Resistance against the might of the Separatists, Empire, and First Order", but I haven't been able to try those out yet.
The Star Wars: Jedi Challenges kit is available to pre-order now, and will begin shipping in November, just in time for Christmas. At $199.99, it's not exactly cheap, but isn't ludicrously expensive either.
If you're a wannabe Jedi, we couldn't recommend it enough. It's the game every Star Wars fan needs to try.
Join our new commenting forum
Join thought-provoking conversations, follow other Independent readers and see their replies