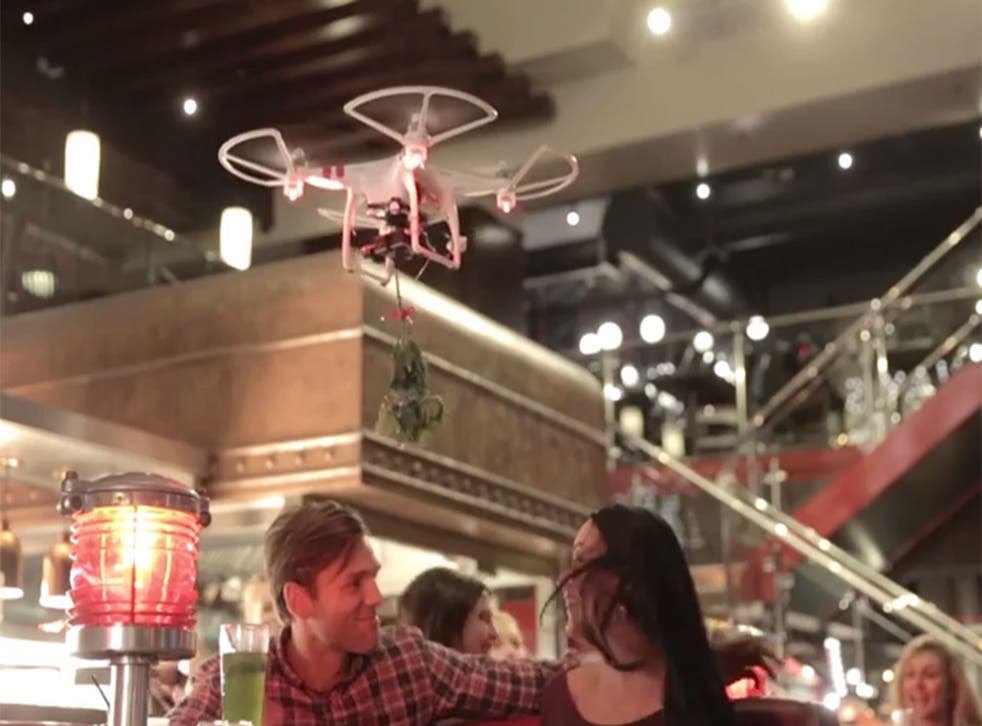 TGI Friday drone crashes into woman's face and cuts it open in restaurant
Drones carry mistletoe and kiss cams to pressure couples into kissing
One of the mistletoe-carrying drones that are being flown around TGI Friday's restaurants has collided with a woman's face, cutting open her nose.
One of the drones — which were brought to the UK in November — crashed into photojournalist Georgine Benvenuto's face at an event intended to show off the new kit in New York.
Benvenuto told Brooklyn Daily: "I've done some crime scene reporting. I survived 9/11. I didn't get a scratch on any of those assignments. This is bizarre to go into a restaurant and come out injured."
TGI Friday's didn't acknowledge the injury, according to reports, and "dismissed concerns about further injuries.
The crash came as the drone's operator was trying to show a reporter that it could land on her hand, according to NYMag.
It kind of landed, but it did something to her hand — I don't know whether it was buzzing or what — but she flinched," Benvenuto told the magazine. And when she flinched, I was standing maybe a foot away from her, and this smaller toy drone for children flies into my face at that point.
"It was like I couldn't get it off because I guess the mistletoe part had fishing wire on it — that's how it was attached — and it got caught in my hair and it kept twirling and twirling and twirling while this thing is on my nose.
"That's how it ended up cutting me under the chin, I think it had four blades."
Drones designed for use indoors are supposed to have guards covering the blades, which protects the device itself as well as anyone or anything it crashes into. But TGI Friday's two-foot-wide drones don't have that, leaving the blades exposed.
TGI Friday's introduced the drone to the restaurant in Manchester's Royal Exchange in November, and said then that it planned to roll them out elsewhere in the country afterwards.
It is fitted with a piece of mistletoe and a camera with a flash, which is intended to allow its operator to fly it over diners and take pictures of them kissing.
Join our new commenting forum
Join thought-provoking conversations, follow other Independent readers and see their replies