Donald Trump criticised for Britain First retweets
Britain First: What is the group that Trump retweeted, and who is Jayda Fransen?
Donald Trump has retweeted numerous tweets from Jayda Fransen, the deputy leader of far-right group Britain First.
The inflammatory posts – one of which appeared to show footage of a boy being killed, and the moment of his death – were apparently endorsed by the President, who retweeted three of them in a row.
To many of his 45 million followers, neither of those names may seem familiar. But to those in the UK, they are well known: Britain First is a now notorious group that has been accused of helping spread Islamophobic and racist content across the internet.
The three posts that the President posted were much in the vein of the work the group usually does. They depicted people who the group claimed were migrants involved in various crimes – and used them to implicitly blame all Muslims for the behaviour.
Britain First: the far-right group in pictures

Show all 15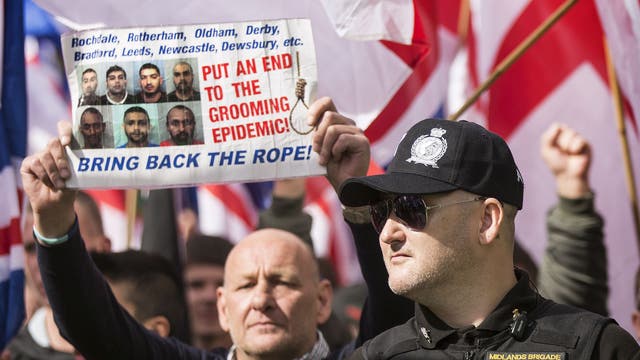 That Islamophobia is just one of the various controversial views that have been espoused by Ms Fransen, who Mr Trump repeatedly retweeted. The group has also called for the restoration of public hanging as a punishment, and members have given their support to religious war in the UK.
Their work has also extended into direct action. Those have included so-called "Christian patrols", in which members walk the street hunting people who appear to be Muslim, and forcing entry into mosques to distribute inflammatory propaganda.
But like many of Britain First's posts, the three posts shared by the President were entirely shorn of context and information. It isn't clear that any of the posts actually depict what is claimed – and many of them have disturbing context that has been removed from the tweets.
They appear to have been selected from a range of posts on Ms Fransen's Twitter page. She spends much of the day posting inflammatory videos and images – and Mr Trump appeared to have selected three out of a variety of numerous posts on that page.
Such posts have made the group very popular on social media among the British far right.
For a long time, the group – which calls itself a political party, though has nobody representing it in any public office – bragged about the huge reach of its Facebook page. In 2015, for instance, it claimed to be the first political party to have reached one million likes on Facebook.
The reach of that page was spread with such videos. Many of them depicted explicitly Islamophobic content and received huge numbers of likes and views, which spread the posts quickly across the site.
But since then the page has run into controversy and problems. That has led to the reach of the group's posts dropping, and it now only has a million followers.
The far-right group has celebrated the fact that Mr Trump has shared the posts.
"THE PRESIDENT OF THE UNITED STATES, DONALD TRUMP, HAS RETWEETED THREE OF DEPUTY LEADER JAYDA FRANSEN'S TWITTER VIDEOS!" it wrote on its official page. "DONALD TRUMP HIMSELF HAS RETWEETED THESE VIDEOS AND HAS AROUND 44 MILLION FOLLOWERS! GOD BLESS YOU TRUMP! GOD BLESS AMERICA!"
But even some people who have previously supported the President took issue with Mr Trump's retweet. "Yeah, someone might want to tell whoever is running Trump's Twitter account this morning that retweeting Britain First is not great optics," wrote Paul Joseph Watson, an editor at Infowars and a popular right-wing YouTuber.
And Brendan Cox, whose wife Jo was killed in an attack by a far-right extremist last year, said that the President's tweet was an attempt to promote the far-right.
|Trump has legitimised the far right in his own country, now he's trying to do it in ours," he wrote. "Spreading hatred has consequences & the President should be ashamed of himself."
Join our new commenting forum
Join thought-provoking conversations, follow other Independent readers and see their replies