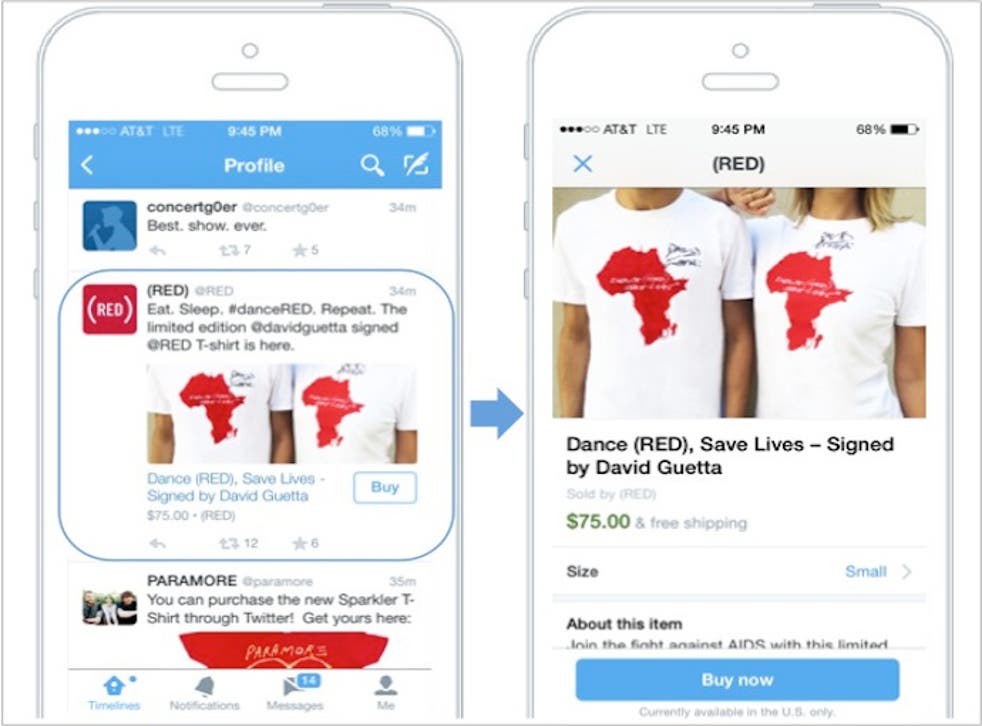 Twitter launches 'buy' button for US tests ahead of expected worldwide roll-out
Social media giant will allow users to purchase products directly on their site in just a few clicks
Twitter has announced the long-awaited launch of its new "buy" button, allowing users to purchase products directly from their social media feeds.
The function, which marks the first major step in Twitter's new e-commerce strategy, will be phased in slowly. Though the initiative is launched today, only a small group of brands, artists and charities will feature and it will only be available to a trial group of US users.
"In our test, an entire purchase can be completed in just a few taps," Twitter said in a blog post. "After tapping the 'buy' button, you will get additional product details and be prompted to enter your shipping and payment information. Once that's entered and confirmed, your order information is sent to the merchant for delivery."
It describes the "buy" button as "an early step in our building functionality into Twitter to make shopping from mobile devices convenient and easy, hopefully even fun."
A new Twitter e-commerce product has been in the making since the company recruited former Ticketmaster CEO Nathan Hubbard to lead its commerce team.
It then started recruiting other commerce specialists, and mock-ups on the "buy" button were leaked online.
The test is starting out on mobile, though the company plans to integrate it into the desktop version as well.
Twitter is partnering with a handful of companies to develop the concept, including the social shopping company Fancy, digital content seller Gumroad, fan commerce company Musictoday and payments company Stripe.
The first brands to be sold on Twitter will range from music by Pharrell to products from Burberry and the non-profit company RED.
Gumroad CEO Sahil Lavingia told Recode that Twitter has been looking at commerce features for more than a year: "It was more like a when, not if, question for them."
Join our new commenting forum
Join thought-provoking conversations, follow other Independent readers and see their replies