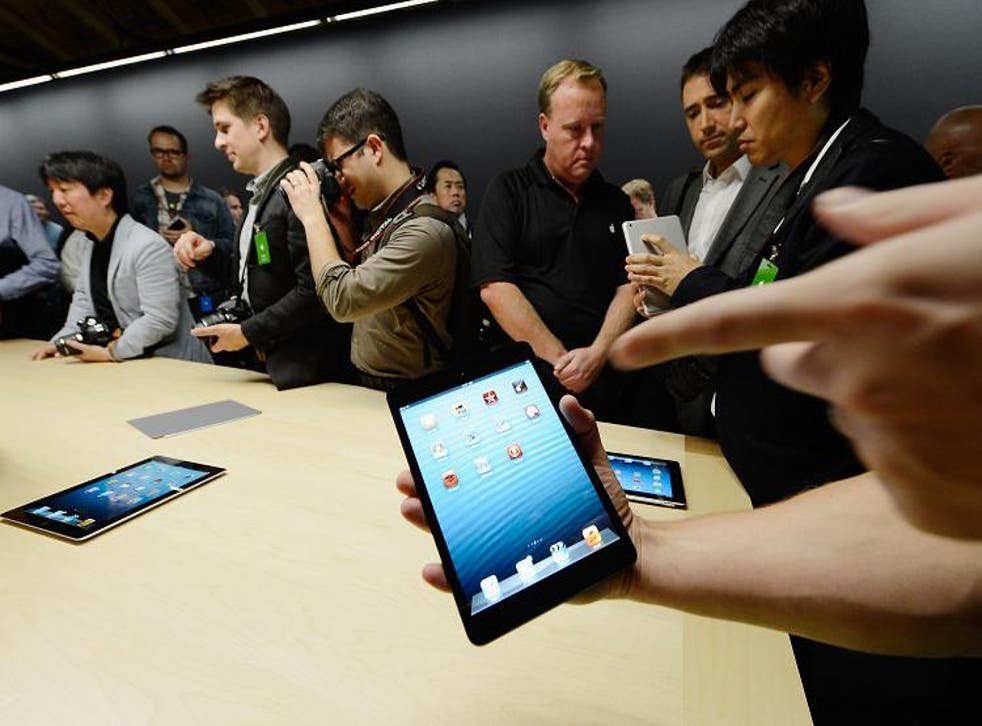 We put Apple's new iPad mini to the test - and no wonder it costs more than other small-screened tablets
It goes on sale this Friday. David Phelan tested it extensively to bring you our definitive review
The iPad mini, Apple's first tablet to feature a smaller display, is very light. So light that when I picked up the box it crossed my mind there was no iPad mini inside, just a charger plug, cable and, you know, gubbins.
But there it was nestled into the lid. Lightness, of course, is one of the elements Apple designed it for because some people had found the full-size iPad too heavy for extended use. Especially if that use is focused on reading electronic books. It's not as light as a monochrome ebook reader like the Amazon Kindle Paperwhite, but it beats the other 7in colour-screen tablet contenders.
It's these rivals, the Google Nexus 7 and the Amazon Kindle Fire HD, that Apple built the iPad mini to address. After all, they are both selling well. Apple set its eyes on those smaller-tablet dollars.
So being lighter than these rivals is a big deal. If you're going to hold an ebook, the lighter the better. And the iPad mini is thin, too, way thinner than the Nexus or Fire HD.
Looks are a matter of personal taste, but the iPad mini, I'd say, is pretty spiffy. Where rivals are glass and ridged plastic, Apple's model is glass and aluminium. Choose the black version and the back is a dark, smokey colour while the fashion-forward white edition has a lighter, silvery back. It is far and away the glitziest small-screen tablet with exceptional build quality and rich details like the chamfered edges that give the frame a pleasing finish. This is a high-end gadget.
The iPad mini beats its rivals in another way: the bezel that frames the iPad mini screen is very narrow. On the Kindle Fire HD it's pretty wide. There's good reason for this: if your thumb rests on a touchscreen the tablet thinks you're turning the page or highlighting text or something.
So the iPad mini – in one of the killer innovations of this gadget – has something called thumb rejection. This tells the software that if it senses a press on the edge of the screen that's not really moving, that it's safe to ignore it. This is a brilliant solution that Apple has implemented perfectly. Regular iPad users will be glad to know that this software feature is now on full-sized iPads, too. Which, fingers crossed, may mean that future iPads have wafer-thin bezels, too…
The thin bezel makes the mini look better because it's nearly all screen and means the display can be 7.9in against rivals' 7in (which Apple claims results in 35 per cent more screen). It's still a good size in the hand, mind. It's narrow enough to be a comfy fit in all but the smallest of adult hands.
The iPad mini doesn't beat its rivals in every specification, note. The screen resolution, for instance, is higher on the Nexus 7 and Fire HD. Both manage 216 pixels per inch, while Apple's screen is just 162ppi. Amazon's screen is the best of the three, with a bright colour palette.
But in most usage, the iPad mini display is way more than good enough. It makes video playback look tremendous and you can zoom in on widescreen movies so they fill the screen – something Amazon's LoveFilm app doesn't permit. Open iBooks or the iPad Kindle app and the display makes print look sharp, crisp and highly readable.
After all, this new machine's screen has crammed all the pixels from the iPad 2 into a smaller space, so of course it's sharper, and few people complained about the iPad 2 screen being less than attractive.
In fact, the main way the iPad mini is wanting comes when you look at iPhone apps – ones that haven't been optimised for iPad. They either sit in the middle of the screen in window that looks weirdly smaller than the iPhone or if you expand them to fill most of the display, look decidedly blocky.
True, many more apps are optimised for iPad than on Android phones, but you really want to avoid these phone-only apps if you can.
The new machine uses the same processor as the bigger, older, pricier iPad 2. It's effective, with no hint of slowdown whatever you're doing. But in other ways the mini beats the iPad 2. The rear camera is 5 megapixels with a wide open f/2.4 aperture, so it's good for still shots as well as video. Of course, it's a flat piece of metal so ergonomically not good for photography, but it manages snaps capably (though it lacks the Panorama effect of the latest iPhone and iPad). Note that neither the Kindle Fire HD nor the Nexus 7 has a rear camera at all.
And the mini has Siri, Apple's occasionally erratic but largely delightful voice recognition personal assistant, which the iPad 2 lacks. Oh, and if you plump for a "wi-fi and cellular version", you can get the blisteringly fast 4G LTE speeds promised by EE when its network goes live this week.
If all this makes the iPad mini a no-brainer of a purchase, it very nearly is. The only other reason to pause is the price. On Friday, a wi-fi only iPad mini with 16GB of storage will cost £269. That's exactly £100 more than a similar Google Nexus 7. Actually this is thanks to a £30 price drop announced on Monday which will leave those who bought last week fuming (though, please note, Apple customers who bought the iPad last week may have had a similar experience now the fourth-generation iPad, with a better processor but an unchanged price).
The Fire HD is even better value: £159, though you do have to accept adverts on the lock screen or pay £10 to make them vanish.
So, really, why would you pay more for Apple's device when the others have better displays?
If you only want it for reading ebooks, watching movies, playing selected games and listening to music, choose the Kindle. Its clever editing of the Android operating system makes it a spectacular media consumption device. Note though that even here that the lightness and slimness of the iPad mini means the Kindle is only just out in front.
But if you want to do more, such as writing documents, editing spreadsheets or making the most of a significantly wider range of apps, then it's Nexus 7 or iPad mini for you.
And if you value an interface that's entirely unbeaten in terms of intuitive accessibility, the facility to shoot video and take high-quality photographs plus a big selection of apps that are actually designed for a tablet screen, then the iPad mini wins out. All it lacks is a Retina Display, for which we may hope next time.
Aesthetically, the iPad mini is the most attractive tablet from any manufacturer yet, including Apple. It feels better in the hand than other small-screened tablets. The materials alone mean it's no wonder it costs more and – I'd say – it's worth it.
Join our new commenting forum
Join thought-provoking conversations, follow other Independent readers and see their replies