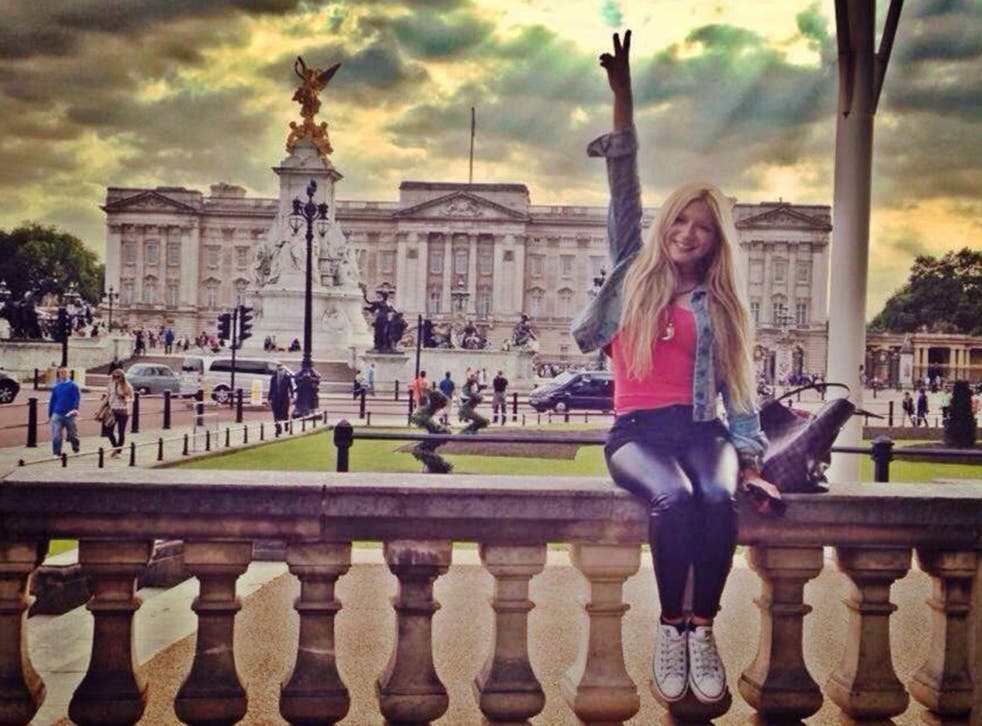 What happens when somebody steals your identity on Facebook thousands of miles away
Katerina Katsiami, a lawyer, found out somebody was using photos of her when they were edited as part of a campaign launched to counter gay pride
Katerina Katsiami is a lawyer, trained in London, who lives in Cyprus. Valya Ivanova is, seemingly, a Russian woman, who looks completely identical. They both have Facebook accounts, but only one of the women actually exists – or, at least, only one of them looks like she does in the pictures they have uploaded to Facebook.
Katsiami, who really is the woman in the photographs, only found out that someone else was using her images when her face made its way across the internet as a supposed supporter of a campaign that was launched to counter gay pride. Someone had taken her picture and superimposed a Russian flag over it — and it was then written about and re-posted on this website, Newsweek, BuzzFeed, UniLad and more, next to a message from Ivanova saying: "Give children the rainbow back!"
Katsiami — who only discovered the account and the remarks when they were used in a post on the Independent's Facebook page — swiftly took to the site in an attempt to counter the remarks. "I am not Valya Ivanova and this is person is using ALL MY PICTURES under a FAKE PROFILE," she wrote. "I had never supported such homophobic views nor have I used the flag filter app to support the hetero-pride campaign."
But long before the picture had even been created, Katsiami's Russian doppelganger had spent over a year impersonating her on the internet — taking her pictures from Instagram, uploading them and posting them. The account had built up over 700 likes on some pictures, and had over 4,000 friends.
Soon after seeing the picture, Katsiami contacted Facebook to ask for the profile to be taken down. She said that the site initially responded: "Based on our review, we can't confirm that Valya Ivanova is pretending to be you." (Facebook said that it doesn't comment on individual cases, but it confirmed that the Ivanova page existed.)
"I believe this happened because clearly the account did not cause even the slightest doubt that it is a fake one," Katsiami said. "It was kept active on a daily basis, extant for many months with a huge list of friends, likes, shares and comments. It was thus very difficult for me to 'convince' the facebook community that it was indeed a fake account which had to be closed down."
Finally, after two days and what Katsiami said was 180 reports from her friends, the site sent a message to confirm that the Ivanova account had been closed.
If it weren't for the picture being used to falsely spread the homophobic campaign, it's not clear that the account would have ever been shut down. There is no organised way that Facebook has to spot fake accounts. While users can report any piece of content that appears on a site — from whole profiles, to pictures and individual messages — users must first know that they are being impersonated.
Katsiami says that were it not for the now-famous picture, she might never have known someone was using her pictures.
"Due to the fact that the account was clearly used by a Russian person, miles away from my hometown we had no mutual friends and this is the reason that it has been active for more than 1 year but I had no idea about its existence," she said. "I certainly doubt that under different circumstances and if it wasn't for the article posted by The Independent I would have been able to discover this."
Katsiami is certain that the impersonator discovered her profile through her Instagram account, which is public. She tends to post pictures using popular hashtags and locations, which pushes them into a public stream that can be looked up by anybody.
"In my instagram account I have a lot of pictures that I do not upload on Facebook and it came to my attention that 'Valya Ivanova' had been uploading those pictures on Facebook," Katsiami said. The picture that would eventually have the Russian flag overlaid on it — and make its way around news sites across the world — wasn't ever uploaded to the real Katsiami's site.
Katsiami doesn't know why the account was ever created. She suggests that the desire could have come from "a need to create a life different that the one that person is living". "It is very easy for people who are constantly checking accounts of strangers on the internet to compare themselves to these people who they have never actually met in real lifeshe said.
But it's just as possible that the account was created for more public means. Many of the posts hosted on the profile, including the one that would eventually come to popular attention, talked about politics and public life.
It's well known that the Kremlin and its agents run a host of fake accounts intended to promote Russian policies on the internet — and though the "Russia pride" meme seems to have originated with an independent person, there's no way of telling whether or not the profile was being used by a group, rather than one person.
Join our new commenting forum
Join thought-provoking conversations, follow other Independent readers and see their replies