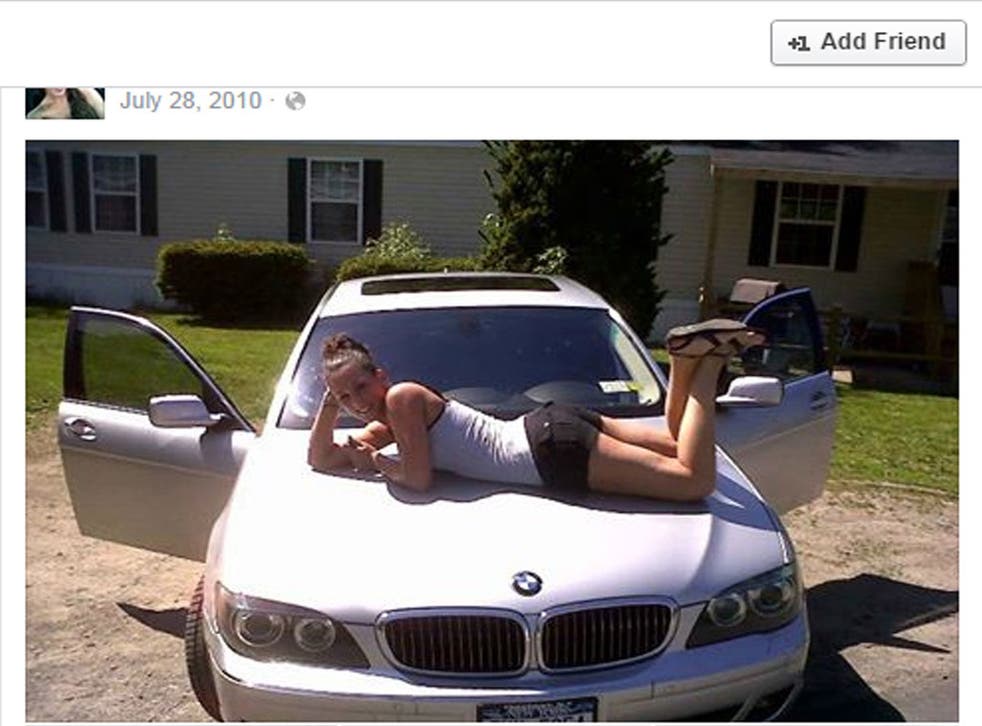 Woman suing US government after DEA secretly creates fake Facebook page in her name
Sondra "Sosa" Arquiett was arrested in 2010 and images from her phone had been used by DEA agents to create a Facebook account to try and ensnare further criminals
Natasha Culzac
Wednesday 08 October 2014 21:36 Comments
A US woman with a previous drug offence is suing the government for infringing her rights after a law enforcement agent set up a phony Facebook account in her name, without her knowledge, to trap further criminals.
Drug Enforcement Administration Timothy Sinnigen set up the profile using information and photographs taken from the woman's phone after her arrest.
It displayed pictures of her posing on the hood of a BMW, another wearing little clothing, and even one of her holding her young son and niece.
As reported by Buzzfeed News, the woman, named Sondra Arquiett but who at the time went by Sondra Prince, did not have a Facebook account and was alerted to the fake one by a friend.
She had been arrested in 2010 following police suspicion that she was part of an alleged drug ring.
While awaiting trial for conspiracy to distribute cocaine – for which she admitted guilt and was sentenced – Mr Sinnigen created the bogus profile and began conversing with other alleged suspects without Ms Arquiett's express permission to do so.
The Department of Justice initially defended this ruse and in the court filing says: "Defendants admit that Plaintiff did not give express permission for the use of photographs contained on her phone on an undercover Facebook page, but state the Plaintiff implicitly consented by granting access to the information stored in her cell phone and by consenting to the use of that information to aid in… ongoing criminal investigations."
However, following the investigation by Buzzfeed it says it is now reviewing whether the agents went too far.
According to the website, the fake profile was still accessible as recent as this week but has since been taken down by Facebook for violating its community standards. Facebook does not allow fake profiles on the social networking site.
The case for Ms Arquiett, who says that not only had her privacy been violated but that she had also been put in danger, is set for trial in New York next week.
In the filing, she describes experiencing "fear and great emotional distress" following the incident, due to Mr Sinnigen's communications with dangerous individuals he was investigating" made it looks like she was co-operating, the Associated Press reports.
As reported by the BBC, she had surrendered her phone at the time of arrest and consented to it being used for their criminal investigations, but did not know that that would result in a Facebook page.
Nate Cardozo, from Electronic Frontier Foundation, a civil liberties organisation, said: "If I'm cooperating with law enforcement, and law enforcement says, 'Can I search your phone?' and I hand it over to them, my expectation is that they will search the phone for evidence of a crime — not that they will take things that are not evidence off my phone and use it in another context."
Register for free to continue reading
Registration is a free and easy way to support our truly independent journalism
By registering, you will also enjoy limited access to Premium articles, exclusive newsletters, commenting, and virtual events with our leading journalists
Already have an account? sign in
Join our new commenting forum
Join thought-provoking conversations, follow other Independent readers and see their replies