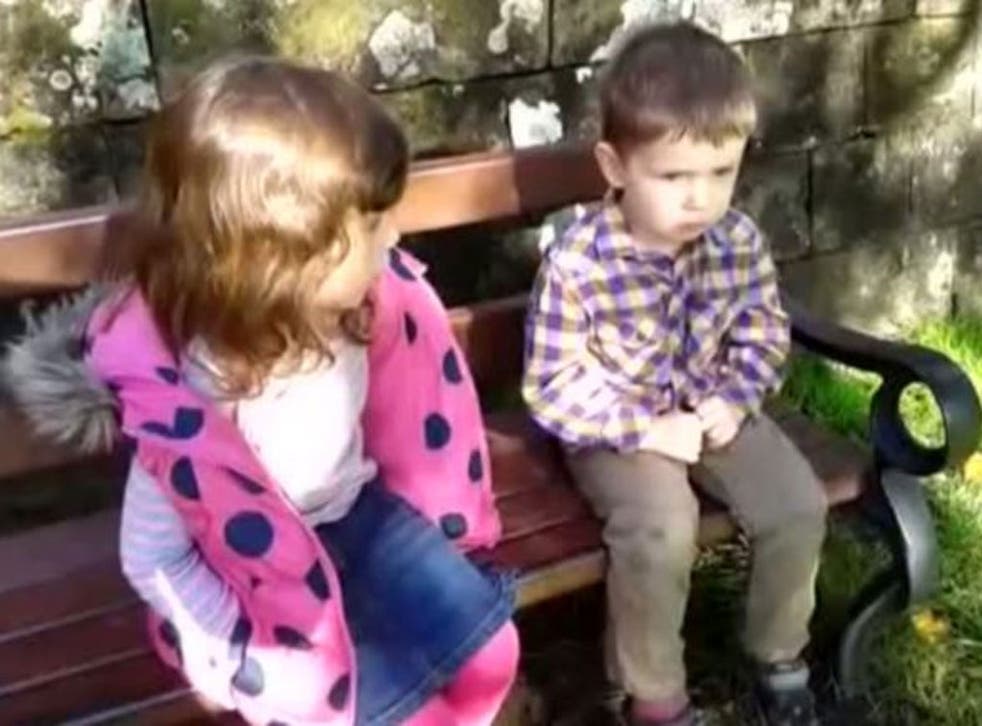 'You're nearly three, you need to toughen up a bit': Four-year-old girl tells-off younger brother for spitting in hit viral video that could earn parents £1000s
A minute-long video of a four-year-old girl telling-off her younger brother for spitting has gone viral – and could earn their parents thousands of pounds.
In the clip, Delilah O'Donoghue lectures her two-year-old brother Gabriel on why he shouldn't spit at other children, and why he should listen to their parents.
Delilah also points out that her brother is too young to fear getting into fights with the older boy he spat at, adding "you need to toughen up a bit".
The heart-warming exchange has already been viewed over a million times on YouTube, with interview requests coming from as far as America.
Delilah and Gabriel's father Lee O'Donoghue has spoken of how he had only posted the video on YouTube as he thought it would amuse his friends and family, describing its global popularity as "surreal".
The 42-year-old said he began filming on his smartphone about two minutes into Gabriel's telling off.
'I watched from afar until I realised he must be really getting it from her…In classic Delilah style she decides to give it to him straight,' he said.
Alex O'Donoghue, the children's 40-year-old mother, added: 'Delilah's very bossy – it is how little girls are…She has scolded Gabriel in the past. But it is as much about trying to teach him. They are good little buddies really.'
As Delilah's dressing-down continues, two-year-old Gabriel hangs his head and fidgets in his seat.
Delilah tells him: "I'll keep remembering you being about two and I'll tell my friends that too...You're nearly three, you should toughen up a bit."
"When Mum and Dad said you don't do that, you don't do that... and you don't spit."
Referring to the boy Gabriel apparently spat at, Delilah says: "That boy's old enough. You're only two…You're not old enough for that boy to do a fight…That boy's older than you. Maybe he's nine or ten, or maybe eight."
Delilah finishes her telling-off with the words "Think about it Gabriel. Think about it."
Following the video's success, the children's parents have signed-up with video marketing company Viral Spiral, which aims to maximise the profits of home-movie makers who post their clips online.
The couple said they had not yet decided how to proceed with marketing the video, saying their first concern is the impact any deal would have on their children.
The most-viewed viral video of all time, 'Charlie Bit My Finger', also features a pair of British siblings and was also marketed by Viral Spiral.
That clip has been viewed more than 480 million times since it was first posted in 2007 and has earned the boys' parents upwards of £100,000.
Join our new commenting forum
Join thought-provoking conversations, follow other Independent readers and see their replies