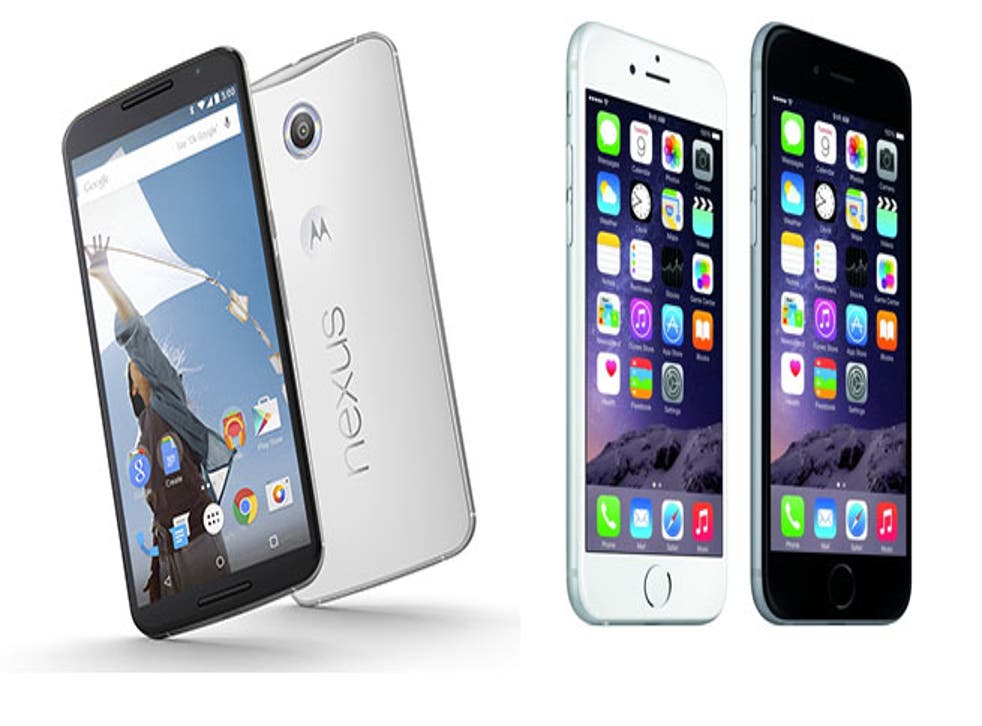 Nexus 6 vs iPhone 6 Plus: Is Google's or Apple's the best phablet around?
Google unveiled the Nexus 6 smartphone this week with a 5.9-inch display that trumps even the iPhone 6 plus - but how do the rest of the specs stand up?
Google has finally released the Nexus 6, its latest flagship Android device and a 6-inch behemoth that confirms - if further evidence were needed - that phablets are here to stay.
However, how does the Motorola-built Nexus 6 compare to perhaps the most controversial phablet on the market? We mean, of course, Apple's iPhone 6 Plus. Here's how the two smartphones compare:
Display
If it's true that more really is more then Google has Apple beat, with a 5.9-inch display (though they're rounding it up to six inches) that trumps the 5.5-inch display on the iPhone 6 Plus (what's with all these exaggerated figures?!).
The Nexus 6 also has the higher pixel density, with its 2560 x 1440 resolution making for a ppi (pixels per inch) of 493 compared to the 6 Plus which has a display resolution of 1920 x 1080 and a ppi of 401.
Of course, the law of diminishing returns means that you'd never be able to tell the difference without a microscope, but for some fanatics smartphone preference isn't about logic – it's about bragging rights.
Design
The Nexus 6, with its metal flash ring, dimpled logo and aluminium frame certainly isn't unattractive, but we have a feeling that in the flesh, it still won't feel as good as the iPhone 6 Plus, which has been carved out of a single block of aluminium.
Some of you however might be thinking grimly of the storm-in-a-teacup that was hashtag bendgate, but let's not forget that any phone will bend if you put your back into it – and just because smartphones are ubiquitous, it doesn't meant we should treat them shoddily.
Power
This one is hard to judge at a distance – especially as the Nexus 6 hasn't been given to reviewers yet to carry out official stress tests. However, in terms of raw numbers it looks to be a powerhouse, with a 2.7 GHz quad-core processor and 3GB of RAM.
The iPhone 6 Plus by comparison has a dual-core 1.4 GHz processor and only 1GB of RAM, but looking at the numbers only gives half the picture with Apple, who customize and fine-tune all their hardware to give blazing performance.
The same is true of cameras, with the Nexus 6 ostensibly taking the lead with its 13-megapixel rear facing camera (compared to the 8-megapixel snapper on the iPhone 6 Plus), but software makes a big difference here, and Apple has been pretty consistent at delivering the best mobile photography in the industry. As with the processor stress-tests, we'll just have to wait and see.
Battery and storage
Annoyingly neither the iPhone 6 Plus nor the Nexus 6 come with the option to expand internal storage with a MicroSD card so you're stuck between the default options. That's 32GB or 64Gb on the Nexus, while the iPhone gives the options of 16GB, 64GB or 128GB.
Both companies however are making users pay out their ears for extra storage – a price-gouging tactic that is deeply unfair whether you're an Android or Apple fan-boy. Google's prices are also approaching Apple's, with the Nexus 6 starting at $649 off-contract and the iPhone 6 Plus starting at $749.
In terms of battery life it looks like Apple has the edge, with a smaller battery (2915mAh to Google's 3220mAh) but with official figures claiming that the iPhone 6 Plus has longer life thanks to more energy efficient components – 14 hours of video playback compared to 10 hours on the Nexus.
Conclusion
As ever in the smartphone wars most customers will have already picked a side between Apple and Android, but there are still some clear differences in this particular battle.
Broadly speaking the iPhone 6 Plus has the potential to be the better all-day machine, offering longer battery life, a more advanced camera and more storage. Perfect for those who want to get as much work done on the go as possible.
However, for power-users who want to customize their mobile to the Nth degree and have, perhaps, a large family of gadgets that they want to sync data and media with then the Nexus 6 and Android 5.0 look to be more flexible.
Which do you think is better? Let us know in the comments below.
Join our new commenting forum
Join thought-provoking conversations, follow other Independent readers and see their replies