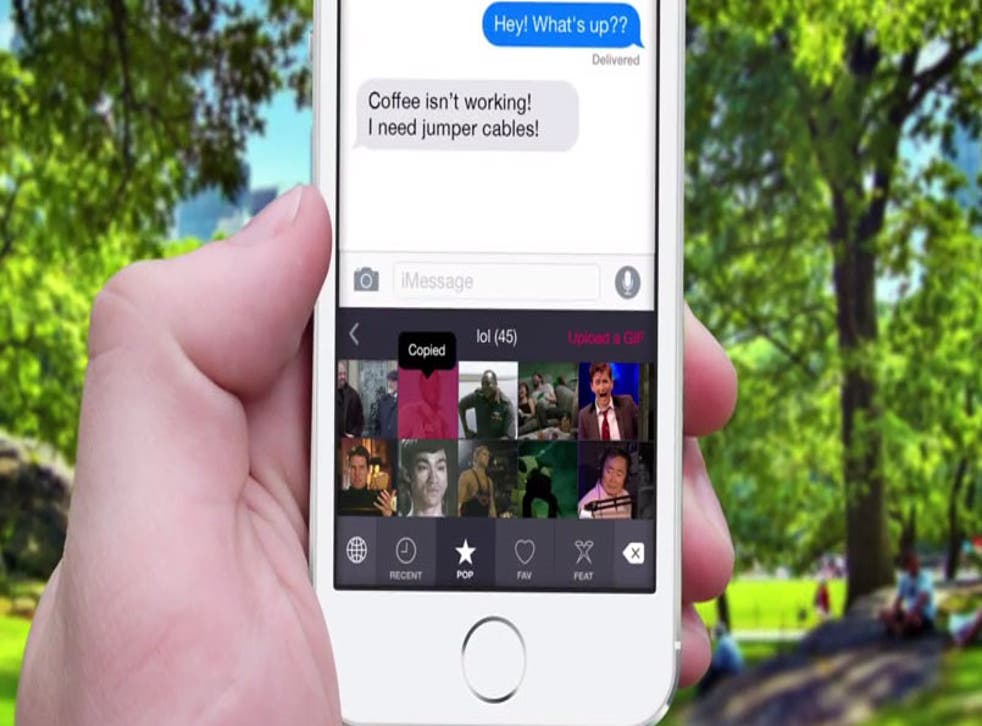 Possibly the best thing about iOS 8? Reaction gif keyboards on your iPhone
PopKey will let users select from categorized gifs or add their own
You've mastered emoji and it's time to move one: gifs on your phone are the next big thing.
Yep, as a side effect of Apple finally allowing custom keyboards in iOS 8 (available as a free download on iPhones and iPads from the 17th) one company is planning to take advantage by offering a gif keyboard.
There's only a short teaser video available for PopKey so far but the whole thing looks pretty self-explanatory.
Download it from the app store and select it using the weird world-icon bottom left of your keyboard (like switching to the emoji keyboard). Then users can choose from a bunch of pre-selected gifs in various categories (eg 'lol', 'shocked' or the cryptic 'other') and just click to send.
It looks good fun really, although the part of the attraction of using gifs online is because they change so often (it's a communicative twofer: conveying X emotion but also referencing Y pop culture thing) so hopefully PopKey's developers will keep up a semi-regular stream of updates. (Users can also apparently add their own as well.)
The most interesting thing though is how reaction gifs have progressed in the past couple of years - from a staple of fairly niche forums to a standard of web-communicating, and now (maybe) joining millions of iPhones. It's been a long journey for the gif, but it's not over just yet.
Join our new commenting forum
Join thought-provoking conversations, follow other Independent readers and see their replies