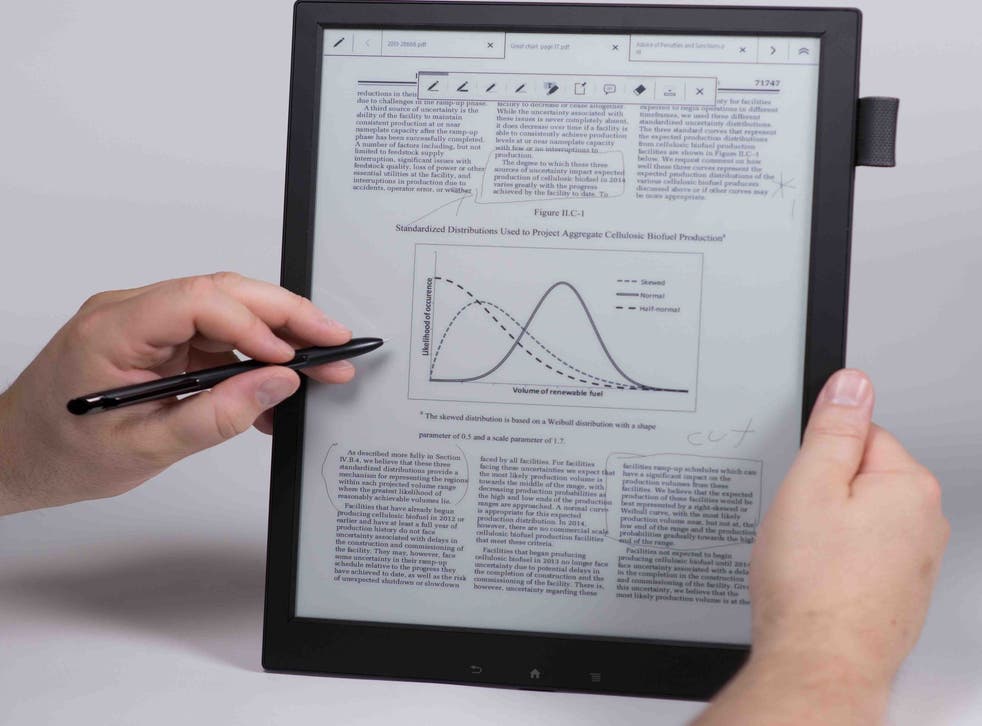 Sony promises an end to the A4 notepad with flexible 'Digital Paper'
New e-ink device comes with a 13.3-inch screen and 3 weeks of battery life
Sony's may have lost out to Amazon's Kindle in the ebook market, but the Japanese company hopes that a new A4-sized e-ink will find its niche with professionals and office workers.
The new Digital Paper tablet has a 13.3in e-ink display and is just 7mm thick. It comes equipped with a stylus that lets users use the device as a regular pad of paper, as well as edit and annotate .pdf documents.
With a screen size of 8.5-inches by 11-inches (the standard US letter size) it's clear that Sony will be hoping to find some buyers in America, but with a price-tag of $1,100 (£660), this isn't a tablet for the mass market.
Bob Nell, the director of Digital Paper Solutions at Sony, says that the e-ink device is the first "true replacement for the vast amounts of paper that continue to clutter many offices and institutions".
"The 'notepad' feature will have universal appeal, and notes can be shared with clients, colleagues and co-workers," says Nell. "It is very easy to use and optimised for reading and annotating contracts, white papers, scholarly articles and legislation."
The device features 4GB of internal memory (enough for roughly 2800 .pdf files) and comes with a Micro SD slot for memory cards. The screen has a 1200 x 1600 resolution dot display and is built from Sony's new Mobius technology, replacing glass with plastic to reduce weight.
A prototype device showed off by Sony last year made it clear that the new display technology was flexible, but the device – being released this May – comes in a rigid plastic case.
The idea of supplanting the traditional A4 notepad with a device that can download documents and sync notes across different devices is certainly appealing, but Sony will still have an upward battle against older problems facing the 'paperless office', including making transferring documents easy as well as the old drawback of having to charge your notepad.
Join our new commenting forum
Join thought-provoking conversations, follow other Independent readers and see their replies