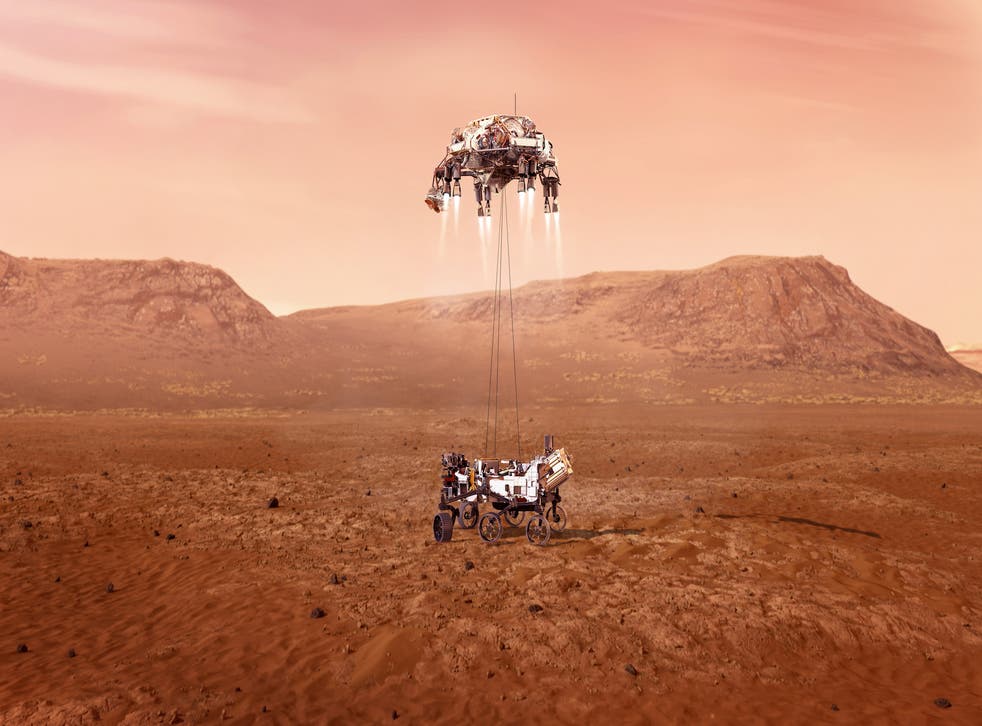 Nasa prepares for Mars landing and asks public to watch perilous manoeuvre
Leer en Español
Nasa is preparing to land on Mars – and has invited the world to watch.
The landing requires an intense and perilous manoeuvre that will its Perseverance rover speed through the atmosphere and drop onto the surface.
In that process, the rover will fall through the atmosphere, going more than 12,000mph. As it gets closer, it will use a parachute and its own power to slow down to about 2mph, before the descent stage drops it down on three cables so that the rover can land on its six legs.
If that all goes well, then the rover will be able to get to its mission: exploring the Martian surface, using equipment that includes a helicopter that will make the first ever powered and controlled flight on another planet.
But first Nasa engineers have to ensure that the rover safely makes its entry, descent and then landing and stay intact so it can do any of that work.
The space agency – and The Independent – will be covering live coverage as the lander makes its way down to the surface, including Nasa's first ever Spanish-language show for a planetary landing. That show, called "Juntos perseveramos", is intended to "highlight the role Hispanic Nasa professionals have had in [the rover's] success", the space agency said.
It has invited the world to follow along as it makes its descent, through a broadcast that will be sent live on its TV channel, its website, and other streaming platforms such as YouTube and Facebook.
After years of preparation and a journey that has taken it over 300 million miles, the rover's scientists will be confident that it can successfully land. But dropping onto Mars is notoriously difficult, and the space agency has described that final descent as "harrowing".
"If there's one thing we know, it's that landing on Mars is never easy," said Marc Etkind, NASA associate administrator for Communications, in a statement. "But as NASA's fifth Mars rover, Perseverance has an extraordinary engineering pedigree and mission team. We are excited to invite the entire world to share this exciting event with us!"
The Perseverance mission is the last of three spacecraft to arrive at Mars, after one from China and another from the United Arab Emirates. All three launched last year, taking advantage of a launch window when the planets are closest to each other that only happens every two years and two months.
But Perseverance will be the first of the current set to touch down on the surface, since the others are still in orbit above the planet. When it does touch down, it will join other Nasa rovers such as Curiosity, on which Perseverance's design is based.
Join our new commenting forum
Join thought-provoking conversations, follow other Independent readers and see their replies