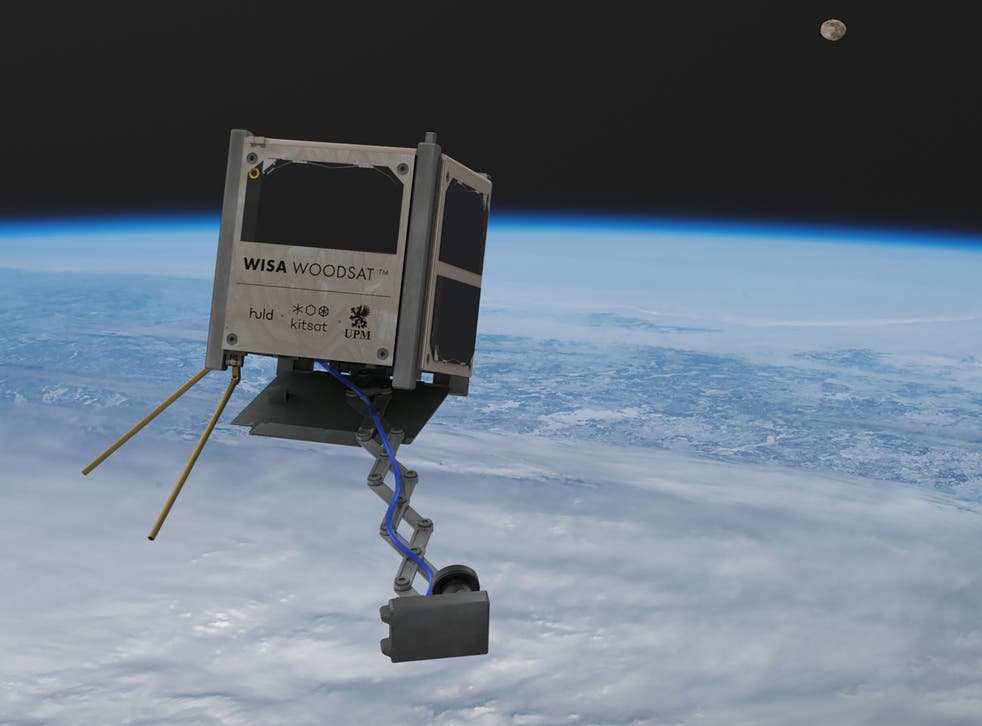 World's first wooden satellite set to launch in 2021 in test of environmentally-friendly space exploration
WISA Woodsat will come equipped with an extendible selfie stick to take pictures of itself
The first ever satellite made of wood is set to launch into orbit later this year as part of a project to test the use of sustainable materials in space.
The WISA Woodsat mission will gather data on the durability of plywood within the harsh conditions of space in order to assess whether future space stations or even spacecraft could be built out of wood.
The nanosatellite, which measures 10cm in length and weighs 1kg, will be exposed to extreme temperatures, vacuum pressure and space radiation over an extended period as it orbits the Earth at an altitude of 500 kilometres.
"We can test many things in our laboratories but the ultimate test for space worthiness can only be done in space," Ari Voutilainen, space project manager for wood manufacturer UPM Plywood, told The Independent.
"The space industry is constantly looking for material innovations for spacecraft and space stations. We are working with the European Space Agency (ESA) to see if wood and plywood in particular can be used for those purposes.
"UPM's mission as a company is to create a future beyond fossils. WISA Woodsat is made of plywood and it carries a profound message of replacing fossils with renewable wood-based materials in very demanding applications."
The satellite comes fitted with a suite of on-board sensors and cameras, including an extendible selfie stick for capturing pictures of itself.
The mission is a joint venture between UPM Plywood, Scandinavian design house Huld, and space technology firm Arctic Astronautics – whose Kitsat educational satellite the design is based on.
There is no fixed launch date but it is anticipated to take place between September and December aboard Rocket Lab's Electron launch vehicle from the Mahia Peninsula launch complex in New Zealand.
"The Wooden satellite with a selfie stick will largely bring goodwill and raise smile, but essentially this is a serious science and technology endeavour," said Jari Mäkinen from Arctic Astronautics, who is serving as the WISA Woodsat mission manager.
"In addition to testing plywood, the satellite will demonstrate accessible radio amateur satellite communication, host several secondary technology experiments, validate the Kitsat platform in orbit, and popularise space technology."
Join our new commenting forum
Join thought-provoking conversations, follow other Independent readers and see their replies