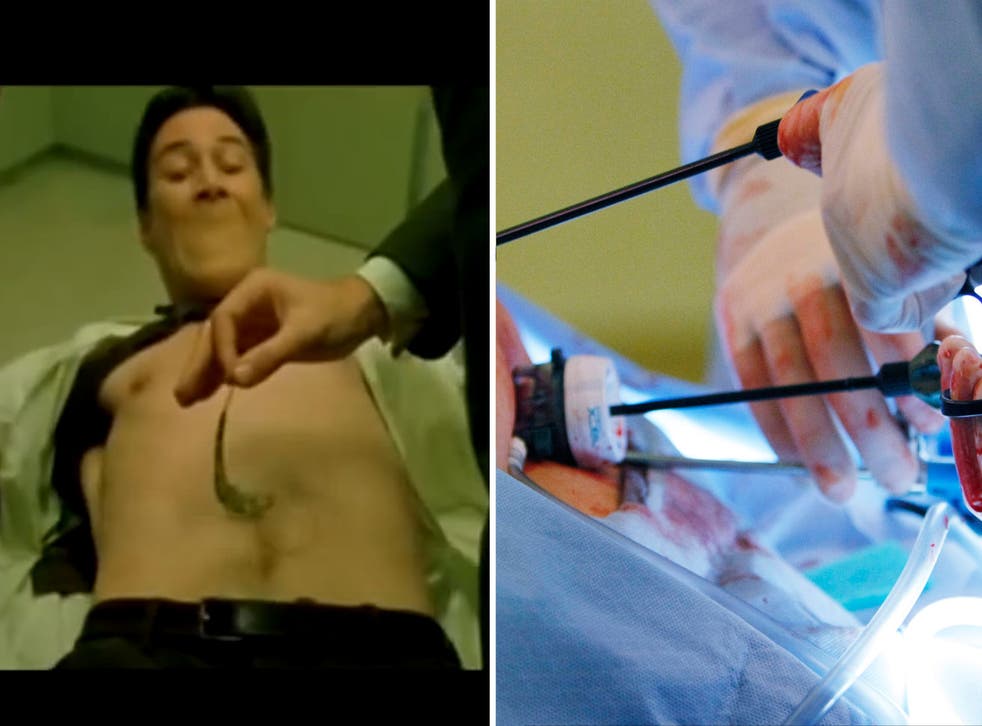 Surgery in space: Nasa helps develop Matrix-like robot that slips in through your belly button
Don't worry - it's not as terrifying as it looks, see below for a video of the prototype robo-surgeon being tested out (but not on a human)
James Vincent
Thursday 03 April 2014 15:26 Comments
Performing surgery in space is difficult. Not only do you have about as much elbow room as a telephone box, but you've also got to avoid getting bodily fluids on any of that delicate machinery keeping you alive - hardly an easy thing when you're floating in zero gravity.
In order to get around these problems, Nasa has teamed up with American medical company Virtual Incision to develop a robot that can be placed inside a patient's body and then controlled remotely by a surgeon.
Their current prototype (below) is designed to slip in via the belly button, entering the abdominal cavity (which has been inflated with an inert gas to give the bot a little more space to work with) to carry out a range of general surgeries from appendectomies to the repair of internal bleeding.
Although this image may bring to mind sci-fi horrors such as the interrogation scene from the first Matrix in which Agent Smith produces a wriggling, insect-like bot that burrows into Neo's belly button, the technology being developed could save lives.
"While this work is in an early phase, the minimal invasiveness of this approach could enable its use in remote locations such as on a moon or Mars colony," writes Shane Farritor, a University of Nebraska researcher working on the technology.
"Although the likelihood of these accidents is low, it has been reported on other remote locations including North Pole expeditions and submarine service."
So far Nasa has been lucky enough that none of its astronauts have ever needed surgery, but there have been similar cases in other remote locations. In 1961 a Russian surgeon named Leonid Rogozov had to perform an appendectomy on himself while working in Antarctica – but even Rogozov didn't have to worry about his bodily fluids flying about in zero G.
The robots being developed by Nasa and its partners aim to solve this problem by doing away with the need for open surgery. However, this technology could also be useful for doctors at home: no-one's body reacts particularly well to being opened up and poked around in.
In the video above you can see the robot being remotely controlled by a pair of joysticks. Although it doesn't look like the sort of object that could easily 'slip' into your abdomen the pair of stalk-like arms actually fold together to give it a slimmer profile.
The bot weighs just 0.4kg (an important factor for weight-sensitive spacecraft) and has a video camera located between the two arms – each of which have attachments to help them hold, cauterise and suture tissue.
Currently the technology has only been tested on pigs, though the researchers involved are hoping to move to human cadavers – and then finally living humans on Earth.
Register for free to continue reading
Registration is a free and easy way to support our truly independent journalism
By registering, you will also enjoy limited access to Premium articles, exclusive newsletters, commenting, and virtual events with our leading journalists
Already have an account? sign in
Join our new commenting forum
Join thought-provoking conversations, follow other Independent readers and see their replies