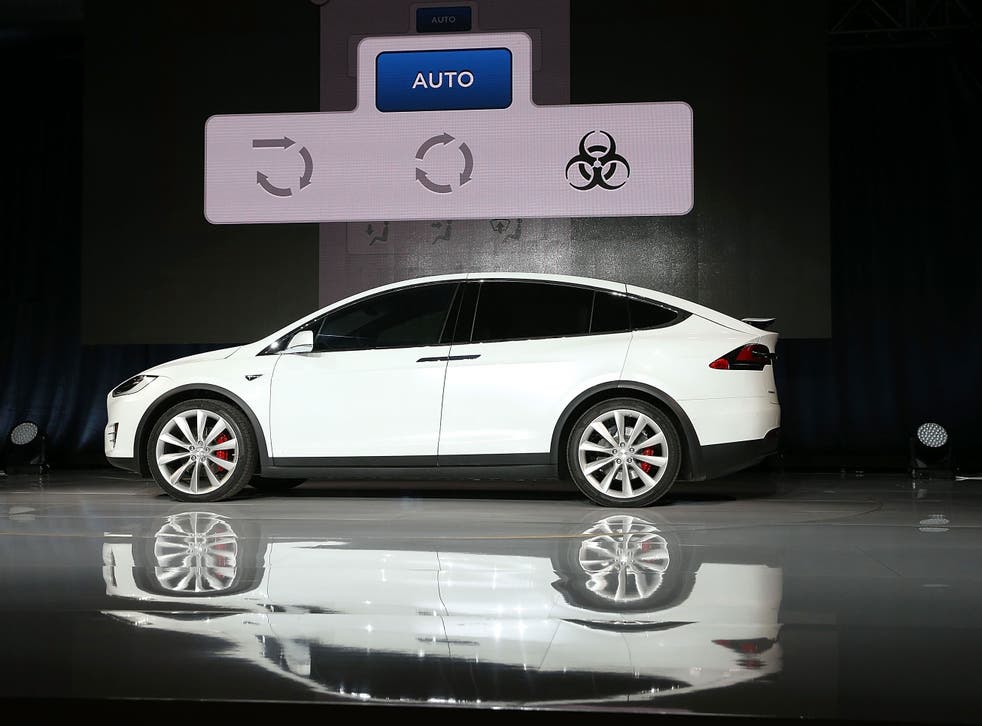 Tesla Model X: new electric car comes ready set for biological weapon attack and has 'Falcon Wing' doors
A special HEPA air filter in the car will stop you breathing in polluted air as you drive through cities — and keep you from dying in the event of a biological attack, at the press of a button
Tesla has revealed its long-awaited electric car the Model X, with a range of engineering feats including a button built to keep its inhabitants safe from biological weapon attacks.
The car features special 'Falcon Wing' doors that sweep from the top and have sensors so that they won't hit other cars and a huge windscreen that joins to the roof. But perhaps the feature that has got the most attention is its air filter, which boss Elon Musk said would keep people safe from attacks.
The high-efficiency particulate arrestance filter — which uses special techniques to clean air — has a button that users can press to filter out chemicals. "Bioweapon defense mode is there," said Mr Musk, in the menu that drivers normally use to control the air conditioning unit.
The car is also built to withstand big crashes, and Tesla said that the car is expected to be the first ever of its kind to get a perfect five stars in all of its crash tests. Most cars of its size have trouble with those tests because they are tall and tend to roll over — but the huge, heavy battery that's mounted on the bottom of the car means that it's unlikely to roll over.
The cars cost up to $144,000, or £95,100, and Tesla hasn't said how much the bottom model will cost. Tesla intends to introduce a cheaper version of the car in 2017.
Join our new commenting forum
Join thought-provoking conversations, follow other Independent readers and see their replies