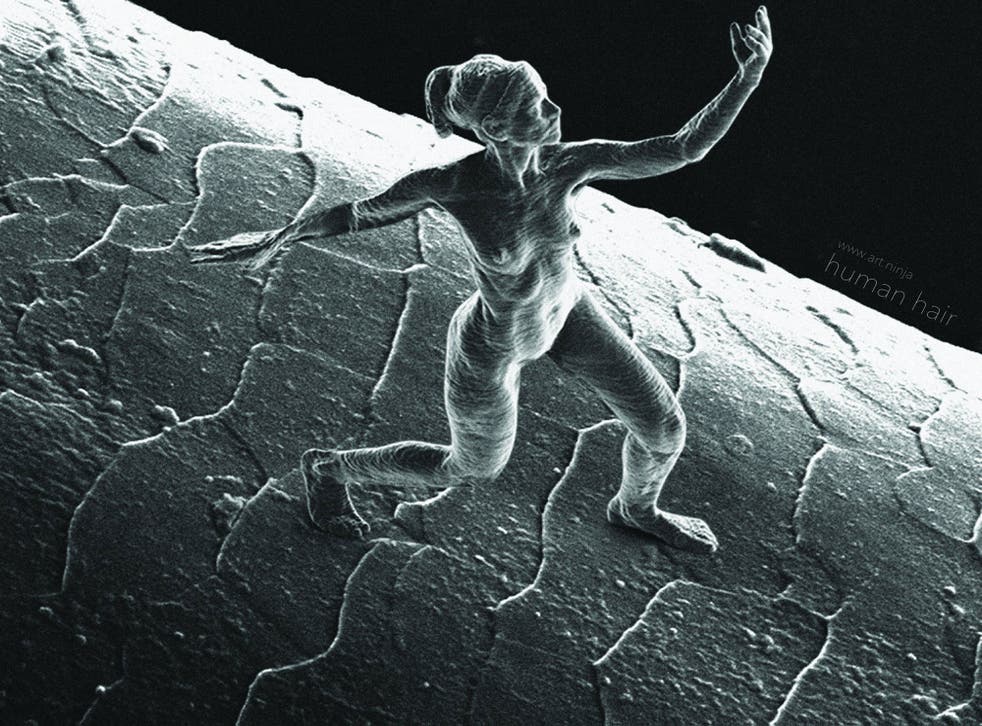 The smallest sculptures ever made: nano-scale creations are dwarfed by even a human hair
3D scanning and multiphoton lithography are used to create the sculptures which are invisible to the naked eye
Andrew Griffin
Monday 17 November 2014 15:17 Comments
One of the founders of Wonga has turned his computing skills to a much smaller problem — creating the smallest depiction of a person in history.
Jonty Hurwitz, who helped found Wonga by writing the code including the one that quickly determines whether customers should be offered loans, created the sculptures using a tiny 3D printer.
The process began with 200 cameras taking pictures of a naked model. Those photos were then fed into the printer, which created the sculpture, which is smaller than a human hair and can be comfortably placed on the head of an ant.
Multiphoton lithography — which uses a laser to write on the photosensitive material that the statue is made from – helped Hurwitz fill in the smaller details.
The pieces are so small that they can only be viewed through an electron microscope and Hurwitz has said in the past that the sculptures are so small that they have been crushed by his friends, after months of work.
The smallest sculptures in the world: The making of 'Trust' by Jonty Hurwitz

Show all 9
'Trust', the piece depicting the naked woman, is around 80 microns by 100 microns in size. (There are around 1000 microns in one millimetre.) And the size of the piece is roughly equal to the amount that a fingernail grows in five or six hours, Hurwitz says.
Hurwitz calls the piece "the smallest creation of the human form in history", and describes it as a "nano sculpture about trust".
Much of Hurwitz's work makes use of computers and algorithms, including using them to create pieces that can only be viewed in mirrors and a sculpture of his father that can only be seen side-on.
"My dad was my muse. I scanned him naked using amazing lasers to capture every detail." he told the Evening Standard in 2013. "It's one thing scanning your father's head and hands but then you get to his balls, and suddenly you're staring at the exact point in the universe where you come from."
Register for free to continue reading
Registration is a free and easy way to support our truly independent journalism
By registering, you will also enjoy limited access to Premium articles, exclusive newsletters, commenting, and virtual events with our leading journalists
Already have an account? sign in
Join our new commenting forum
Join thought-provoking conversations, follow other Independent readers and see their replies