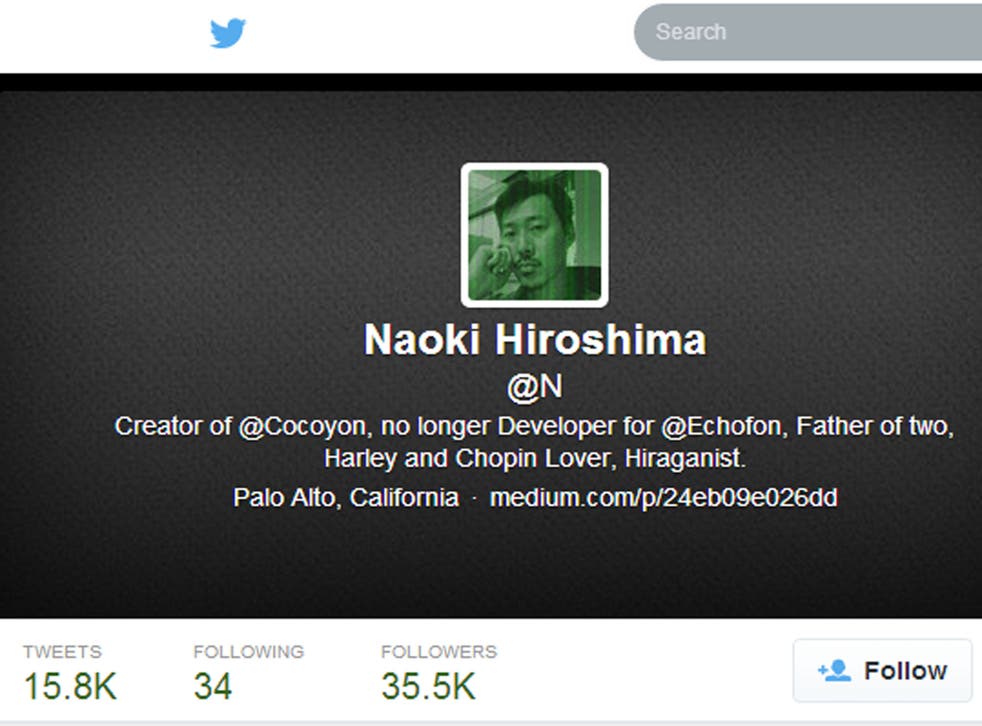 Twitter restores rare username @N to hijacking victim
Naoki Hiroshima had his account stolen in January
James Vincent
Wednesday 26 February 2014 09:31 Comments
Twitter has restored the account of a Naoki Hiroshima, a computer developer whose coveted single-letter username was stolen in January.
Hiroshima's twitter account, @N, was the target of an alarming blackmail campaign by an anonymous thief, intent on securing the rare username for their own use.
In his first tweet from his Twitter account Hiroshima said "Order has been restored".
Details of how the account was stolen were revealed by Hiroshima in a blog post entitled 'How I Lost My $50,000 Twitter Username'.
The exchanges between Hiroshima and his anonymous antagonist revealed that the thief had easily tricked customer services at various internet companies (including PayPal and GoDaddy) and was happy to tell Hiroshima about his methods.
The story was soon picked up by national media outlets while Hiroshima moved to the @N_is_stolen handle (now, apparently released back into the wild and snapped up by an anonymous user).
The incident was a reminder of the importance of online security and the susceptibility of even established companies to particularly tenacious thieves.
In the case of web hosting company GoDaddy the theft of @N's account even led to a policy change, with the company admitting that its security protocols had been lax and that in future it would take more precautionary measures before giving out customers' information.
In a recent tweet this morning Hiroshima said "This is a happy ending not only for me but also for sane employees and loyal users of Twitter's. Congrats to those, too"
Register for free to continue reading
Registration is a free and easy way to support our truly independent journalism
By registering, you will also enjoy limited access to Premium articles, exclusive newsletters, commenting, and virtual events with our leading journalists
Already have an account? sign in
Join our new commenting forum
Join thought-provoking conversations, follow other Independent readers and see their replies