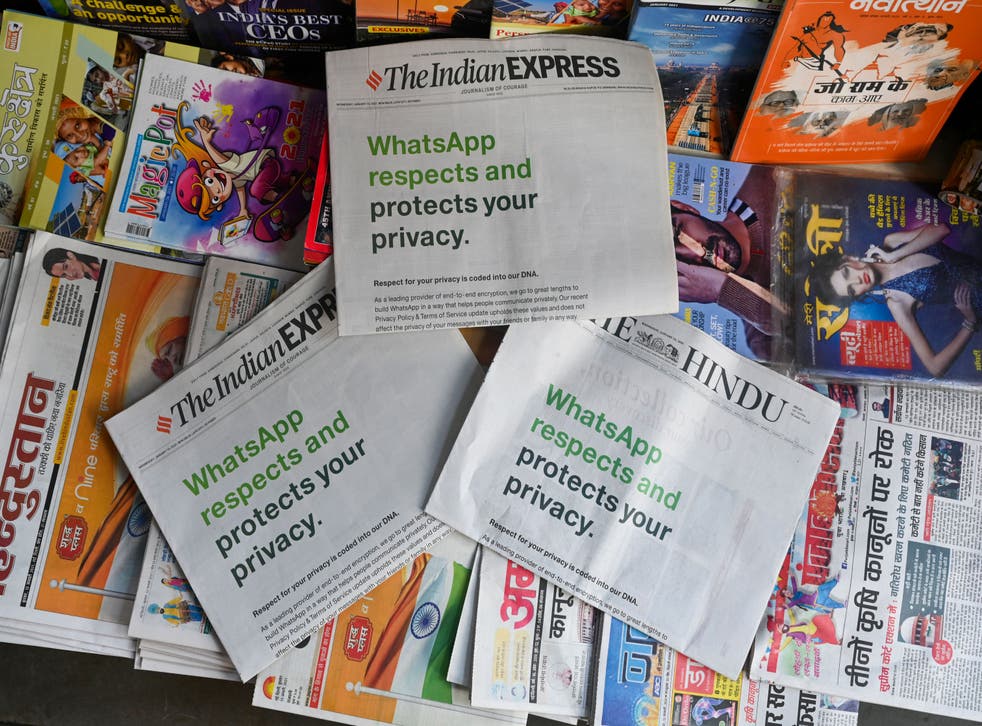 WhatsApp privacy controversy leads company to take out full-page adverts asking users to stay
The campaign reportedly cost tens of millions of rupees, as adverts appeared in 10 newspapers
Facebook has had to take out full-page adverts in India's newspapers following its update that chatting app WhatsApp will be sharing more information with it.
"WhatsApp cannot see your private messages or hear your calls, and neither can Facebook: Every private message, photo, video, voice message, and document you send to your friends, family, and co-workers in one-on-one or group chats is protected by end-to-end encryption," the message reads. "It stays between you."
The Facebook-owned app sent a notification to its 2 billion users which asked them to accept its privacy policy before 8 February or lose access to WhatsApp, resulting in widespread criticism.
Amid the outcry, Facebook began an advertising campaign that would cost "tens of millions of rupees this week in at least 10 English and Hindi newspapers," Reuters reports.
The company began sharing data with Facebook for these purposes in 2016, giving users a choice to opt-out; its new policy expands these capabilities, but there is now no option to opt-out.
WhatsApp's change only affects businesses, not consumers. "We're giving businesses the option to use secure hosting services from Facebook to manage WhatsApp chats with their customers, answer questions, and send helpful information like purchase receipts", the company wrote in an online FAQ.
"Whether you communicate with a business by phone, email, or WhatsApp, it can see what you're saying and may use that information for its own marketing purposes, which may include advertising on Facebook."
Nevertheless, many users misinterpreted the company's statement because of Facebook's history of privacy violations, leading them to switch to other platforms like Signal or Telegram.
Telegram founder Pavel Durov said that people moving from the platform was "the largest digital migration in human history", with 25 million new users in 72 hours. 
WhatsApp in India is used for a greater variety of reasons than it is in other countries. In 2020, a payment service between users was rolled out in the country, after the National Payments Corporation of India (NPCI), gave its approval to WhatsApp last November. Food shopping can be purchased through the app too, in certain areas of Mumbai.  
It also launched a new fact-checking service in India to help combat misinformation in the run-up to their general election.
However, the app has been used to spread fake news about subjects including child abuse or organ harvesting in the country.
Join our new commenting forum
Join thought-provoking conversations, follow other Independent readers and see their replies