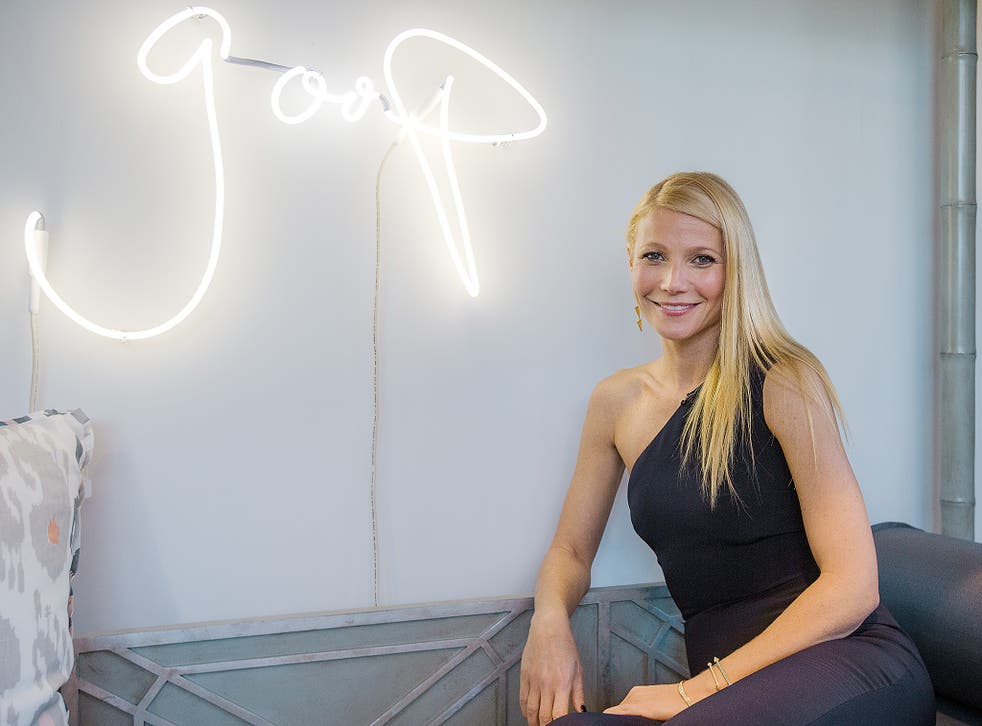 Gwyneth Paltrow's Goop tries to hit back at doctor critic
Dr Fred Wu, a congenital heart disease specialist from Harvard Medical School commented: "No one is "empowered" by misinformation."
Saturday 15 July 2017 05:51 Comments
Gwyneth Paltrow's wellness brand Goop has fired back against their vociferous critics in a post defending their products such as the infamous vaginal jade egg.
On Thursday, Goop took aim at gynaecologist Dr Jen Gunter in the first of a new series of posts in which the company plans to discredit their critics.
Channelling Michelle Obama's line against Donald Trump, Ms Paltrow linked the post and tweeted: "When they go low, we go high."
However, the social media reaction to the post was less than encouraging for the company.
Dr Fred Wu, a congenital heart disease specialist from Harvard Medical School commented: "No one is 'empowered' by misinformation."
In another reply, Katie Moffat added: "Goop exists in a bubble of money and privilege. Shame on you for peddling this stuff, way to sisterhood. Not."
Spine psychiatrist, Dr Sameer Kapasi also replied in support of Dr Gunter: "I stand with Dr Gunter, not fake news."
From five step yawning guides to cooking with "sex dust," the e-commerce lifestyle brand claims to be an "indispensable resource for all who love to make, go get, do, be and see."
The post, entitled: "Uncensored: A word from our doctors," claims to take to task the "third parties who critique goop to leverage that interest and bring attention to themselves."
One of Goop's advisors, Dr Steven Gundry criticised Dr Gunter claiming: "Since her first post, she has been taking advantage of the attention and issuing attacks to build her personal platform."
"Fifteen years ago I resigned my position as professor and chairman of Cardiothoracic Surgery at a major medical school to devote myself to reversing disease with food and nutraceutical supplementation," Dr Gundry wrote.
"Like Hippocrates asked you and me…when we took our oath: "Let food be thy medicine," he added.
In reaction to the widely publicised jade egg advice released by Goop in May, Dr Jen Gunter wrote a blog post entitled: "Dear Gwyneth Paltrow we're not f**king with you we're correcting you, XOXO Science."
Dr Gunter's blog has repeatedly lambasted the lifestyle brand, with posts which have corrected Goop for failing to list Botox as a toxin and criticised the website's information that "crystals absorb information." With regards to the $66 (£51) jade eggs, Dr Gunter warned that inserting the egg could harm pelvic floor muscles and cause bacterial infections.
Goop say their "primary place is in addressing people, women in particular, who are tired of feeling less-than-great."
At the end of their post, the company write: "This article is not, nor is it intended to be, a substitute for professional medical advice, diagnosis or treatment, and should never be relied upon for specific medical advice."
"I am just one doctor with a blog so if I can get under you skin with facts so easily you must have very weak ideas indeed," Dr Gunter replied.
Register for free to continue reading
Registration is a free and easy way to support our truly independent journalism
By registering, you will also enjoy limited access to Premium articles, exclusive newsletters, commenting, and virtual events with our leading journalists
Already have an account? sign in
Join our new commenting forum
Join thought-provoking conversations, follow other Independent readers and see their replies