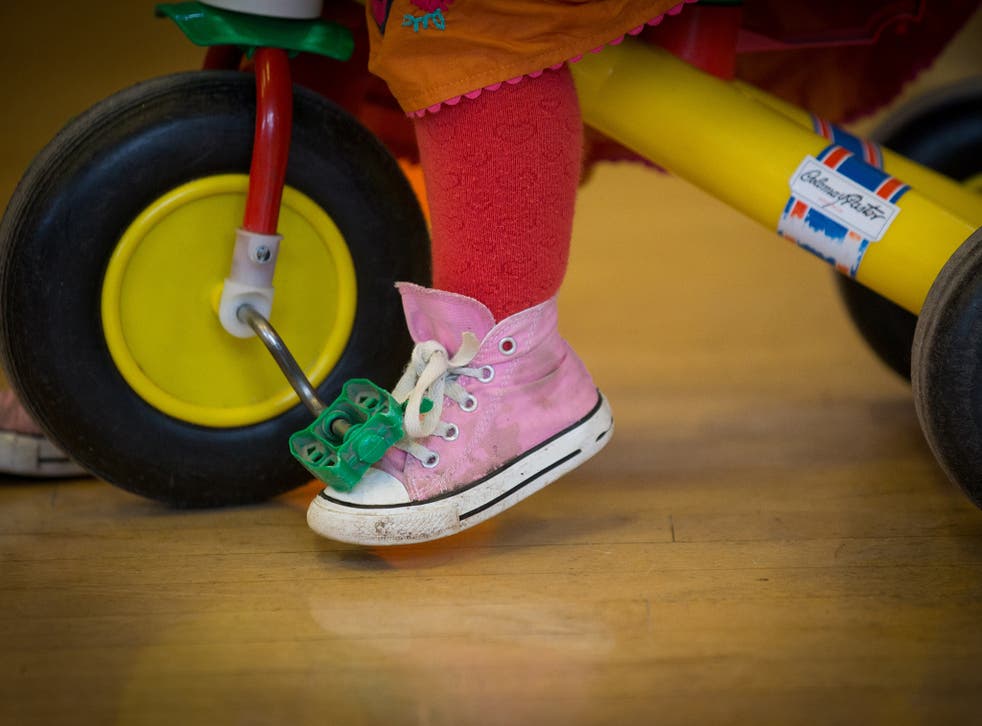 Childcare Bill contains threat of two years in jail for parents, critics warn
Parents could be locked up for failing to fully disclose details of working arrangements
David Cameron's flagship election pledge to extend free childcare to 30 hours a week has run into trouble on its first airing in Parliament, amid concern that parents and nursery staff could face "draconian" criminal penalties, including a two-year prison term, if they fail fully to disclose details of working arrangements.
A senior Conservative peer and the leader of Richmond Council, Lord True, warned that the Government's new Childcare Bill, which enshrines the 30-hour Tory manifesto pledge, contained "disturbingly wide, disturbingly ill-defined and draconian" regulations, including a provision to impose jail sentences.
The 30 free hours – a doubling of the current entitlement for three- and four-year-olds – only applies to children of parents who are both working, or single parents, and excludes stay-at-home parents. Both parents must be working for more than eight hours a week to qualify. But critics worry that the criminal penalties could cover parents who find the bureaucracy overly complex, particularly if one parent sometimes works for less than eight hours one week and more the next, or if they do not know whether the 30-hour pledge covers the entire year or 38 weeks of traditional school terms. There are also fears that nurseries and other childcare providers will fall foul of the law if they fail to check the employment details of every parent.
In a heated debate on the second reading of the Bill in the Lords, Lord True said: "I am afraid that I agree with others that the regulation-making powers in the Bill are disturbingly wide, disturbingly ill-defined and draconian. Potentially, they could lead to effective state control of the whole sector by the back door … I am troubled to see, in the Bill, proposed criminal penalties. I would like this to be explained ... Penalties on whom? Would nursery teachers be sent to jail for up to two years, as the Bill allows, if they fail to find out the whole truth about the private affairs of every one of their parents, or if they fail to disclose confidential details of their businesses to a local authority? I think we need to know."
The Bill, which is just six clauses long, reads: "Regulations may ... for the purposes of enabling any person to check whether a child is a qualifying child of working parents, make provision about the disclosure of information held by a Minister of the Crown, the Commissioners for Her Majesty's Revenue and Customs or any other person … [and] create criminal offences".
In response, Lord Nash, the Schools minister, did not rule out parents and nursery staff being caught up by penalties, saying: "I can assure him that this is intended for serious cases relating particularly to the protection of people's confidential data, as is the case now for the current provision, and for cases of fraud."
Labour's leader in the Lords, Baroness Smith of Basildon, said: "The Government's response gives little reassurance that criminal penalties won't be used widely – especially as ministers have been so unforthcoming on the detail of this Bill and the regulations that would go with it.
"It's a classic case of a policy announcement made in the heat of an election campaign – in this case, when things weren't looking so favourable to Mr Cameron – but one knock-on consequence is the regulations could also be made on a whim, without proper parliamentary scrutiny. I think even people on his own side find this all quite amateurish."
During the debate, the Bishop of Durham, the Rt Rev Paul Butler, warned that the legislation risked making stay-at-home parents feel guilty for not getting back to work and putting their son or daughter into childcare. He was concerned about "the impression increasingly ... created that a parent choosing not to work but to raise their child themselves is somehow not doing the best for the nation or the child".
There has already been criticism that the Government's £1.7bn funding of the pledge will still leave childcare providers with a shortfall of £250m after they have paid for the cost of the extended hours.
Imogen Thompson of Mothers at Home Matter said: "The rhetoric from Westminster would have all parents believe they must be engaged in full-time economic activity in order to contribute to the nation's GDP. They overlook the fact that a working, taxpaying family doesn't mean both adults must be in work all of the time since there's plenty of invisible work to be done in bringing up children, saving the taxpayer millions of pounds in subsidies offered for registered provision.
"The Government often cites the introduction of the married couple's tax allowance as the evidence of support for stay-at-home parents. Yet, it is limited in qualification, of paltry amount and is equally available to those without children. It can hardly be classed as a family-friendly policy comparable to the assistance that will shortly be available to households in which every adult works in paid employment."
Tory pledges in trouble
The Government is getting a rough ride over its Childcare Bill – what other measures in the Conservative manifesto are in trouble?
* Plans to give employees up to three days' paid leave a year to volunteer are believed to have been quietly dropped.
* The details of £12bn of welfare cuts still haven't been spelt out.
* Pledge to extend right to buy to housing association tenants caused Lord Kerslake to warn it wouldn't address affordable housing problem.
* Still no details of funding an extra £8bn a year for the NHS.
Join our new commenting forum
Join thought-provoking conversations, follow other Independent readers and see their replies