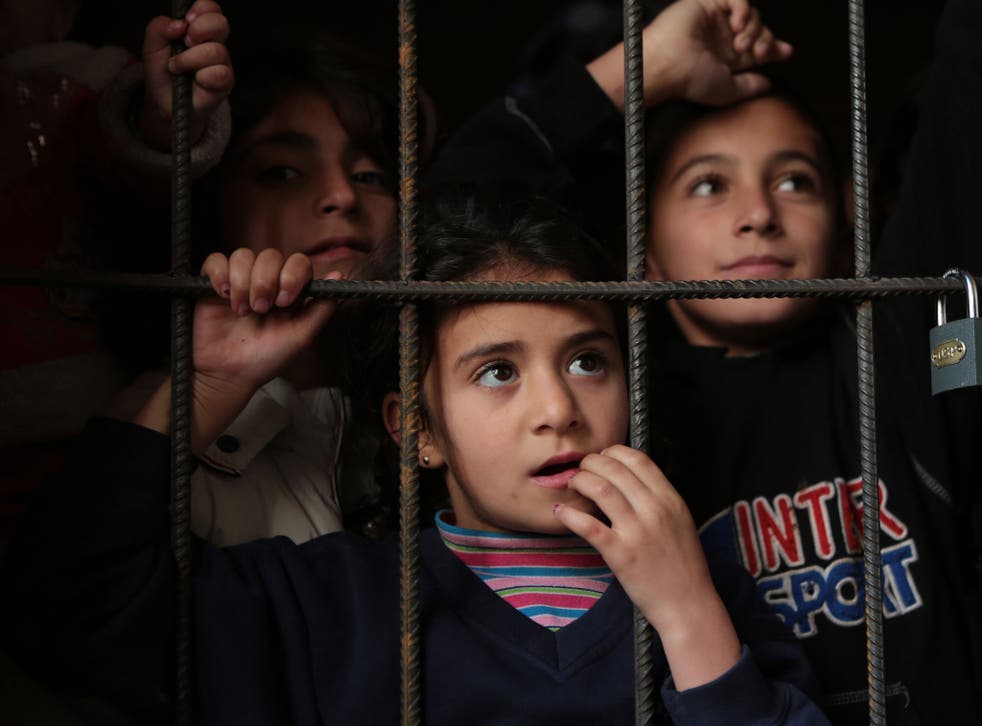 Europe warned as Middle East gears up for mass vaccination after Syria polio outbreak
WHO announces huge vaccination programme to stop disease taking hold across Middle East and warns of need for wider surveillance
An outbreak of polio in Syria represents a public health threat to Europe, experts have warned for the first time, as the World Health Organisation announced a huge vaccination programme to stop the disease taking hold across the Middle East.
The WHO said that European countries should consider scaling up surveillance for the disease and ensure that vulnerable communities are vaccinated, as it escalated its response to the first polio outbreak in Syria since 1999.
Writing in The Lancet, Professor Martin Eichner of the University of Tubingen in Germany and Stefan Brockmann, of Reutlingen Regional Public Health Office, warn that, because only one in 200 infected individuals are severely affected by the disease, there is a risk that unvaccinated refugees from Syria or travellers from neighbouring countries could introduce the virus "unrecognised".
Countries in Europe with relatively poor vaccine coverage - including Austria, Ukraine and Bosnia Herzegovina - may be at particular risk of "sustained transmission" if the disease was carried into the region, they said.
On Wednesday the WHO doubled the number of people it said must be urgently vaccinated to 20 million. An eight-month campaign will target children both within Syria and in Turkey, Lebanon, Iraq, Jordan, Israel and the Palestinian territories, amid fears the virus may have been carried to neighbouring countries by refugees among the millions seeking refuge beyond Syria's borders - often living in unsanitary conditions ideal for the transmission of disease.
There have been just 10 confirmed cases in Syria so far, but Dr Hamad Jafari, the WHO's director of polio operations told The Independent that it was highly likely that the number would continue to increase.
All the cases so far have been in children under two, who have missed out on routine vaccination because of widespread disruption to Syria's once extensive healthcare system since the start of the war.
The outbreak has led to calls for a "humanitarian pause" to the conflict to allow health workers to gain access to communities caught up in the fighting, amid reports of doctors and aid workers being targeted by both sides.
The former UK foreign secretary David Miliband, who now leads the aid charity the International Rescue Committee, said the polio outbreak demanded "an immediate humanitarian ceasefire."
Dr Jafari said: "We should expect more and more cases occurring in this outbreak. That's why there is a sense of urgency about stopping it as soon as possible. How much it spreads depends on how quickly we are able to get into these areas and vaccinate children…"
"Health workers will be taking extraordinary risks in some areas. Many children are living in zones of active conflict. It will be dangerous, but the [the WHO] has had experience of stopping polio in Somalia, in South Sudan during the civil war - it can be done. But it does require cooperation and the will of all stakeholders."
The WHO now believes that the polio virus behind 10 confirmed cases in the eastern Syrian city of Deir al-Zour most likely originated in Pakistan - one of only three countries where the disease remains endemic, following a massive eradication campaign which has seen the number of cases plummet from 350,000 in 1988 to just 223 last year.
However, outbreaks in Somalia, Kenya and now Syria have led to the first year-on-year increase in cases since 2008, with 322 confirmed incidents in 2013 so far.
The polio virus has also been detected in sewage in both Egypt and Israel in the past 12 months.
The disease primarily affects children aged 5 and under. It is extremely infectious, and spread through person-to-person contact. It multiplies in the gut and can invade the nervous system, causing irreversible paralysis in a matter of hours. However, 90 per cent of infected people have very mild or no symptoms, and can become "silent" carriers.
"This outbreak reinforces the fact that no country is safe," Dr Jafari said. "It is to the collective good that all countries should work to fight polio in those countries where it is endemic - Pakistan, Nigeria and Afghanistan - because they are the sources of these outbreaks."
The WHO is working with the Syrian Health Ministry, UN agencies and NGOs including the IRC, to reach children in need of vaccination in Syria.
However, many international charities have been barred from rebel-held areas by the regime. Aid workers from charities such as Medecins Sans Frontieres and the British group Syria Relief, who have worked in rebel-controlled areas, have reported how hospitals, ambulances and health workers have all been targeted by regime forces.
Dr Benjamin Neuman, a virologist at the University of Reading, said that Europe remained vulnerable to the polio virus because of the way children are vaccinated against the disease.
"In parts of the world where it is still possible to catch a wild strain of polio virus, children are usually vaccinated with a live but genetically weakened poliovirus which gives excellent protection but has a tiny risk of changing back to the more dangerous form," he said. "However, in parts of the world where polio has been eradicated, like the UK, children are usually given a killed vaccine. It doesn't protect quite as well but it cannot mutate, so it protects reasonably well while preventing polio from being accidentally reintroduced to a country
"Vaccination is never perfect, so despite being vaccinated, a small percentage of children in the UK would be at risk of contracting polio if they were exposed to the virus. Until the virus is completely extinct, it is essential that we continue to vaccinate our children."
Dr Jafari said that climactic and hygienic conditions in Europe, as well as developed public health systems, would likely prevent a serious outbreak, but warned that all countries should be vigilant.
"The concern here is that there is a big population moving from polio affected areas, closer to Europe," he said." "Populations that are particularly vulnerable should be vaccinated if they haven't already, surveillance for polio should be improved."
Join our new commenting forum
Join thought-provoking conversations, follow other Independent readers and see their replies