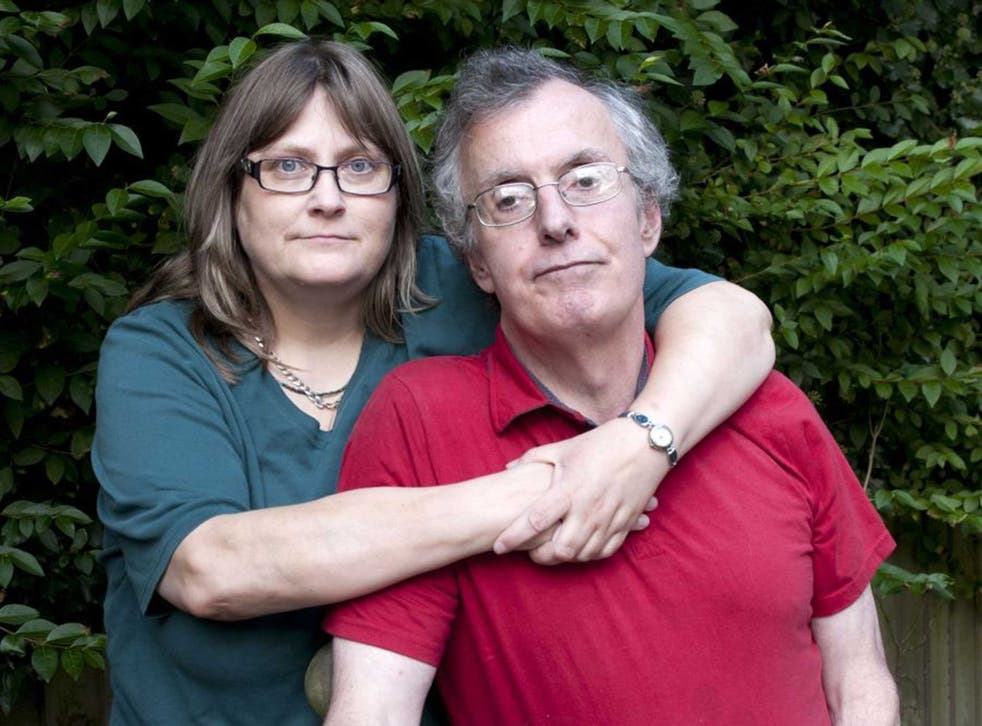 Amnesia - the reality: Each day a blank slate for the man with no memory
The condition drives plot of new film 'Before I Go to Sleep', but there's no glamour in it
By the time John Mills finishes reading this article he will not remember how it began. Ten years ago, the former metallurgist, 58, was in hospital having tests for heart problems when he developed a blood clot, prompting a stroke and cardiac arrest. It took doctors half an hour to get him breathing again; the lack of oxygen caused brain damage which has left him with a short-term memory of no more than five minutes.
His plight and that of other victims and their families is in the spotlight with the release of the film Before I Go to Sleep. Based on the 2011 best-selling novel of the same name by SJ Watson, it stars Nicole Kidman as a woman who wakes up each day with no memory. Her husband (Colin Firth) reminds her each morning of the car accident which led to her condition while her doctor, played by Mark Strong, urges Kidman's character to keep a video diary and update it daily so that she can reconstruct her memories.
"Been there, tried that," John Mills's wife Jackie said. "Writing things down doesn't work if you don't remember that you have a notebook. We tried using a camera to take lots of photos of what John had been doing during the day. When we showed them back to him and asked if he remembered his reply was 'vaguely' – his usual answer to anything. Most of our life together has been forgotten."
The couple met in 1984 in Newcastle upon Tyne and married two years later. They now live in Newport, Gwent. At the time of his brain injury Jackie, 50, was training to become a primary teacher but has since become his full-time carer. "John was assessed as needing constant supervision 24 hours a day as he could easily be a danger to himself if left alone. Social services provided me with cover so that I could continue at university and I now have a degree in primary studies, but am not a teacher as I was unable to do the final teaching practice. I'm currently John's full-time carer and 'earn' around £60 a week carer's allowance for working 24 hours a day, seven days a week – a far cry from the teacher's salary I was hoping for."
The couple's two children, Sam, 23, a final-year medical student, and Megan, 21, studying TV production, frequently return home to help. John recognises his children but can't remember being at their births. "John assumes he wasn't present. Immediately after his cardiac arrest we were told it was unlikely he would survive the night. The next day was Megan's birthday and I found myself awkwardly hoping that if he was going to go that he went before midnight and not on her birthday," she remembered.
"He was in hospital for three months but initially we didn't realise there was any brain damage. I would ask him if he had seen a doctor that day and the answer was always 'no'. Gradually we realised the extent of his memory problems." His old friends have drifted away and new ones made through the brain injury association Headway are forgotten by the time he gets home at the end of the day.
John has not lost everything he knew before, and retains his high level of intelligence, playing chess better than anyone the family knows. But his love of gardening has gone, and, although he was once a keen cook, it is not safe for him to be in the kitchen these days.
"His mood is also very flat," said Jackie. "There are no extremes of anger, frustration or happiness at all. John was never the most demonstrative of men, but he would regularly say that he loved me and would always remember birthdays, anniversaries and Valentine's Day. Now he only buys a card if I give the money to someone to take him shopping."
Jackie's story shows how the impact of a brain injury can spread far wider than just the individual concerned. Luke Griggs, director of communications at Headway, said: "We often refer to 'brain injury families' rather than individuals, as it can so drastically affect relationships. Partners can become carers, losing emotional bonds and intimacy with one another; children can suddenly find the traditional roles reversed as a parent needs the basic support they themselves used to receive.
"While there is no simple solution to restoring one's memories or ability to remember, it is possible to help some people adopt coping strategies and techniques to help them manage their day-to-day lives. These may include the use of external aids, mnemonics or repeated behaviours."
Amnesia films
Before I Go to Sleep is the latest in a line of films dealing with severe forms of amnesia.
Memento starring Guy Peace received critical acclaim following its release in 2000 telling the story of a man with anterograde amnesia - a loss of the ability to create new memories after the event that caused the amnesia leading to a partial or complete inability to recall the recent past, while long-term memories from before the event remain intact.
Drew Barrymore played an amnesiac in 50 First Dates with Adam Sandler as the woman-chasing veterinarian. The fictitious memory impairment suffered by Barrymore's character, Goldfield's Syndrome, is similar to short term memory loss and anterograde amnesia.
The Man Whose Mind Exploded, a documentary by Toby Amies, was released this year and tells the story of 76-year-old Drako Zarharzar from Brighton, who remembers working with Salvador Dali but doesn't remember yesterday following brain damage that robbed him of the ability to create new memories.
For support or further information on memory problems following brain injury, contact the Headway helpline on 0808 800 2244, or visit headway.org.uk
Join our new commenting forum
Join thought-provoking conversations, follow other Independent readers and see their replies