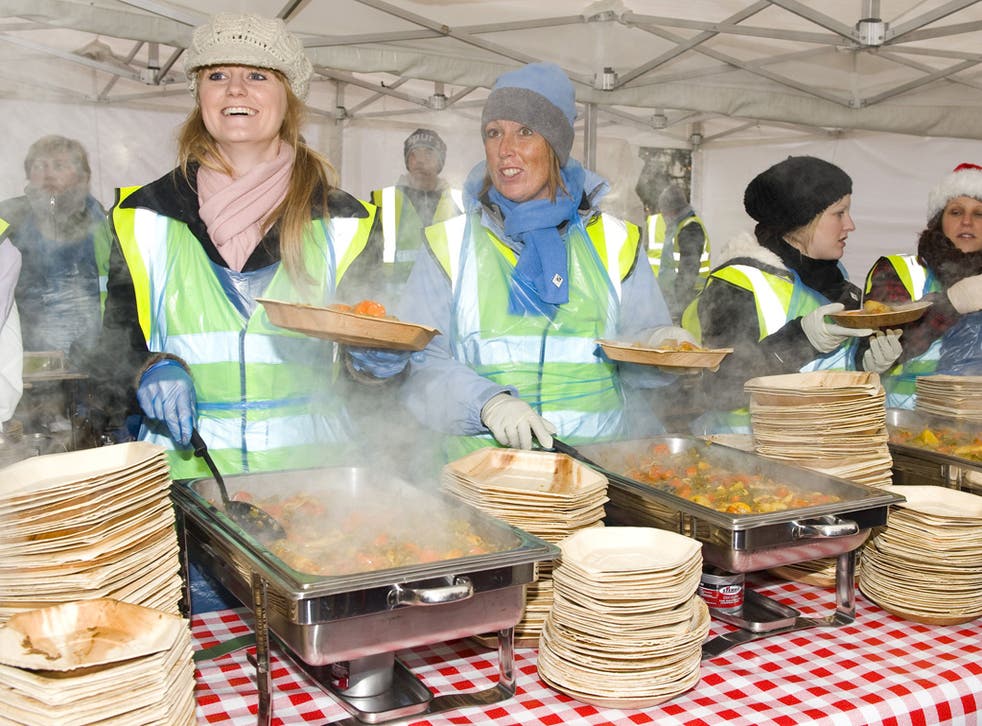 Charities: Not just for christmas
Many charities struggle for volunteers but are overwhelmed by offers at this time of year. The season of goodwill shouldn't end in January, says Luke Blackall
When Johanna Mawdsley and her husband Charles volunteered for a well-known homeless charity on Christmas Day in south London two years ago, they were hoping to be of some help to those who called in. But the reality was that the retired couple found themselves with little to do, as they waited around listening to other volunteers discussing the merits of various boarding schools.
"At times it seemed like there were more volunteers than there were homeless people," Mrs Mawdsley says. "We didn't stay in the end because we weren't needed. Anything that alleviates sadness at this time of year is good, but I think that the secret is one should be doing it not just at Christmas, but in January and in the summer months."
Having the luxury of too many volunteers over the festive season is something that a number of charities have reported in recent years, with some having to turn away fit, eager and willing people simply because they haven't got enough for them to do.
The well-known charity Crisis has had such a good take-up for volunteers this year that it was expecting to close applications for the 8,000 places on its 40th Crisis at Christmas scheme this week.
"We actually had more applications to volunteer than ever this year," says volunteer manager Jennie Smith. "We're hoping to close the applications, so we have time to plan our timetable. Because what we don't want is volunteers hanging around doing nothing. With the economic downturn and government austerity measures, homelessness is rising so we have to be ready for more people coming through our doors."
While some places are extremely popular, there are, however, other ways to volunteer. And with funding in short supply, charities are being forced to try to do more with less.
A good way to find opportunities and to research the organisations offering them is to look at the Timebank website (timebank.org.uk). One area highlighted is elderly support groups. This year, it is anticipated that one million older people will spend Christmas Day on their own – organisations such as WRVS try to reach out to them by organising festive lunches for people in Ross on Wye, Stockton-on-Tees and Banbury.
Host UK, meanwhile, connects families with foreign students, inviting them for dinner or to stay for the Christmas weekend. While for a fairly low-effort voluntary activity, Amnesty International will point you in the direction of people to write to.
Another option is in the retail sector. According to the Charity Retail Association, there are 180,000 voluntary workers in charity shops across the country, many needing help covering the busy Christmas and New Year period. Both Cancer Research and the British Heart Foundation are this year appealing for volunteers to work in their shops over the festive period.
Cancer Research is looking to add to the 16,500 volunteers who already work in its shops across the UK, particularly as it takes on average £1.5million from its shops in December.
Lynn Muller, head of product at Cancer Research UK, says: "Christmas is such a busy time of year for our shops so we are always on the lookout for volunteers who can spare some time to help us out. A number of staff across Cancer Research UK, including many of our scientists, love to get involved at this time of year too by volunteering for a day in their local shop."
The British Heart Foundation, meanwhile, is looking for volunteers for its 690 shops, which sell more than 80,000 items every day and last year raised more than £26 million for the charity. The charity offers volunteers the opportunity to work in various areas from window dressing to testing the goods in their furniture and electrical stores.
And Marie Curie Cancer Care is looking for volunteers to give up one or two hours to work as a collector at one of their 2,000 Christmas collections in town centres and supermarkets across the UK. The charity is hoping to raise £400,000 over the period.
The Timebank website also points to other non-profit organisations, which require a longer commitment. Some are well-recognised, such as Futures Together, which pairs young Muslim women with older Muslim women to help them learn English and computer skills. Other projects link those at small charities with those from the business sector and ex-service men and women with mentors.
The chief executive of Timebank, Helen Walker, says that if we want to make a real impact, we should probably be thinking that volunteering is not just for Christmas. "I certainly don't want to put people off, but it's almost too late for a lot of the [Christmas] volunteering opportunities," says Walker. "If you're working with vulnerable people you have to have CRB checks. You have to think about it really early, say October, to do a lot of activities."
But if you do act fast, you could be in for a great experience and the start of a long-term relationship with volunteering.
"You can go into it with the desire to simply help people, but you find out there's more from it," says Walker. "If you are unemployed or a young person looking for experience, volunteering can also give your CV boost.
"After they start it can become – and I hesitate to use the word in regard to volunteering – addictive, you get serial volunteers. Because you get more out of it than you put in."
This is backed up by research from the charity Community Service Volunteers, which says that two-thirds of those who volunteer at Christmas "catch the bug" and go on to volunteer again.
Their research also suggests that over half of volunteers say that volunteering reduces stress and some claim it improves physical health.
"That could be people's New Year's resolution," adds Walker. "Don't join the gym because you won't go. Sign yourself up to volunteer instead, you'll get so much more out of it."
Join our new commenting forum
Join thought-provoking conversations, follow other Independent readers and see their replies