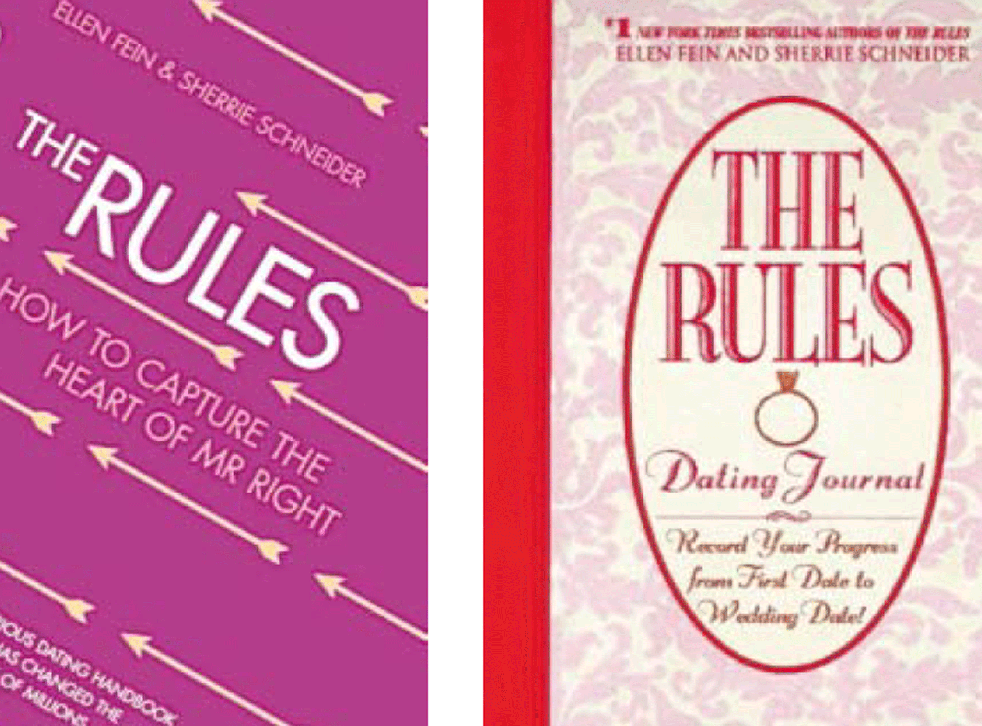 Cult dating book The Rules gets a modern makeover
The book that had 1990s women playing it cool has a new look. Look out, boys, says Harriet Walker
Ellen Fein and Sherrie Schneider practice what they preach. As authors of the dating guide that became a phenomenon – referenced in Sex and the City, and updated this year to include advice on how to date in the digital age – they achieved global fame for being women that know what men want.
The Rules: Time-tested secrets for capturing the heart of Mr. Right appeared in 1995 and advocated doing pretty much what your mother told you: play hard to get; keep a bit in reserve; remain mysterious. All told, it encouraged women to be a bit more cynical about their happily-ever- afters. And it seemed to get results.
When I ring them for our interview, both Fein and Schneider's phones refuse to accept my call because my number comes up as blocked. As the gurus who invented call screening, curtailing any contact that isn't face-to-face as quickly as possible, and good old-fashioned ignoring, this strikes me as particularly apt.
The New Rules: The dating dos and don'ts for the digital generation, (£9.99, Piatkus) published this month, offers their signature sagacious take on the grey area where sex and cyberspace intersect. And it's an important subject to address, given the de-mystification of internet dating and the rise of outlandish digital phenomena such as "sexting".
I'm regularly grateful to have been one of the last generations of teenagers who didn't have to worry about social media when it came to college crushes, but even I remember days spent staring at a mobile phone that refused to beep.
I have never been a "Rules girl" (that's right, they're a tribe – Blake Lively and Beyoncé are both rumoured to have tried them, on Leonardo DiCaprio and Jay Z respectively).
But the dictates are famous: never approach a man, let him come to you; never suggest a date; don't be the one to initiate or perpetuate conversation or contact; and never, ever agree to a date that is less than 24 hours away.
"It's more complicated and confusing now," says Fein, "and women need a new book to navigate the unchartered dating territory."
That territory includes texting, email, instant messaging, online dating, Facebook and Twitter. Before these, there was just the telephone, which you invariably watched until it rang. And when it did, you didn't pick up. Well, I did, but I already told you I wasn't a Rules girl. Fein and Schneider have even enlisted the help of their teenage daughters, to add their own take on romance in an over-connected era.
"These days, it doesn't matter whether a guy calls, texts or emails to ask you out," goes one of their hymeneal homilies, "as long as he asks you right." "Technology is great," continues Schneider. "We love it. But it's the overuse of technology that is the problem. Women are over-texting. They're addicted to answering guys back in nanoseconds and they're not getting dates. They're getting more texts and Facebook messages and no dates."
"They're writing on guys' walls, friending their cousins and scaring them away," adds Fein. "They're posting so many mundane status updates that they come across as the opposite of mysterious. A Rules girl is busy and disappears between dates."
To help you maintain a more elusive online presence, The New Rules outlines a "blackout period" between 6pm on a Friday and 6pm on a Sunday, during which time no texting, messaging, email or social media updates are allowed. If you're horrified at the suggestion, clearly you're part of the generation this latest book is aimed at.
For the rest of us, it's a welcome return to anonymity, to relinquishing the constant anxiety over whether you should be publicising how cool you are by tweeting your global positioning reference every time you enter a cool new bar or restaurant. Fein and Schneider also suggest various techniques for leaving an online chat or email chain as quickly as possible, to retain your mystique. (One of these is "my internet is acting funny", which one male acquaintance suggested was about as seductive as Google chatting with his mum).
Essentially, The New Rules deals with social media and our increased interconnectivity by ignoring it all and pretending humanity was at a comms high around the time Rapunzel was locked up in that tower.
The advice, which ranges from micro-management to maternal instruction, takes the tone of a maiden aunt. Much of it makes sense – "Don't answer texts or anything else after midnight"; "Don't get wasted on dates"; "Don't relocate because of a guy" – while many chapters, such as "Don't talk too much in the first few weeks", might make the modern woman recoil.
The central premise of the Rules is that if a man likes you, he will approach you. Any communication you make independently of that is an initiation of contact that would never have happened were it left up to him. This, the authors argue, is what means women are disappointed again and again by men who are perfectly happy to accept your advances (and all the, ahem, perks they might bring), but who won't follow through with a second date or who can't commit.
"The Rules are about boundaries and self-esteem," says Schneider. "That is not repressive: that is called self-control and smart, effective behaviour."
"We are feminists," adds Fein. "But men and women are biologically different. We say go ahead and run a marathon and buy a condo and start a new business, just don't chase guys. It's not good or bad, it just doesn't work."
Such is the crisis that constant contact has caused in our consciousness that Fein and Schneider have also created a chart in the new book that will tell you how long to wait before you text a man back (hint: the lag period increases, the older and supposedly wiser you are, and leave at least four hours before replying to man's initial text, whatever your age).
"Don't text him back immediately… Write fewer words than he does… Never double text," they suggest.
"If you want more from a guy, give less."
It's good advice, written in the vein of now-famous post-Rules guides Why Men Love Bitches and He's Just Not That Into You; each is predicated on creating an epiphany moment in women, when they suddenly understand what it is that men want or need from them. Plenty of us have been waiting to find that out for years.
The New Rules might not explain the great mystery, but they offer certain coping strategies in the meantime.
Register for free to continue reading
Registration is a free and easy way to support our truly independent journalism
By registering, you will also enjoy limited access to Premium articles, exclusive newsletters, commenting, and virtual events with our leading journalists
Already have an account? sign in
Register for free to continue reading
Registration is a free and easy way to support our truly independent journalism
By registering, you will also enjoy limited access to Premium articles, exclusive newsletters, commenting, and virtual events with our leading journalists
Already have an account? sign in
Join our new commenting forum
Join thought-provoking conversations, follow other Independent readers and see their replies