On the edge of nowhere

Show all 3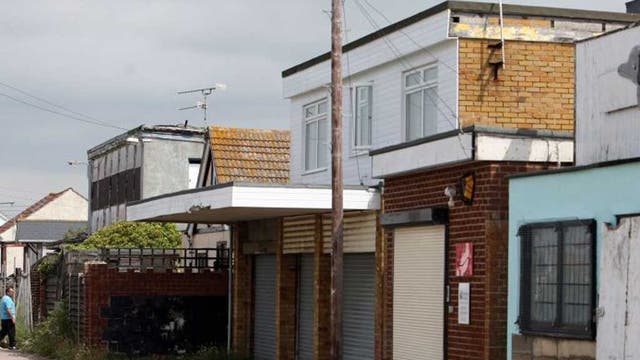 On the edge of nowhere
Once a thriving resort, the Essex village of Jaywick is the poorest place in England. But many of its residents wouldn't live anywhere else. Simon Usborne pays a visit
The Brooklands estate makes up the west end of Jaywick, a village on the north-east coast of Essex. Roads of cratered concrete edged with nettles and rubbish support hundreds of bungalows, many of them glorified sheds without proper insulation. From the sky, the place looks like a seaside idyll between green fields and golden sands. Closer up, it resembles a shanty town.
Jaywick is officially the poorest place in England. The seaside resort in the home counties, just 60 miles from London, lies at the bottom of the Government's Indices of Multiple Deprivation, which accounts for income, employment, health, crime and living standards. The poverty ranking, published a year ago, has cemented Jaywick's synonymy with rot and ruin. But, as a new film presents yet another unbecoming portrait, many residents beg to tell a different story.
Mike Smith is the son of a milkman from Barnet in north London. He started coming here with his family as a baby in the early Fifties. They stayed in a chalet called Happy Days. "I remember the excitement of coming down in the car and not being able to see over the sea wall at first," he says. "Then when you got to the old arcade you used to go over a hump by the wall and you knew you were here."
Deprivation in Jaywick used to mean a shortage of sunshine. Brooklands had been conceived in the late 1920s as a summer holiday resort for newly mobile Londoners. A short drive from the capital, the street plan resembled a car's front grille and the roads, or avenues, were named after British marques of the time: Austin, Humber, Sunbeam. A boating lake was in the middle of Brooklands, next to a row of restaurants and shops, as well as the Mermaid Inn. "This was a place where hundreds of children seemed to be," Smith says. He recently wrote a poem about Jaywick in which he recalls its "bright lights and carefree roads".
Smith, who is now 60, stopped coming to Jaywick when he reached adulthood and went on to live a comfortable life as an insurance broker in Dorset. But three years ago, after suffering from illness and the breakdown of his marriage, he escaped here for a holiday. When he saw a bungalow for sale on the seafront, in the less-deprived part of the village, he bought it and moved in. "I wanted to go somewhere where I used to be happy," he says. "I knew things had got bad here but since I came back I've realised just how different it really is – the dereliction and drug abuse – it's really out of control."
The beach here is still packed on sunny days, but bathers no longer venture into Brooklands, where the Mermaid Inn now sits boarded up alongside the abandoned Dolphin Diner. Of the few uninhabited chalets here, many of which sell for as little as £20,000, some have been burned while others crumble. "It's sad," Smith says, "because if you take all that away and see the lovely beaches, you think, why should it be like this?"
Jaywick's fortunes started to decline at about the time Smith first arrived. The post-war housing shortage in London had compelled many occupants to live here all year. Then, in January 1953, the great North Sea flood killed 37 residents. Still designated an area at risk of flooding, Jaywick faces strict limits on development, which means applications for new building work or even improvements are usually rejected. As conditions have declined, residents have fled. They sell their homes to landlords who charge less in rent than the housing benefits received by their tenants, many of whom seek a different sort of getaway – from drugs, broken homes or lives of crime.
If Jaywick is going to be drowned again, it's being slowly suffocated first. But there remain people here drawn by more than nostalgia or the need to escape. The Jaywick Community Resource Centre stands on the site of the old boating lake. Vicky Hackett, who runs it, is waiting to welcome 30 or so pensioners for a weekly lunch. "This isn't deprived," she says, pointing at the beach over the sea wall. "Look at it! You go to parts of east London, where I'm from. Now that's deprivation. We have our problems but I love it here because the people are second to none. They've chosen to live here and they're happy."
Karen Guthrie and Nina Pope were fascinated by the divide between those who adore Jaywick and those who would sooner flatten it. The filmmakers spent months here in 2010 making Jaywick Escapes, which had its London premiere at the East End Film Festival last week. The film follows a handful of new residents, including recovering heroin addicts from London. "We're a 90-minute drive from the Olympic Stadium but this place has been ignored for a very long time," Guthrie says. "People watch The Only Way is Essex and have a sense of it as a blingy place, but it's important to realise poverty isn't confined to the North."
Mike Smith supports the documentary, an extract of which is now on show at the Science Museum in London, and supplied some of the film's archive footage of Jaywick's heyday. But he says residents tire of repeated negative depictions of their home. "Why do they have to show only certain sorts of people?" he asks. "Yes we've got our fair share of problems but most people here are very nice."
Smith also supports CoastNet, a charity working in Jaywick. On Saturday, he and dozens of other volunteers and residents will gather for the village's fifth annual summer fair and the third "Jaylympics" sports day.
Nobody in Jaywick believes bunting or resource centres are enough to revive the resort. Neil Stock, leader of Tendring District Council, covering Essex's north-eastern peninsula, also has fond childhood memories of holidays at Brooklands. But he says today "Jaywick is an embarrassment to the whole country". He blames the planning restrictions imposed by the flood risk for creating an environment that allows landlords to profit from decay. He says he has support from Westminster and the Environment Agency for a new policy that would ease restrictions, offering incentives for new building work.
Until that happens, many residents blame the authorities for Jaywick's decline. "Every other year you hear about some new plan to redevelop Jaywick," Hackett says. "We've had millions, apparently, but it's all gone on consultancy. All people here want is their roads done and decent street lights." Stock insists millions have been spent in Jaywick but "it hasn't been successful. The problem with pumping money into Jaywick is that you risk the accusation of almost sponsoring squalor. That's not a solution".
In 1971, the council tried to end it all but its plans to demolish Brooklands were defeated by residents. There is a sense in Jaywick that, despite its ills, community spirit remains strong enough to keep away the bulldozers. It was striking, then, to hear the response of one of its fondest inhabitants when asked how Brooklands might be rescued. "Honestly?" Smith asks, looking out over the beach. "Knock it down. It's very sad to say it but while there will always be a community there, the conditions people have to live in shouldn't be allowed."
Smith expressed his feelings in a poem: "Promises made to restore and rebuild, Lies, all lies never to be fulfilled. Give up Jaywick, lay down and die. Become the memory, the love in my eye."
Join our new commenting forum
Join thought-provoking conversations, follow other Independent readers and see their replies