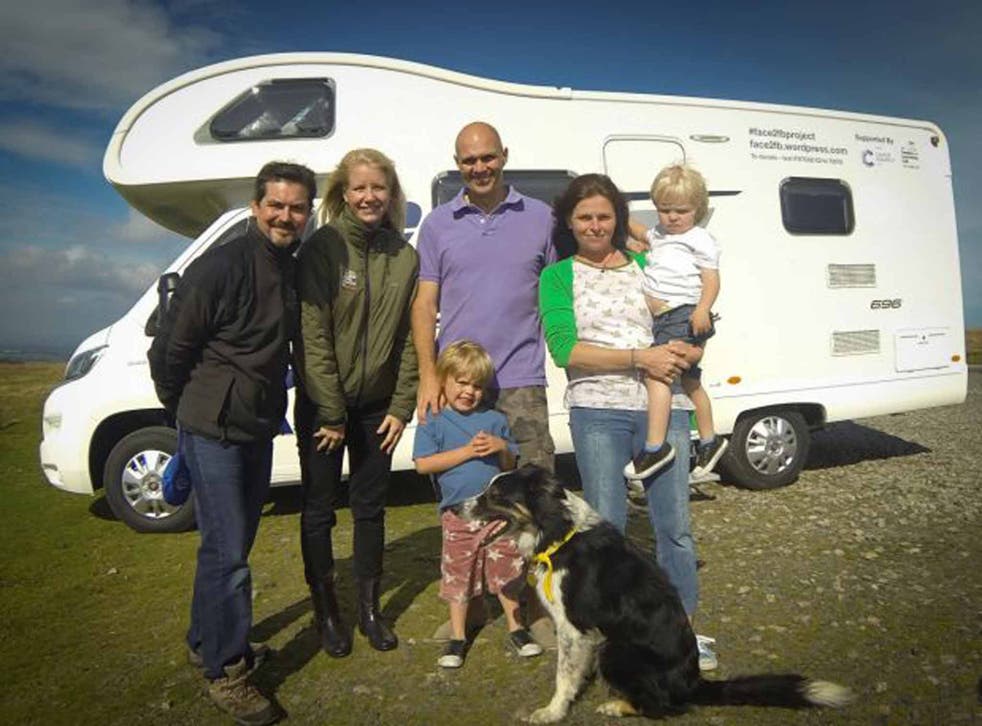 Forget Facebook: One man's quest to see his nearest and dearest in person
The loss of two loved ones convinced David Hurst and family that 'seeing' friends on social media is no substitute for real-life meetings – so they set out on an extraordinary road trip
David Hurst
Tuesday 18 November 2014 01:00 Comments
In the past four weeks, we have become truly happy. For, with my wife Debs and our two young sons, I've travelled around Britain visiting more than 100 friends and family. It has been heartening and uplifting.
This is where we are now, but it all started with my Uncle David three years ago. After celebrating his 67th birthday with a walking holiday in the Scottish Highlands, he developed a sore throat. Three weeks later, he died from oesophageal cancer.
Then, a year afterwards, my best friend Tim – a 48-year-old from Chicago who I'd met while travelling in the Caribbean two decades earlier – emailed me just before Christmas with the shocking message that he was suicidal. Two months later, despite my best efforts as a friend, he took his own life.
In the months afterwards, it really hit me that life doesn't always go as you think it will. Debs and I were both surprised and aghast that we hadn't seen David or Tim for far too long, and much longer than we thought – several months in David's case, even though he only lived a little over two hours' drive away, and in Tim's case, the three years we thought was actually six when we counted it up.
As happens, we'd intended to meet, but… well, the phrase we keep hearing is that "life and things get in the way". And so they do, but isn't seeing friends the best thing in life?
If there can be any solace from our losses it is that we've been compellingly reminded of this. So, six months after Tim died, rather than take a beach-type holiday, we spent a week visiting a dozen friends who we – although in touch through Facebook – hadn't actually seen for too many years. Meeting them was poignant and wonderful. Some of them met our sons Daniel and Darley, now aged five and three, for the first time.
It was then that our idea for this latest family travel adventure started forming, one that we've dubbed the Face2Facebook Project. But rather than it just be about us travelling to visit family and friends, we also wanted to inspire others to spend more time with their family and friends. Then we thought: "Wouldn't it be great if we could do this and raise money for charity as we go?
And this is where we are now, spending every day on the road as we see "our people". It's been spectacular, slightly surreal and full of smiles.
That we are donating £2 to Cancer Research UK for everyone we visit only increases the depth of our delight. Added to that, that we're encouraging everybody we see to visit a long-lost friend or family member and then to also donate to charity makes it all the better.
We also wanted to highlight that seeing someone for real, face to face, is incomparably better than staring at and "chatting" with them through a flat screen. So we're posting a "face2face" (or increasingly "nose2nose") picture on our Facebook timeline to show how the smiles come when you see a friend – and inspire others to follow the project's slogan: go see your people!
What we are planting inside ourselves as we see our friends is something longlasting, a warming of hearts, a rekindling of friendships and a restocking of the happy memory bank in our minds. All of us know that seeing a friend has this positive effect, but somehow we repeatedly push it away in pursuit of happiness by other means. But in the pursuit of "achieving" this other happiness, we usually neglect the very thing we know that does make us happy: spending time with friends.
In the chase for happiness – which, often, we think that will come through financial wealth or gaining status – we commonly don't see even our best friends for months. As we've become more mobile, the gaps in time between seeing friends have grown over the years. Many of us move away from where we grew up, where our families have lived for generations. This is a relatively new phenomenon, and perhaps our pursuit of other forms of happiness is one consequence.
The mother of my best friend who took his life commented that his moving from his home city to a remote village was a mistake, that when he became depressed, his network of family and friends were far away. He was always on social media, but this clearly doesn't replace seeing someone in person. From our recent "celebration of friendship" visits, here's a fact: a two-second hug is worth a million social-media messages.
We set off in our aptly named Swift Escape motorhome to stay at Camping and Caravanning Club campsites around the country – the only and most fun way we could think of doing this. And so it's proving. Now we have 50 more friends lined up to visit in the UK and Spain – but if all keeps going well, we may just keep going, as there are many friends we haven't been able to see, including in the US and Australia, one in India…
We've been able to see Facebook photos of friend's houses come alive as homes full of warmth, laughter and love. We've met friends' children for the first time and friends have met our boys, and the children have all played happily together. For them, we hope this is the start of some friendships that will last their lifetimes.
There have been tears of joy as we've met elderly friends; unrestrained leaps of glee into old schoolfriend's arms. We have met four people for the first time who were friends through social media, and we've visited former work colleagues not seen for 20 years.
We've visited places where we've lived and caught up with a dozen mates in an afternoon, and we've hugged friends outside their offices for a minute, blissfully unaware of thousands of commuters rushing past us. And it has all felt so natural.
Experts acknowledge that our connections with people are a key factor in human contentment. Published just two months ago and already a bestseller, Paul Dolan's book Happiness by Design says: "The key to happiness is finding pleasure and purpose in everyday life. What you attend to drives your behaviour and it determines your happiness. If you are not as happy as you could be, then you must be misallocating your attention. The key here is to organise your life in ways so that you can go with the grain of your human nature and be happier.
"Happiness is caused by what we pay attention to," says Dolan, a professor of behavioural science at the London School of Economics, who devised the questions being used in large surveys on happiness in the UK, as well as being asked to advise multinational companies, charities and governments about how they can improve happiness.
"A large part of how you feel is determined by what you do, what you do is largely motivated by the expected impact on your happiness, and happiness is the feedback you receive about the impact of what you do. You can see how it's all very cyclical. Your happiness is determined by how you allocate your attention."
We've heard some people say that they know that visiting their loved ones is the right thing to do, but they simply don't have the time or money to do it. You do, we say, if you make it a priority – as you know in your heart it should be. That's how we've done it – downsizing our house to afford the motorhome and deferring our eldest son from school for a few months.
Our advice to friends we visit is this: go and see a friend you've not seen for too long in the next week – or, before you know it, that will be another year since you've seen that friend you're thinking about right now that you know you should have visited before now.
This, of course, is open to everyone to take part in, not just our friends – and if you do, you'll be giving not only to charity but also to your friend or family member, as well as to yourself.
Cancer Research UK loved the concept so much that it's officially on board. We were told by one of the charity's fundraising managers that a common reaction of someone learning a friend or family member has cancer is to sadly realise they hadn't visited them for too long, and then visit the person, but when they are ill. With some aggressive cancers, people don't even get this chance.
The importance of getting priorities in the right order was brought starkly home to us this week while driving on the A1 in Yorkshire. Suddenly from nowhere a huge lorry tyre loomed on the outside lane. A massive truck was on our inside and crash barriers to the other side. We were motoring at 60mph. Debs was at the wheel, and there was only time for her to let out a cry of some sort, then a terrific jolt and bang as we hit the tyre head-on, bounced about all over it before it span out, thankfully, into the central barrier.
After having the motorhome thoroughly checked and the bodywork damage patched up, we had to postpone visiting just one friend, but then get on with the project. Touching noses with our friends since then has felt that bit more wonderful.
Facebook: goo.gl/w8adB0
Blog: face2fb.wordpress.com
Twitter: @davidhurstuk
JustGiving: justgiving.com/Face2fb/
Register for free to continue reading
Registration is a free and easy way to support our truly independent journalism
By registering, you will also enjoy limited access to Premium articles, exclusive newsletters, commenting, and virtual events with our leading journalists
Already have an account? sign in
Join our new commenting forum
Join thought-provoking conversations, follow other Independent readers and see their replies