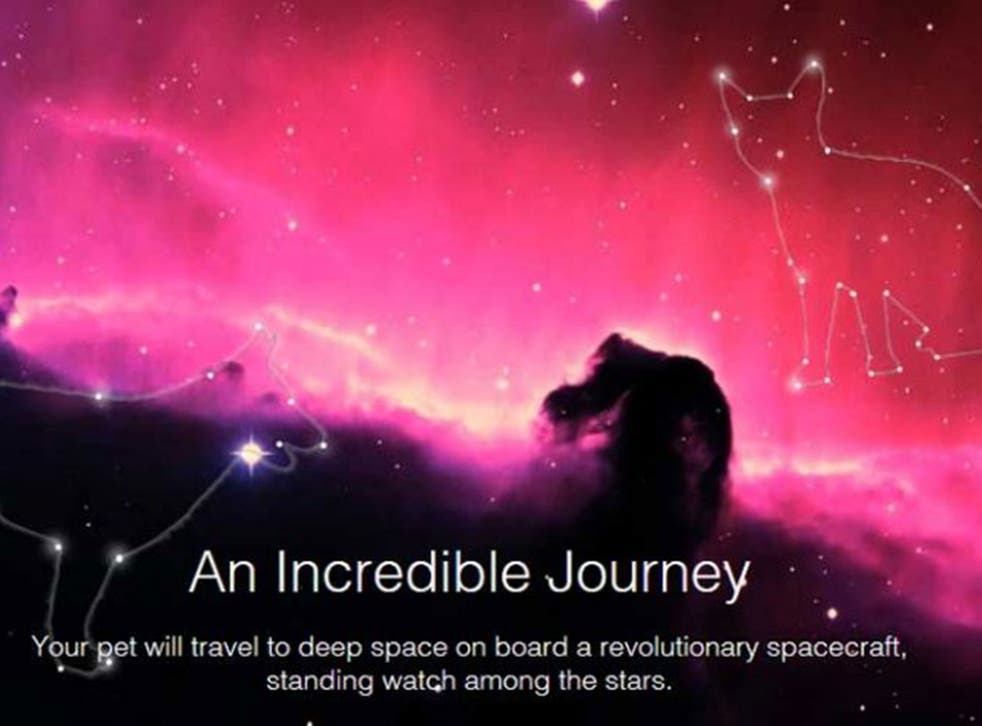 Heavenly Bodies: Space funerals for pets
Want Fido to have a memorial the family will remember? A company that blasts human ashes into space is now offering to propel beloved pets. Simon Usborne reports
Six feet under, or 250,000 miles up? That's the choice for the bereaved with the will – and the money – to follow an increasingly popular approach to death, perhaps all the way to the Moon. In October, an American company that has for years blasted human remains into space will launch its first mission for pets.
Apollo, an Australian shepherd beloved of the Potter family of Los Angeles, California, will be sent into orbit on the inaugural flight of Celestis Pets, an off-shoot of Celestis, a "memorial spaceflight" firm based in Houston, Texas.
"Apollo was a remarkably intelligent dog who constantly demonstrated leadership..." Michael Potter says in a press release. "We wanted to do something to remember and honour him."
The animal's ashes will be loaded into a capsule and on to a commercial space flight, before being returned to the Potters with a certificate proving his journey to the heavens. The service costs just under $1,000 (£600). For £2,400, ashes can be sent up with a satellite for years until they re-enter the atmosphere, "vapourising like a shooting star in final tribute". Little more than £7,000 buys Fido a ticket to the Moon. If it sounds mad, then consider the solace and sense of celebration that hundreds of families have already found in the sky. Celestis launched its first ashes in 1997, with a payload that included Star Trek creator Gene Roddenberry. The October flight this year will carry the remains of a dozen people, including Jonathan James Metcalfe, a British man from High Wycombe. He suffered from cystic fibrosis and died aged 25 after a failed lung transplant.
Metcalfe's family booked space on the flight via Fergus Jamieson, who operates as a UK distributor for Celestis. His own company, Heaven Above Fireworks, based in Essex, has for 10 years staged relatively more grounded displays, as well as making mail-order fireworks adapted to allow families to add ashes themselves.
"I see myself partly as a funeral director," says Jamieson, who holds several meetings with families to arrange displays, which can include speeches, music and a toast. "The most important thing is that they are a much happier farewell. People go away with sadness, and tears running down their face, but also huge smiles because of the excitement of the fireworks."
Ferguson, who had retired after a career that ended in marketing, soon received enquiries about space flights, and eventually formed a partnership with Celestis. A second British passenger on the October flight was a woman of 93 who requested the launch as well as a separate fireworks display. "Our clients come from all walks of life," he says. "Some have a fascination with space. It's generally not a religious thing. It's not about going towards heaven, although it can be if that's what they want."
Ferguson's most prominent client has been Anita Roddick, the campaigner and Body Shop founder. When her mother, Gilda, was dying in 2007, the pair arranged a fireworks display. But Anita herself then died suddenly just months after her mother, and weeks before the event on Littlehampton beach. "My mum and grandmother were colourful, creative, outrageous, impossible women," Sam Roddick tells me. "And my mother always wanted to turn something uncomfortable or taboo into something glorious or inspiring. The way she coped with my grandmother's impending death was to talk to her about it, and make her laugh with ridiculous suggestions. They planned the fireworks display together and for neither of them to be there was emotional but beautiful." She adds: "Who wants to be miserable at a funeral?"
Space flights are less immediately spectacular, although most families choose to attend rocket launches. In Britain, Ferguson now has rivals in the space memorial business, including from those who want to honour their pets.
Two years ago, Ferguson's wife died. He and their children fulfilled her wishes to be buried at the church where they had married and been christened, but they also kept some of her ashes. Ferguson plans to combine them with his own when he dies.
"I'm going to go up in a big fireworks display and all my friends are going to come for a big party," he says. "I've already chosen some of the numbers. I want to end with 'Time to Say Goodbye', by Andrea Bocelli but will start discreetly with the theme tune to Superman."
Join our new commenting forum
Join thought-provoking conversations, follow other Independent readers and see their replies