Lisa Jardine: 'Nobody wants to run stories about the people who go through IVF for nothing'

Show all 2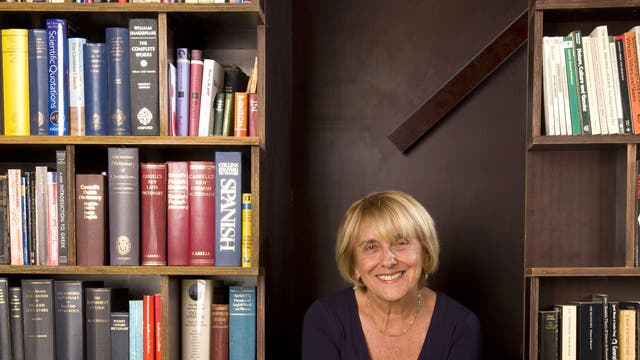 Lisa Jardine: 'Nobody wants to run stories about the people who go through IVF for nothing'
It pays to be realistic when you're trying to have a baby, the outgoing fertility regulator tells Steve Connor
The beginning of life is a unique moment and anything that can medically assist it requires unique oversight. This is why fertility treatment needs its own regulator and why Britain leads the world in developing the legal framework governing IVF treatment. So says Lisa Jardine, the outgoing chair of the Human Fertilisation and Embryology Authority (HFEA), who has fought tooth and nail to keep the fertility watchdog from being dismantled in the Government's "bonfire of the quangos".
Since her appointment in 2008, Jardine has led Britain's fertility regulator through its most turbulent times – including bruising legal battles with some of the IVF clinics licensed by the HFEA. But perhaps her most significant success is that the authority still exists as an independent, quasi-autonomous body.
It was not just the Government that wanted to abolish the authority. Some high-profile fertility doctors also questioned whether they, and the IVF treatment they offer, needed any kind of special legal oversight. One high-profile critic said: "Too often it has felt like the HFEA was more preoccupied with process and form filling than supporting the fertility doctors and patients they represent."
But Jardine, who steps down in the new year after nearly six years in the job, is adamant that IVF treatment is unlike any other branch of medicine and that the clinics that carry it out need to be regulated by a truly independent body, such as the HFEA, with its own staff and specialist advisers.
"It has to be regulated. It's unique. It's the creation of life," Jardine said. "There are two moments in medicine that are unlike any other bits of medicine: the creation of life and the destruction of life. Assisted reproduction and assisted dying are the two poles. I don't think any responsible nation, ethically or clinically ought ever not to regulate those," Jardine said.
"Some people say, clinically, IVF is like a hip replacement. But if anything goes wrong with a hip replacement, people can't walk. If IVF goes wrong it can have devastating and life-long consequences," she said.
One IVF couple, for instance, had a mixed-race baby when they were of the same race, and another couple had a baby affected by an inherited disorder after the IVF procedure was supposed to ensure this did not happen.
Jardine, 69, is an academic historian and the eldest daughter of Jacob Bronowski, the mathematician who in the 1970s presented the highly acclaimed BBC series The Ascent of Man. Jardine too is perhaps better known for her broadcasting and books – she is an award-winning biographer of scholars such as Francis Bacon and Robert Hooke. She is also a part-time professor of renaissance studies at University College London.
She regularly presents engaging essays on Radio 4's A Point of View, where she chose to announce that she was stepping down as head of the HFEA. She wanted to be the one who released the news of her departure, rather than it coming from a government press office.
She could have applied for another term as HFEA chair, but she didn't, and she refused to be drawn on the reasons. Someone close to her suggested that the conservative-minded Health Secretary, Jeremy Hunt, would not have welcomed the re-application of someone with such well-known liberal views.
So does she have any regrets about her time at the HFEA? She has obviously given the question serious thought. "I regret as a communicator that I hadn't been able to reach out to the public to explain to them the drawbacks of IVF as well as its wonderful hope. The stories are always exciting. The stories about multiple births are always about beautiful babies. But somehow no one wants to run stories about the two thirds of women and men who go through all of the considerable health trauma and anxiety and yet in the end they don't get a baby." It is a sad fact that most couples who seek IVF treatment end up disappointed. Some clinics claim their success rates are greater than 60 per cent, but Jardine is suspicious of the data, saying the real figures are often far lower.
"Standard IVF, even with bells and whistles, is still not delivering a 50:50 chance of having a baby. You will find that some clinics claim to have a higher success rate, but we believe they are reading their statistics differently. I'm really surprised that over my six years there's been no significant improvement in success rates."
The couples who undergo the medically intrusive procedure, often paying thousands of pounds for each treatment cycle, can feel abandoned at the end of it all when they walk away from the clinic without the baby they so desperately wanted.
"IVF is a wonderful story of hope but we still have to deal with the fact there is an increasingly large pool of people who are grieving as a result of this process. They have beautiful counselling at the beginning – the counselling is there; that's not what I'm talking about. I'm talking about the sense of abandonment at the end because at the end there isn't counselling."
Jardine, who has three grown-up children, has personal experience of the hope that modern medicine gives to desperately anxious people. She has undergone cancer treatment twice and has experienced the intense sense of hope that medicine can offer.
"What some clinicians didn't like was me saying was that IVF trades in hope. But cancer treatment trades in hope; medicine trades in hope. I think I stood in a particularly good place to say that because I had been through major cancer treatment twice. I fully understood what it feels like to be desperately in the statistic that succeeds, so desperately that you go 'la, la, la' to everything else."
Jardine is disappointed she will not be able to see through the HFEA's consultation on mitochondrial replacement – the so-called "three-parent" IVF babies who will receive their mitochondrial DNA from a donor egg. The Government is expected to allow this to go ahead next year for women with serious mitochondrial diseases.
She said one of her proudest achievements was making some kind of peace with the 160 or so fertility clinics that are licensed by the HFEA and which have sometimes been the authority's biggest critics.
"I am proud of taking the HFEA from a position of antagonism with the sector to one of dialogue and mutual understanding. It doesn't mean that we will always agree. If the regulator was praised by the sector, you'd be doing something wrong."
The CV: Lisa Jardine
Name: Lisa Anne Jardine CBE
Born: 12 April 1944
Parents: The mathematician Jacob Bronowski and sculptor Rita Coblentz.
Education: Cheltenham Ladies' College, Newnham College, Cambridge and the University of Essex.
Professional background: Professor of Renaissance Studies at University College, London, where she is Director of the Centre for Interdisciplinary Research in the Humanities.
Appointed chair of Human Fertilisation and Embryology Authority (HFEA) in 2008.
Personal life: Married to the architect John Hare. Has three grown-up children – a daughter and two sons.
Award-winning author: Written several books, including Going Dutch, which won the 2009 Cundill Prize in History at McGill University, the biggest history prize in the world worth $75,000. (£47,000).
Broadcasting: Regularly presents compelling essays on Radio 4's A Point of View. She announced on air that she would be stepping down as head of the HFEA in the new year after nearly six years of service.
Join our new commenting forum
Join thought-provoking conversations, follow other Independent readers and see their replies