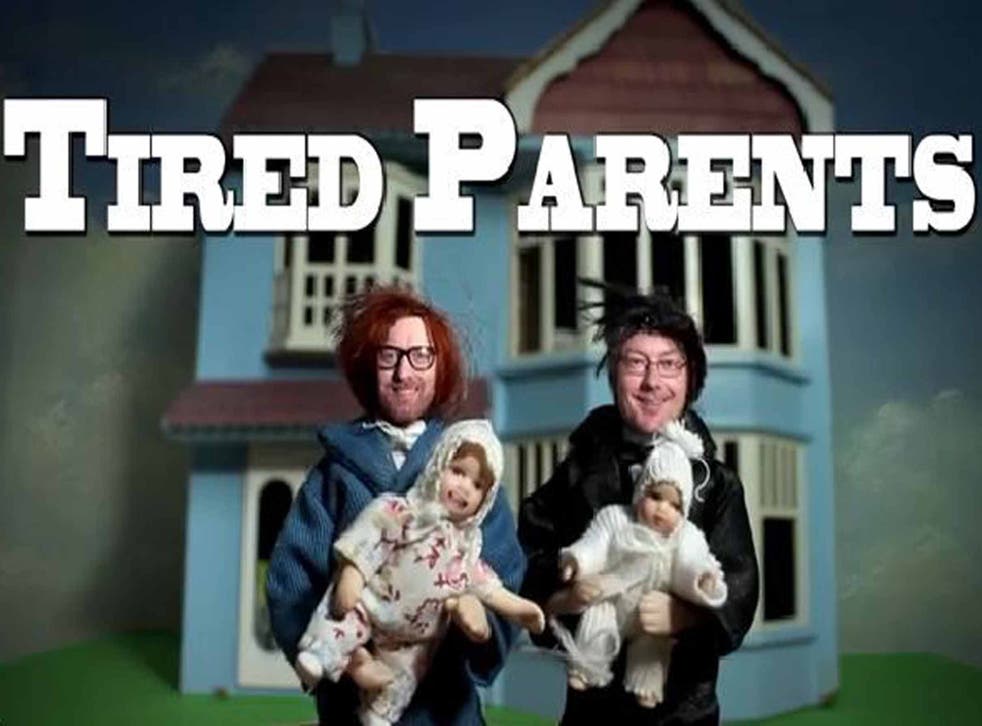 Mumsnet's Tired Parents video series explores new-baby sleep deprivation and is very funny at the same time
Mother-of-three Charlotte Philby on how Tired Parents perfectly encapsulates the madness of the first years of parenthood
When it comes to being a parent, there is one universal truth that unites mothers and fathers across the globe: having children is exhausting. As one who has recently had her third child, I can confirm that the mind-shattering, throat-rasping, life-sucking fatigue that comes with bringing up baby does not wane with experience. It multiplies. And with it, so too grows the sniping between put-upon partners, each of whom steadfastly believes he or she is more exhausted, more close to collapse than the other.
The only thing more dreary, in fact, than the sense of misery and self-pity that such tiredness can induce is hearing your own voice echoed back at you and realising what a dreadful bore you've become. If I were able to detach myself long enough from the tutting and eye-rolling during any of the increasingly regular spats between me and my husband, I would probably notice a trend.
If I were to create a diagram like the ones people have taken to sharing on Facebook, which analyse your conversations and pick out which words you use most frequently and highlight them in ever-bigger writing depending on how often you use them, and applied this to my domestic interactions, inevitably the words "knackered" and "sleep" would feature at 200 points.
All of which makes the new Tired Parents video series, written and performed by video director Tim Hope and actor Andrew Bone, simultaneously reassuring and a little too close to home… An "animated reality" video series available exclusively on Mumsnet, Tired Parents perfectly encapsulates the madness of the first years of parenthood – in particular those ridiculous, universal exchanges over whose turn it is to do what, when, and why.
Starring a new-parent couple in situations ranging from a rare night out without the kids to discussing New Year's resolutions, conversations in each painfully familiar episode typically descend from general chit-chat to politely-spat verbal warfare in approximately 10 seconds. In episode one – a 46-second film clip entitled "It's Your Turn"' – the tired parents settle down for sleep, before descending into routine bickering. "If they wake up tonight, it's your turn," begins parent No 1. "No it's not," parent No 2 replies. "Yes it is, I did last night…" "But they didn't wake up last night…" "That's irrelevant, I was ready to do it if I was needed…" And so it goes on. The fact that each parent in the less-than-a-minute long clips has a beard and their heads are super-imposed on to a drawing doesn't make this series any less relatable.
According the team at Mumsnet, who confirm the clips have been viewed nearly 100,000 times since they launched in the middle of January, the series "captures how easy it is to fixate on the minutiae of childcare when seven hours of solid sleep is but a distant memory. In truth, there's no scenario – popping to the shop, taking turns to get up with the baby at night, a rare night out – which can't descend into a competitive tiredness debate."
Justine Roberts, Mumsnet CEO, adds: "Life with a new baby can seem intensely surreal: you haven't had any unbroken sleep for days on end, you're surrounded by complicated equipment, and there's a tiny stranger curled up in your living room screaming for milk. So the design concept – the bird's-nest wigs, the dolls' clothes and the constant trembling – feels rather apt, as well as being brilliantly distinctive and fresh.
"The fact that the parents are both men allows the skits to move beyond well-rehearsed debates about gender roles, and instead recognise the exhaustion and passive aggression that we all feel in those early days – as well as making a welcome assumption that tasks are shared between any available parents."
Since its launch, she adds, suggestions from readers for titles of follow-on episodes include "Competitive illness" and "Who left the fucking Lego brick in the hall?"
To watch the videos, go to mumsnet.com/video/tired-parents Charlotte Philby is the founder of online magazine Motherland.net
Join our new commenting forum
Join thought-provoking conversations, follow other Independent readers and see their replies