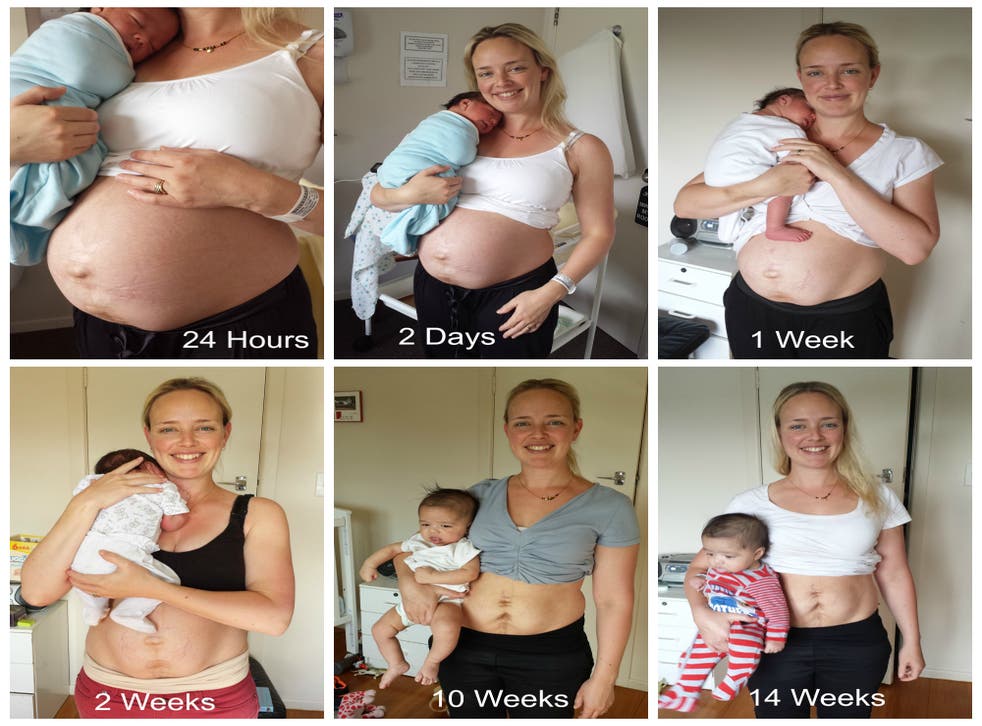 My real postpartum body: the brutiful truth
When I shared my untouched pictures, I knew it was a big issue for women, but the scale of the problem and the depths of the struggle took me by surprise. Some people said my blog would dissuade women from having children, but I don't think maintaining silence around the realities of motherhood will help women with the potentially overwhelming changes
When my first son was born, the changes in my body took me by surprise – and it was not just the weight gain.
I never thought I would be able to have children, so motherhood was literally a dream come true. But it was a dream that came with exhaustion, sleep deprivation, fluctuating hormones, emotional highs and lows, breastfeeding struggles and a battered, swollen and barely recognisable body.
I went back to work as a nutritionist and health researcher when my son was 12 weeks old. I will never forget walking into the office wearing maternity trousers and a breastfeeding top, and clutching a nappy bag stuffed with a breast pump and a sterilizer.
My colleagues were tanned and toned and had spent the summer running marathons; I felt like I had barely survived. My confidence was low and I felt like I just did not fit in anymore.
If I was struggling with the body changes despite my knowledge of health and nutrition, then I knew other women must feel this way too. There is so much pressure to bounce back into your skinny jeans after childbirth, but physical appearance is only part of the story. Even those who are blessed with a flat tummy soon after birth, will likely cope with hormone changes, fatigue, sore breasts and a rollercoaster of emotions.
So two years later, when I was pregnant with my second son, I decided to document the "brutiful" – that's brutal+ beautiful - truth about those early days of motherhood.
I asked my husband to take photos of my post-partum body from birth up to 14 weeks. Every woman's experience is different and my goal was simply to document things as they really were for me – no filters and no pretending I had it altogether.
When I saw the photos, I almost chickened out. In some I still looked like I was pregnant, and the exhaustion and sleep deprivation is written all over my face. I also knew that by putting these photos out into the world I was bound to attract some criticism.
But I wrote the blog anyway. I wrote about my daily reality caring for a newborn and a toddler – the burning breasts, the leaking eyes, the screaming baby, the days when I did not have time to shower or cook. I knew that if one other Mum read it and realised that what she was experiencing was normal and she was not alone, it would be worth it.
One evening when my baby was 14 weeks old old, I took a deep breath, clicked publish and went out to teach a class.
My real postpartum body: in pictures

Show all 6
I woke up in the morning to find the blog had been viewed 200,000 times. Within a week over a million people had read my post. A national television crew came out to interview me on just thirty minutes' notice (just what every new Mum needs!) and my story was featured in the media from Germany to the UK, the USA and Australia. Four months later and the story is still being reposted, and tweeted by Hollywood stars and global influencers.
The response has been overwhelming and incredibly moving. I spent many late nights at the computer, tears streaming as I personally responded to every single comment on Facebook. I knew this was a big issue for women but the scale of the problem and the depths of the struggle took me by surprise.
Some people were critical and claimed that my blog would dissuade women from having children. I cannot say whether that would be the case or not, but I believe we do not serve women by maintaining a cone of silence around the realities of motherhood or continually presenting images of perfection. Research supports the proposition that if women know what to expect and are prepared for what is to come after childbirth, it eases the sense of overwhelm.
Birth and the post-partum period is such an emotional and vulnerable time. Many women feel raw and exposed – and there are so many expectations heaped upon us, of what we "should" do to be a "good" mother or partner.
So I am on a mission to empower women to eat well and take care of themselves given the challenges we are up against as mums. I want women to share the good and the bad, and support each other through these brutiful days of motherhood.
More than anything I want mothers to know: You are beautiful, you are amazing, you are a mother.
Rebecca Adlington's top three pregnancy exercises
Join our new commenting forum
Join thought-provoking conversations, follow other Independent readers and see their replies