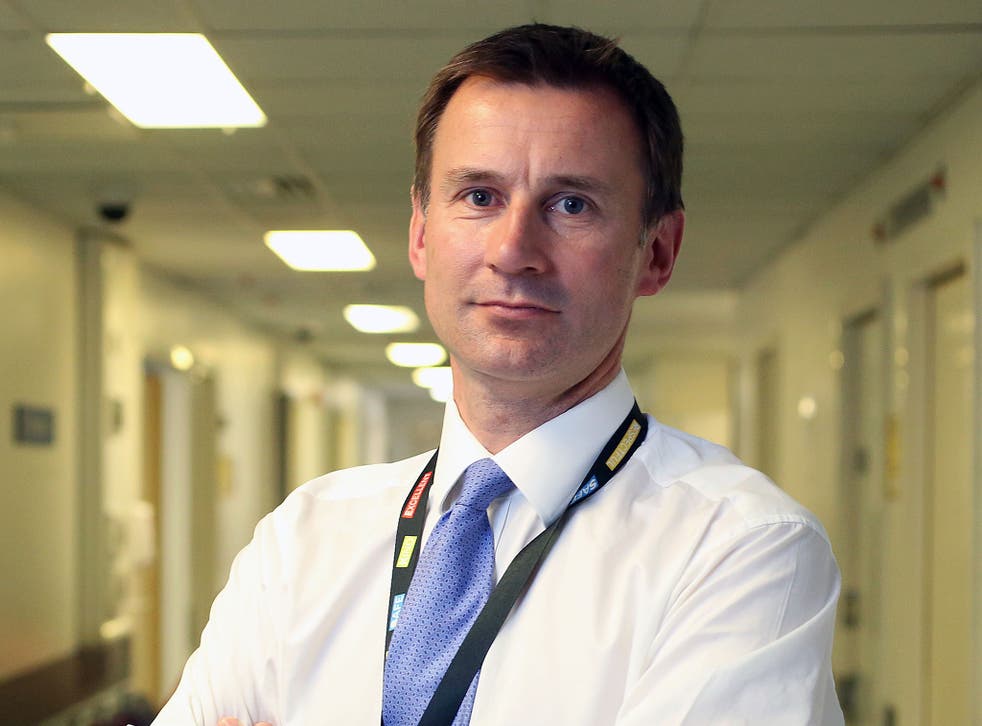 NHS in crisis: Health Secretary Jeremy Hunt answers your questions
'If we wanted to run down the NHS why would we spend £12.7bn more on it?'
To conclude our series on the financial crisis facing the National Health Service, the Health Secretary answers readers' questions on waiting times, pressures in general practice and the impact of cuts in public services.
Q: A friend of mine's wife had to have part of her bowel removed because of cancer. She went into hospital, got prepared for the operation, only to be told it was cancelled. The consultant told her she'd have to wait six to seven weeks for a new date. Her husband asked about going private. "I can do it next week," he was told. It cost £4,500. How can this be right?
H Morgan, Risca
A: I am very sorry to hear about her experience. All cancer patients need to be treated as quickly as possible. The NHS is seeing nearly half a million more suspected cancer patients than five years ago – an increase of 51 per cent – because we are determined to improve our cancer survival rates, which still lag the best in Europe. However, it is undoubtedly true that some hospitals are struggling to increase capacity at the rate we need to achieve this.
Q: As a recently qualified GP I have watched many older colleagues retire and younger colleagues leave to seek work abroad. It is clearly an unattractive profession at the moment in the UK and recruitment is falling. What will you do to reverse these trends, entice more students into the profession and ensure we keep our current workforce (including me)?
Anonymous
A: GPs remain the bedrock of the NHS, and I understand the workforce is under pressure. So we have scrapped the 2004 GP contract, which added numerous financial targets and broke the personal link between GP and patient by removing the requirement for a named GP for everyone.
So far we've removed 40 per cent of GP targets, giving doctors more time and freedom in their consultations, and have set out plans to recruit 10,000 more primary care staff, including 5,000 more GPs, by 2020. I have asked Health Education England to set up an independent review looking at future demand in primary care so we will have better evidence on the right staffing levels. And we already have 1,000 more GPs in the NHS than in 2010.
I really hope you stay in general practice. You're making a big difference to your patients' lives.
In numbers: the NHS crisis

Show all 7
Q: How do you plan to have more continuity between care in the community/social care and hospital care?
Stephen Parry
A: This is a major priority, and one that successive governments have struggled with. Our Better Care Fund is a step forward, because it allows the NHS and local authorities to share nearly £4bn of funding for joint services for the first time. That adds up to a better, more co-ordinated experience of care in the community, particularly for the elderly and vulnerable.
Q: Why are we not protecting the NHS against TTIP?
Mark Welsh
A: The Transatlantic Trade and Investment Partnership – a free trade agreement between the US and the European Union – has no effect on what the NHS does at a local level. The European Commission itself has made this absolutely clear. Likewise, it is totally untrue that TTIP can compel national governments to somehow "privatise" public services. If there was any danger to the NHS, I'd be the first to oppose the scheme.
Improving access to the US market for our world-class pharmaceutical and medical devices sectors will raise employment opportunities and growth at home. And that helps secure the NHS's £113bn budget for the future.
Q: What reason do you have for continuing to support homeopathy in public healthcare despite the mountains of evidence against it?
Chris McKee
A: I'm glad to clear this up: I'm not a supporter of homeopathy. At the request of a constituent as a new MP, I once signed an early day motion on the subject. But my views are clear, and I set them out when I first got this job – my obligation is to follow the scientific evidence and spend the NHS's money on what is proven to work.
Q: What can we do as responsible citizens do to help the NHS survive and become even better?
Robin Hector
A: The NHS is rightly the top reason that people are proud to be British. But – as with all Western countries – with people living longer into old age, and the rise in the number of patients with long-term conditions like diabetes and dementia, there are serious challenges ahead.
So the more people we see benefiting from a healthy lifestyle, the better.
We also need to become a society where patients take greater control of their care. So it's extremely helpful when people feel able to give feedback – whether through the Friends and Family Test or by speaking up when things go wrong. That way we can all help ensure that the NHS is the very best it can be.
Q: Why did your party introduce a reorganisation of the NHS that was not in your manifesto, and was not agreed by your constituents?
Gary Roberts, Harlow
A: Our reforms to the NHS are saving more than £1bn a year, money that has already paid for more than 6,100 extra hospital nurses and 6,100 extra doctors. Without them we would not be able to do nearly a million more operations every year compared with 2010.
Q: What do you plan to do to address the shortfall in provision of maternity care in the UK?
Liz Stocker, Nottingham
A: I accept there's always more to do, but there are over 1,700 more midwives since 2010 and a record number – more than 6,000 – in training.
We are determined to ensure children get the best start in life – which is why we have dramatically expanded the health visitor workforce. By next year, we'll have over 4,000 more to help new families with home visits.
Q: To what extent are the tight financial constraints imposed by the Coalition Government causing the deficits being experienced by many NHS trusts?
David Felton, Wistaston
A: NHS funding has increased by £12.7bn during this parliament. But of course I recognise that budgets are tight as we face the unprecedented pressure of demographics, and the cost of advanced new treatments. I expect trusts to show tight financial grip and live within their means. We have great hospitals showing that delivering high-quality, safe services doesn't have to come at the expense of balancing the books. It's also important to remember that the amount of money we can give the NHS depends on the health of the wider economy – and in countries that lose control of their national finances, there's no choice but to reduce spending on healthcare. That's already happened in Italy, Portugal and Spain.
Q: To sell a business it is fattened up. To sell a public service it is run down. Would you be open and honest and admit that this Government has put in place all the ingredients to sell the NHS to the highest bidder, and that the proposals to charge for the "hotel" elements are part of the softening up of the public for the introduction of charges and insurance in the next parliament.
Julian Robinson, Filey
A: No one in government would dream of selling off the NHS – it is our nation's crown jewel. And if you listened to the Prime Minister talk about his personal passion for the NHS given his own family experience, you wouldn't believe otherwise.
If we wanted to run it down why would we increase spending on it by £12.7bn? The reason for the pressure is that, with an ageing population, more people want more services for the NHS – and we are determined to make sure it gets the funding and support to deliver them. But only a strong economy can deliver a strong NHS.
Join our new commenting forum
Join thought-provoking conversations, follow other Independent readers and see their replies