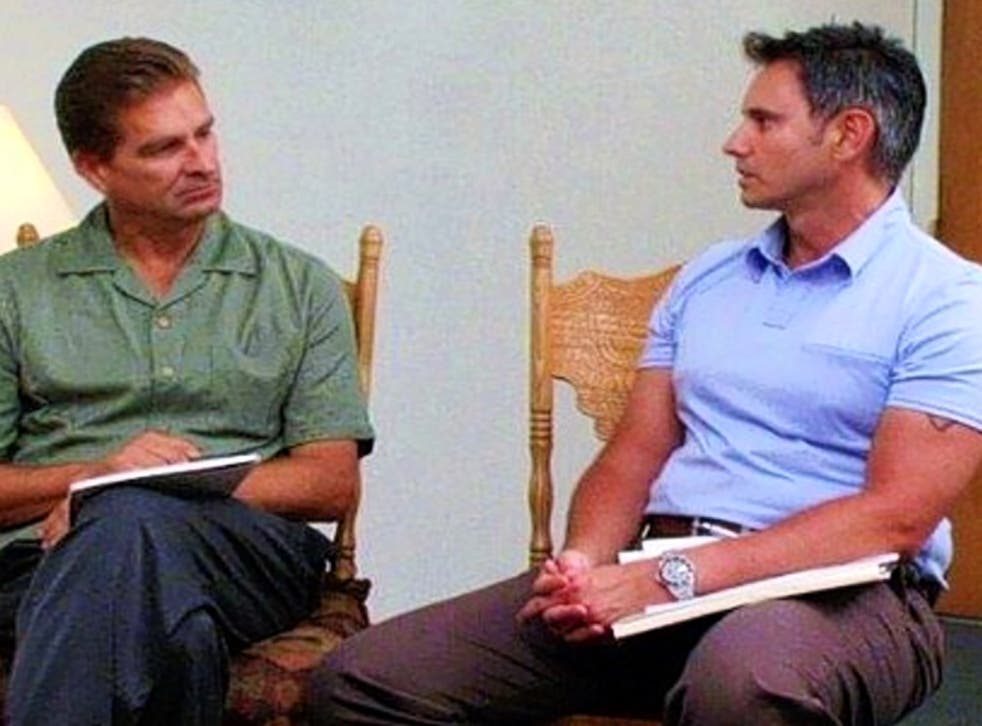 The power of intervention: America's most successful addiction treatment has been slow to catch on here – until now
Addicts' families withdraw all support and press them into rehab
It was a shock. Just surreal. I'd woken up with no pills and was on my way out to the pharmacy when I came downstairs to see my whole family sitting in silence, waiting for me." Among them was a man Naomi had never seen before, sitting at the edge of the group with his hands folded in his lap. Her sister introduced him. "This is Daniel. He's here to help us help you."
Five hours later Naomi was on her way to a residential rehab centre in Bedfordshire, where she would spend the next three months kicking the addiction to painkillers that had ruled her life for the last four years.
Everything, from the care of her children to the security of her job at the local school, had been arranged beforehand in secret by her family. Unknown to Naomi, they had been preparing themselves for weeks with the help of professionals, learning about the mechanisms of addiction and the changes that had to be made to tackle it. When the day of the intervention came, every hiccup had been anticipated, every rebuttal prepared for. "It's like an awakening," says Daniel Gerrard, who carried out the intervention. "Over the course of the morning the family strips down the veneer that allows addiction to function. Then, in the cold light of day, we talk about treatment."
Family intervention is an American concept, popular there but approached with an element of suspicion over here. With its potential for drama, fixation on the "bottom line" and the consequences that come from crossing it, and the loudly spoken values of family love and solidarity expressed through almost brutal measures, it seems in many ways antithetical to traditional British values; more like a TV show than a medical model.
And it is; a weekly American reality television programme titled Intervention has two million viewers who watch a hardened addict unwittingly drink, drug, eat or shop their way towards the final showdown of a family intervention. But it is also America's most successful method of addiction treatment, with its proponents boasting that an intervention followed by a long stint in residential rehab achieves a long-term recovery rate of well over 50 per cent. Although there is no standard metric for recovery, a comparison to the 2 to 5 per cent of heroin addicts who go onto achieve long term abstinence through opiate substitute therapy or the high rate of recidivism of drug offenders going back to jail show this is exceptionally high. Ken Seeley is one of the interventionists on the TV show and a key figure in educating counsellors in intervention in the UK. Short, suave and serious, he seems a long way from the crystal-meth addict he was 23 years ago, whose own intervention got him into the business. The methods he advocates are tough but, he insists, rooted in compassion. "The approach you have to take in an intervention goes against all human instincts," he says. "The instinct is to protect, love and cherish, whatever the circumstances. But you have to do some things that go against that grain; if you don't the alternative is just waiting and watching them die."
A word Seeley uses a lot, along with interventionists everywhere, is consequences. The family has to lay down firm consequences the addicts will face if they continue using – from being thrown out on the street to having their dog taken away from them. "Every addict who has ever given up, however they did it, has done so because some sort of consequence has made them take a different path. All we are doing is raising the rock bottom by finding the consequence that will motivate them to get treatment."
The English, he acknowledges, still find the approach a little jarring. "They are resistant to surprising a family member like that... they don't yet trust that it can be necessary." He is certain it is a learning curve and in five to 10 years Britain will be where the US is.
While intervention is growing in popularity in the UK, Seeley misses some crucial factors. Intervention and residential rehab functions very well under America's pay-as-you-go healthcare system, but in the UK the method falls outside NHS funding, which favours a quick detox followed by long-term medication on substitute drugs such as methadone. Though the abstinence-based approach of intervention followed by residential rehab yields much higher long-term recovery rates and would ultimately be more cost efficient, in the short term it is cheaper to keep an addiction managed than attempt to cure it.
This keeps the UK's medical establishment from investing in abstinence-based recovery and that keeps intervention and residential rehabilitation largely in the domain of the well off. Avril Mansfield, chairman of the British Medical Association (BMA) and one of the authors of January's extensive report on the future of addiction management, says "in an ideal world, where we had unlimited money and resources, we could follow the abstinence-based model". For now though, only 2 per cent of addicts looking for a place in residential rehab manage to find one through the NHS system.
For Naomi, one of the main benefits of an intervention was showing her there was help out there. She had looked for help before, first in the early stages of her addiction when she went to her GP and was prescribed Subutex, an opioid more addictive than the painkillers she was already on. She later went to an addiction clinic where she was detoxed over two days before being sent out with another prescription. "It didn't work because they didn't look at any of the other issues that were involved," she says. Finally, following a serious fall after Naomi passed out trying to step out of her car, her sister Charlotte decided it was time to get help. She spent hours trawling the internet, her search leading her past all the big rehabs ("huge, posh houses where you imagine celebrities getting served whatever meal they want") and finally to Addiction Helper, an addiction helpline specialising in intervention. "They showed us how we could get Naomi into a small, down-to-earth rehab that would treat her properly over a long period of time," Charlotte says.
Naomi's intervention went smoothly. She knew she needed help and when the opportunity arose, she was "just relieved to realise that I could get help that day and make a fresh start". For others the process is less straightforward because of instability in the family, a more opaque level of denial on the addict's part or emotional sensitivities to which the element of surprise and secrecy could add further strain.
For Seeley, this is no reason to change tack. "There's an element or risk in every change, especially one as extreme as coming out of an addiction. It just has to be taken into account and worked with. It's either that or continuing down the spiral road of death." As methadone-related deaths in the UK consistently rise as addicts are kept on it for longer and longer periods, this advice needs to be applied to our state-sponsored addiction treatment. Either we accept the risk and move for change, or continue down the spiral road of death.
Naomi's and Charlotte's names have been changed
Join our new commenting forum
Join thought-provoking conversations, follow other Independent readers and see their replies