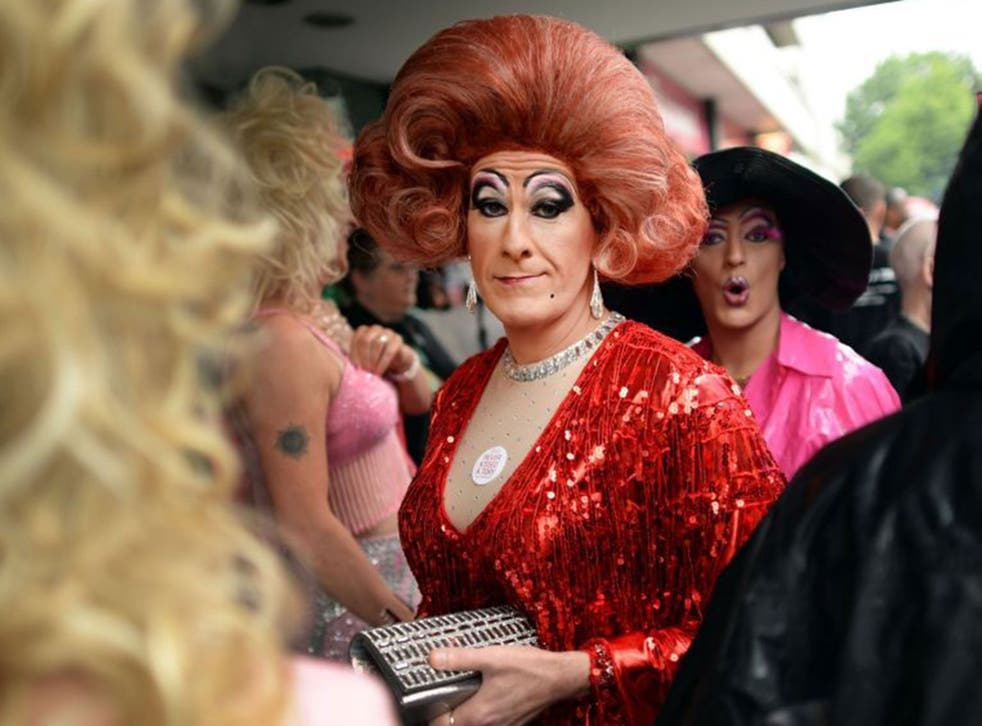 Pride 2014: Still here, still relevant and a sign of how things have changed for the better
Modern London Pride is a far cry from the early confrontational protests
The LGBT community's rights have changed dramatically since the early Pride marches of the 70s.
Legislative protection, the repeal of Section 28, transgender recognition and equal marriage – these are just some of the tangible results borne from decades of activism. As well as equality, the initial objectives were social acceptance and visibility; with much of central London overtaken by Saturday's parade and over half a million attending, it would be difficult to suggest anything other than 'mission accomplished'.
But in this era of unprecedented equality in the UK, the significance of London Pride has come into question. Many early demonstrators feel marginalised and disillusioned, believing it no longer represents what they stood for, that its political statement is now lost amongst the swarms of hedonistic partiers and extensive commercialisation. It's indicative that the parade no longer runs past parliament and that the Barclays bus was second only to the Gay Bikers Motorcycle Club in the running order. As society continues its own march towards total equality more will ask the question 'does Pride still matter'.
From the very beginning it embodied defiance. Though the first organised march of 1971 brought together a band of 200 activists, the day before half a dozen radical drag queens took it upon themselves to run a dress rehearsal, which climaxed with a sprint across Oxford Street under pursuit from the constabulary. The LGBT community was mobilised and the next year the first official march took place, registering over 700 demonstrators and 2000 attendees.
In pictures: Pride in London parade 2014

Show all 9
"It was much more combative in those days," says Lisa Power, one of Stonewall's founding members. "It wasn't a carnival atmosphere or something that all the spectators were enjoying. It was 'we are here, we refuse to go away and we want our rights.'"
"I increasingly see Pride being about acceptance, normality and saying 'we're just the same as you'. But actually a lot of what Pride started out as was we're all different but we're all worthwhile. It's important that we keep reminding ourselves of where we've come from. We mustn't lose the knowledge that everything we've gained could evaporate with a change in political environment."
It's a criticism which is often levelled at the larger Pride events: London, Brighton and Manchester. With equality somewhat taken for granted, particularly amongst millennials, Pride's political essence is subsiding. Speakers are giving way to pop stars on the main stages, revellers vastly outnumber demonstrators and minority groups find themselves marginalised, their presence diluted.
"UK Black Pride has arrived out of a lack of visible positive presence of the LGBT ethnic communities. It's something that's always been missing for me in London Pride," says Phyll Opoku-Gyimah, co-founder and trustee of UK Black Pride. "If it didn't only cater for particular groupings there'd be no reason for black pride to exist. It's double edged, as Pride was always very male dominated, though I think in the present day women have certainly found their voice and the new board have recognised the importance of having positive role models within the community who can address these issues."
"I think in the last few years it went too far down the commercial route. It didn't look or feel like what I was about, it was certainly missing the political angle of why and how pride has come to be. It didn't emerge just because we wanted to shake our tail feathers, it was borne out of frustration and the moment you overlook the spirit of that there's a lost history. It's up to the next generation to carry the mantle and continue the great work."
As Pride in London has grown so too has the cost, with Saturday's event totalling over £750,000. As well as grants from the Greater London Authority, much of this is covered by corporations. Early marches were lucky to draw the support from a few unions and political parties, now commercial powerhouses like Asda and Barclays are desperate to demonstrate their support.
It's a tribute to how much a part of mainstream society the community has become, but many feel such substantial commercial sponsorship is detracting from the visibility of LGBT groups and is too far removed from the sentiment of Pride.
"I still find it empowering but I have grave reservations around corporate sponsorship as it does seem to take over," says John Lloyd, a Gay Liberation Front veteran, who helped organise many of the early demonstrations. "They use Pride as a vehicle to sell their company which undermines what it's actually about. Last year's parade was supposed to emphasise age but the older LGBT groups were behind the sponsors."
"It needs to be scaled back. There's still reason to be defiant: discrimination continues, homophobic attacks are not uncommon and the LGBT community took a disproportionate hit through austerity measures. There's still groups who want to radicalise pride and make their points, and it's an excellent platform to do so, but the message is getting lost. It's important that Pride itself and all the independent LGBT organisations have the highest profile."
London Pride may no longer be the heavily politicised, radical demonstration which saw 40,000 people rally against Section 28 in the late 80s, but half a million people gathering in central London is hugely political statement in itself. Groups like Amnesty international have a huge presence in the parade and are unequivocal in their messages – 'Love is a Human Right'. And in Trafalgar Square one of the loudest cheers in Saturday's parade was saved, inevitably, for Stonewall.
"At Amnesty we march for those who can't. Our platform helps people see the other side, beyond the party," says Ferran Nogueroles, network committee member at Amnesty International. "There's still lots to be done, some in this country but a lot more in others where they need our support."
"Normalised Pride celebrations, like those in London and Madrid, are important because it shows people that they can be happy, and for young people especially they can see that it's ok to be gay. In London you encounter people from regions where LGBT people can't march. It's a very powerful statement. In Eastern Europe for example it's effectively back to basics; counter protesters often outnumber protestors, marches are banned by local authorities at the last minute and those who take part could lose their job."
Though London cannot claim to be a complete haven for LGBT individuals (in the last month alone we've witnessed multiple homophobic assaults, one involving bleach), the situation in countries such as Russia, Uganda and Nigeria is undeniably dire and on another level entirely. London Pride, with its mardi gras and parade diversity, its total freedom of expression and alcohol fuelled celebrations, shows that perceptions can be changed and that with enough time, pressure and sacrifice things will get better.
Everyone remembers their first, as the adage goes, and for individuals, particularly those who are still discovering their sexuality, their first Pride will be a way of discovering that a phenomenally supportive (and supported) community is out there – one which isn't one size fits all and one free of judgement.
Modern London Pride is a far cry from the early confrontational protests and the emphasis has certainly shifted from one of defiance to celebration, but it's a testament to how far society has come that it's now seen as a carnival and not a demonstration, a parade not a march. It still serves as a phenomenal reminder of where the LGBT community has come from and of the huge task that still lies ahead.
Throughout its evolution, from half a dozen drag queens and 200 demonstrators to a crowd the size of Brighton's population, the message has stayed constant - 'we're here, we're queer, get used to it'.
Twitter: @ChrisPJGodfrey
Join our new commenting forum
Join thought-provoking conversations, follow other Independent readers and see their replies