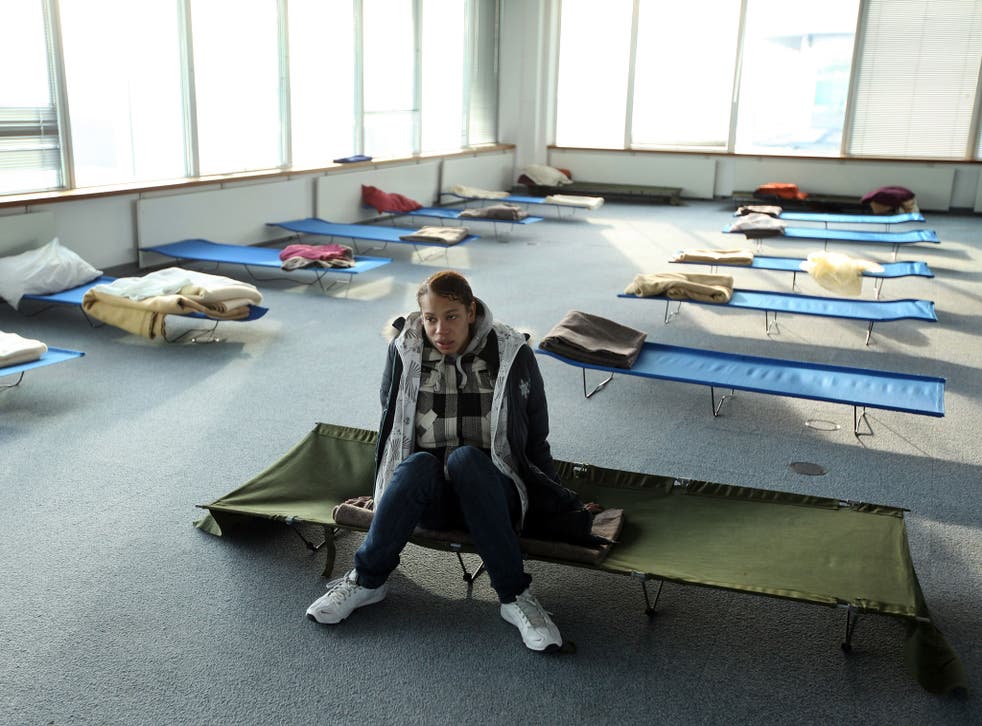 The short slope that takes women all the way down to living on the streets
For the rising number of homeless women, the struggle is compounded by health problems and by losing their children
Experts at a charity for the destitute have become fixated by the number 43.
So struck have they been at St Mungo's Broadway that they have made a video called 43. It is the average age at which homeless women die.
What makes the statistic so shocking is that many more women appear to be becoming homeless at the moment. Dying at 43 means they have about half of the average UK female life expectancy.
We have to return to the 1800s to find such a short average life expectancy. These women have lives which are 10 per cent shorter than their male counterparts.
Until very recently, sleeping rough was seen as a male problem, and the word "tramp" was nearly always used for men – but a shift has happened, says St Mungo's, which estimates that 25 per cent of rough sleepers are female.
Homelessness takes numerous forms, of course. Mothers with children are highly conspicuous to schools and social services once they leave the family home – and will tend to be housed quickly. But other kinds of homelessness tend to be far less visible.
For instance, two-thirds of the 152 Health and Wellbeing Boards (HWBs) in England make no mention of single homeless people in their local plans, says St Mungo's. Even the tone of some political rhetoric – emphasising the place of "hard-working families" – suggests a society where single people who are out of the workforce count for less.
One charity which picks up homeless women in the worst stages of their deterioration is shocked by the results. Pathway operates in 11 hospitals in England, to try to identify rough sleepers when they are admitted and to help develop long-term treatment and a sustainable plan for them by the time they are discharged.
Alex Bax, the chief executive, says women represent about a fifth of Pathway's clients and are "often the most unwell and in an extremely poor position". They frequently come with a history of trauma and abuse which has made them unable to trust offers of help from social services. Personality disorders are common.
Mr Bax is not expecting the flow of clients to dry up. At St Thomas' Hospital near Westminster, the largest area of activity for Pathway, three or four homeless people are being admitted every day. The "myriad small cuts" in the benefits regime is contributing to the growth in street-sleeping, says Mr Bax.
St Mungo's is lobbying the Government to start handling both male and female homelessness more effectively. Starting to mention the homeless, including the single homeless, on the HWB plans is one of the actions included in the Homeless Health Charter, drafted by St Mungo's. The London borough of Camden is the first council to sign up to it. "We are very concerned about female homelessness," says Sarah Hayward, Camden council leader. "It's something that, as a country, we are not doing enough on."
Getting the health system to respond better to female rough sleepers is a way into improving the whole of these women's lives. "These issues really chime in with the heath equalities agenda," says Dr Sarah Hutchinson, a policy and research officer at St Mungo's. Health bodies have numerous duties to reduce health inequalities by gender, race and other categories. "Our campaigns are showing how it can be done. We are not pushing at a closed door."
The charity is urging the Government to develop a new model of homelessness treatment which is more adapted to women. Their problems appear to be more complicated and entwined than those of the majority of homeless men. Women seem to suffer more if they have to give up children. They are also closer to prostituting themselves on the streets – with 12 per cent selling their bodies, compared with only 1 per cent of men, according to the charity.
But there are positive signs that our attitudes are changing and that more of these women will be helped. The Health Foundation, for instance, has invested in schemes such as "Pathways" which help people who have health and housing problems. And it looks keen to continue this work.
Case study: Dawn, 48
Dawn lived in a housing association flat in London for nearly 12 years. After she lost her partner, she had to deal with paying the bills. She was on heroin and cocaine.
Although the association was used to dealing with addicts, Dawn fell through the net. "I never opened my letters." But when her support worker moved on, or policies changed, there would be gaps in the help offered. She ended up owing £2,000 in unpaid service charges. It made no difference that she could have claimed far more than that in housing benefit.
In February 2013 she was evicted. "I had two hours to leave my home."
The council found her accommodation in a hostel in Vauxhall. But sharing with other women, some of whom had "needs which were much more complex than mine", was "a horrible experience".
After a stay in another very difficult hostel, she made her way to St Mungo's Broadway. "I realised that I had to help myself. I had to change my behaviour."
She took the Health and Social Care City & Guilds qualification, level 3, and now works as a voluntary care assistant with St Mungo's and is applying for a paid placement with it. She is also hoping to get a flat.
Not many people have that kind of determination. "Women lose their self-esteem and, in many cases, their children," Dawn says.
Join our new commenting forum
Join thought-provoking conversations, follow other Independent readers and see their replies