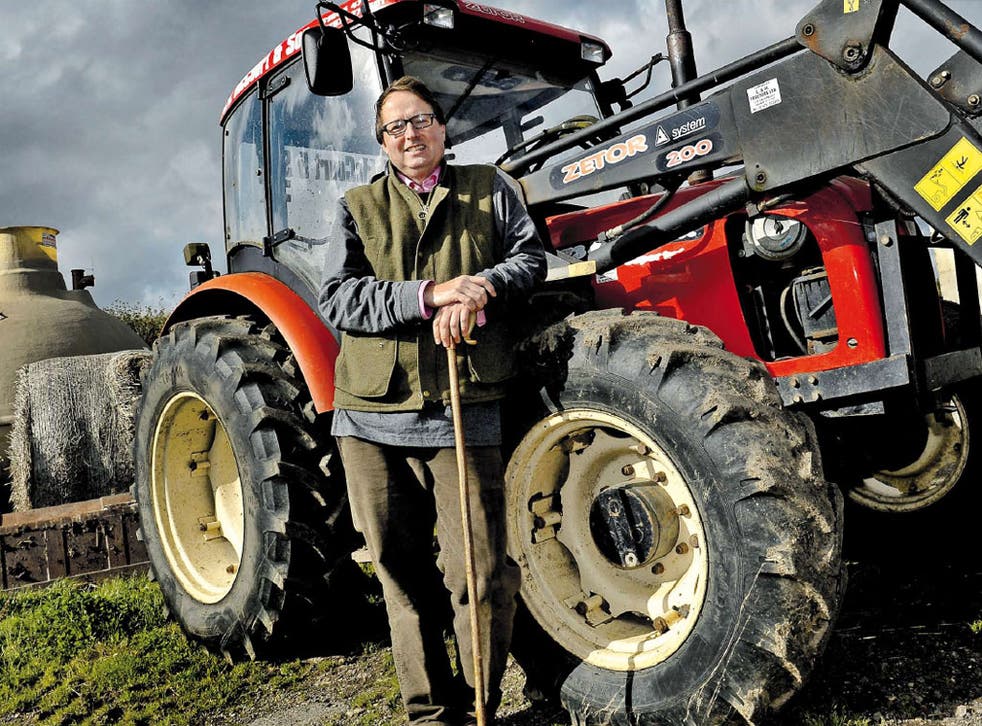 'As the wheel rolled over me, I knew I was dying'
A horrific accident with his own tractor shattered Jan McCourt's pelvis. He talks about his life-altering journey of pain and rehabilitation – and his renewed faith in the NHS
Jan McCourt leans on a walking stick next to the tractor that nearly killed him. The investment-banker-turned-farmer had been crouching behind the machine after its driver had reported a strange noise. As the men investigated, the tractor started to crawl backwards. McCourt could not move away fast enough and very quickly, he recalls, "I felt the weight of the wheel begin to press against my spine."
What follows in McCourt's book, Crushed: My NHS Summer, is difficult to read. Six years after the accident that came so close to ending it all, the 52-year-old recounts, in graphic detail, a life-altering course of pain and rehabilitation. His journey, via two months in a hospital bed, where McCourt recorded some of the horrific effects of trauma on the body and mind, started as that wheel bore down on him.
"It seemed to want to climb up on to my back," he writes. "I realised that I was being folded in two, that the tractor was going to crush my hips and pelvis, then follow directly up the line of my spine and squash it down between my legs before rolling over my head, at which point I would eventually know no more."
McCourt walks from his tractor into his field on Northfield Farm, near Oakham in Rutland. He then gamely sits in the grass to be photographed with his dogs, Rosie and Peg. The ground is soft but had been rock hard when, trapped, the farmer endured fractions of seconds as a human chock. By now, McCourt was sitting on his bottom, his legs outstretched and his back against the giant wheel. As the pressure built, he writes, "I felt the first bones begin to crack…
"The middle of my lower back felt the pressure, and the back of my pelvis gave way like balsa wood. First one hip broke and then, very quickly, the front of my pelvis at the top inside of each leg snapped clean through. As the wheel advanced, my head was forced ever closer toward the parched hard earth… I knew that I was dying. The wheel kept pressing, now at the base of my spine, and just as I gave up all hope, it stopped."
Surgeons later compared the effects of the wheel on McCourt's ring-shaped pelvis to those of a man stamping on a Polo mint; there were too many pieces to count. Yet today he walks without a limp. His story is part study of pain, part survival guide. Recalling that day, however, at the site of the accident, is harder in speech than in print.
"There is a little frisson when I'm here," he says. "I come out with the dogs a lot and you can't not…" He pauses. "It's OK now but other times when I talk about it, it catches in my throat. I don't feel it but I can hear it almost as if I'm someone else talking about it."
The tractor's driver, whom McCourt will neither name nor blame for what happened, somehow pushed the vehicle back far enough for McCourt to roll away from the wheel. He remembers "the shock, the pain, and my own screaming, all mixed into one ball of fire which was destroying me in its intense heat". Drifting at the edge of consciousness, he welcomed death until he thought of his three children, then aged 11 to 14. "Their three faces watched me and gave me the strength to carry on," he says.
McCourt walks out of the wind into Les Rosbifs, his restaurant inside a converted barn, and orders a ham-and-cheese sandwich. The thick slices are from his own pigs but in a previous life the farmer traded in money, not meat. He was an investment banker of the old school, before young "propellerheads", as he calls them, began devising financial devices that did not require handshakes. When McCourt was made redundant, in 1997, he was already commuting to the City from Northfield, where, inspired by his Irish farming roots, he had started rearing rare breeds of cattle.
Farming soon consumed McCourt's life and he was among the first to join a British food revolution, selling premium cuts of pork and beef at Borough and Broadway Markets in London, and at fairs and events across the country. He had 500 head of cattle and more than 250 sheep. Great Taste and other awards followed and chefs including Clarissa Dickson Wright and Rick Stein praised his meat.
The tractor jeopardised it all. A police helicopter took McCourt to the Leicester Royal Infirmary, where surgeons used pins and plates and straps that looked like bicycle chains to piece together his shattered pelvis, as well as 47 staples to close him up. His scar runs from hip to hip.
The operation took 10 hours, but McCourt waited for it for 10 days, and remained in hospital for several more. He says the urge to record his recovery struck early, before he could physically do it. "I did it primarily for me," he explains. "Not because I thought I could sit down and write a bestseller, because that's hardly likely, but because the experience messed with my mind. I thought I'd get this down on paper and hopefully purge myself a bit.
"If it has any wider role to play it would be to show people what it's like to go through something like that. I want the book to help people understand trauma but also the NHS. When I started writing, there was so much nastiness and negativity about it. I thought, well, it wasn't perfect but I wouldn't have wanted what happened to me to have happened anywhere else in the world."
McCourt also says "there seemed no point at all" in holding back on detail. Most of his bodily functions were greatly affected in the crush and would take significant coaxing and challenges to his dignity to restore. Anyone curious about the effects of great trauma in proximity to the digestive system, for example, may turn to chapter six and the section entitled "Volcano".
For days before his operation, McCourt lay on his back, enduring, among other things, the grinding of the fragments of his pelvis. Through it all, there is constant pain. "It's very easy to underestimate how debilitating it can be," he says. "It also does something to you in a way that it's difficult to describe. I think it unbalances you, and eats into your mind."
McCourt had encounters with dozens of hospital staff. The only way he survived emotionally, he says, was with a course of self-prescribed kindness. "I think a big problem in the NHS is the mindset of patients. I found that if I was positive about every encounter I had, it paid back a hundredfold, every time. I became ultra-polite because I was utterly reliant on these people and couldn't believe some of the abuse I could hear them taking."
McCourt still struggles with pain and must now survive with fewer painkillers after they triggered serious heart problems earlier this year. Otherwise he's remarkably mobile and more than an inch taller than he used to be (immobility did strange things to his spine).
The accident affected family relationships in various ways. McCourt is closer to his ex-wife, whom he had divorced four years earlier, and much closer still to his eldest son, Leo, who is now 18 and was McCourt's principal carer through the first two years of recovery. He has now graduated from agricultural college and is taking over the farm, where his father, who is now single, keeps a close eye on any tractor-driving.
McCourt is certain his book, some of the profits for which he will donate to flying-ambulance charities, has helped him to recover emotionally. "There's no way I'd be where I am if I hadn't written it," he says. It's also a physical reminder that, in his words, McCourt is "incredibly lucky to be able to walk, let alone anything else. I'm lucky to be alive."
'Crushed: My NHS Summer' by Jan McCourt (University of Buckingham Press, £6.99)
Join our new commenting forum
Join thought-provoking conversations, follow other Independent readers and see their replies