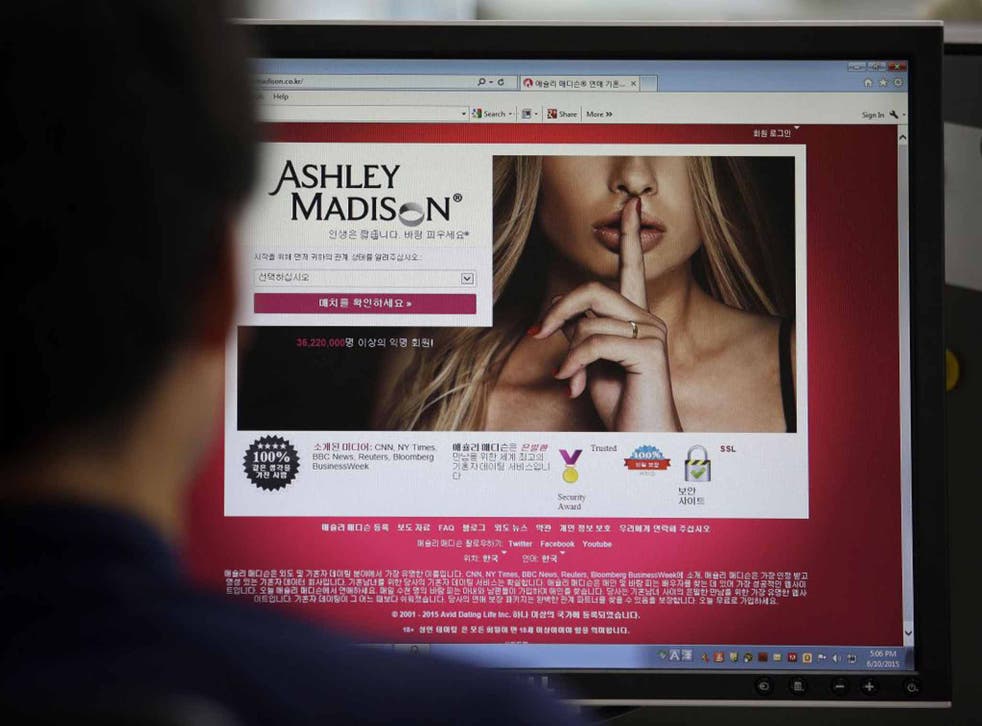 Will the Ashley Madison hacking stop anyone daring to two-time?
The attack on infidelity website Ashley Madison has shone a light on the booming world of extra-marital dating services. So, who are the cyber cheats? Adam Lusher reports
The siren call could not have been more pithy. "Life is short," said Ashley Madison's strapline, "Have an affair." And rest assured, "the world's leading married dating service" promised "discreet encounters" (so "discreet" that the word was italicised in bright pink).
No longer did you have to risk playing away with someone close to home, such as the neighbour, or the milkman. Thanks to the wonders of the internet's anonymity and reach, Noel Biderman, Ashley Madison's married (and faithful) chief executive, said that his website offered "a safe alternative". Until Monday, that is.
That was when the site was attacked by "The Impact Team", a group of hackers threatening that, unless Ashley Madison went offline immediately, it would "release all customer records, including secret sexual fantasies, transactions, real names and addresses". (The hackers claimed that they could access them through credit-card records.) But, as Ashley Madison sought to reassure its 37 million anxious, sweating users in 46 countries that "we have been able to secure our sites", those of us previously in genuine or feigned ignorance could simply marvel at the scale of the online adultery business.
Not only did Ashley Madison claim to be the world's second biggest dating website (of any kind) after Match.com, it also claimed to have attracted 1.2 million UK customers since launching here in 2010. Not bad – from the online adultery business perspective – considering that such a customer base is equivalent to about four per cent of the 15.2 million cohabiting couples in the UK. But not unparalleled either.
A press release from a similar site, Illicit Encounters, sent in January, claimed that 2015 was destined to be "the year of the affair!" In the 20 days since the start of the new year, Illicit Encounters had gained more than 3,500 female members, "a record in the site's 11-year history". And such was the growth in demand that the site needed extra staff. It was approaching the million-member mark (which it has now passed, with 1,009,004 UK users).
"Of course people use an extra-marital dating service to find sex," says David Miller, founder of Loving Links ("leaders in quality extramarital dating since 1995"). But within that broad category, says Miller, "some people want something long-term, others want a short-term spark." And customers, he insists, even thank him for saving their marriages: "They tend to say: 'My marriage is in such a mess, it's not going to get better, and I need some good sex.' I welcome them with open arms."
It seems that as soon as there was the mainstream internet, there was online adultery. Miller set up his site in 1995 (three years before even the launch of Google), after starting Loving Links in 1993 as a printed newsletter. With what sounds a lot like pride, he declares: "I have been facilitating adultery before there was the internet."
A 60-something former TV commercials producer, now faithfully in a long-term relationship after two marriages involving affairs, Miller seems wistful about the early days. "It used to be a very Home Counties, middle-class game," he says. "Now it's huge, and it's morphed into this conglomeration of extramarital dating and adult dating. It has distorted something that was much nicer."
Nicer? Adultery? Cheating? Mr Miller is emphatic. "People go into marriage wanting it to be forever, together, faithful. Then real life taps them on the shoulder. A relationship turns celibate, or communication stops. They have no sexual release, no intimacy, so they look outside the marriage. Isn't it incredibly unkind of the Mary Whitehouses of this world to begrudge them that kind of human contact outside a dead or stale relationship?"
But might the hackers inadvertently succeed where the "Mary Whitehouses" failed? "People might do more to conceal their true identity," he says. But as for retreating from the websites back to the milkman: "I can't imagine they will. People are still going to want to have those affairs."
Join our new commenting forum
Join thought-provoking conversations, follow other Independent readers and see their replies