Alzheimer's linked to poor sleep patterns in new study
Scientists test spinal fluid of 101 participants to trace toxic brain proteins related to disease and found least well rested most likely to develop condition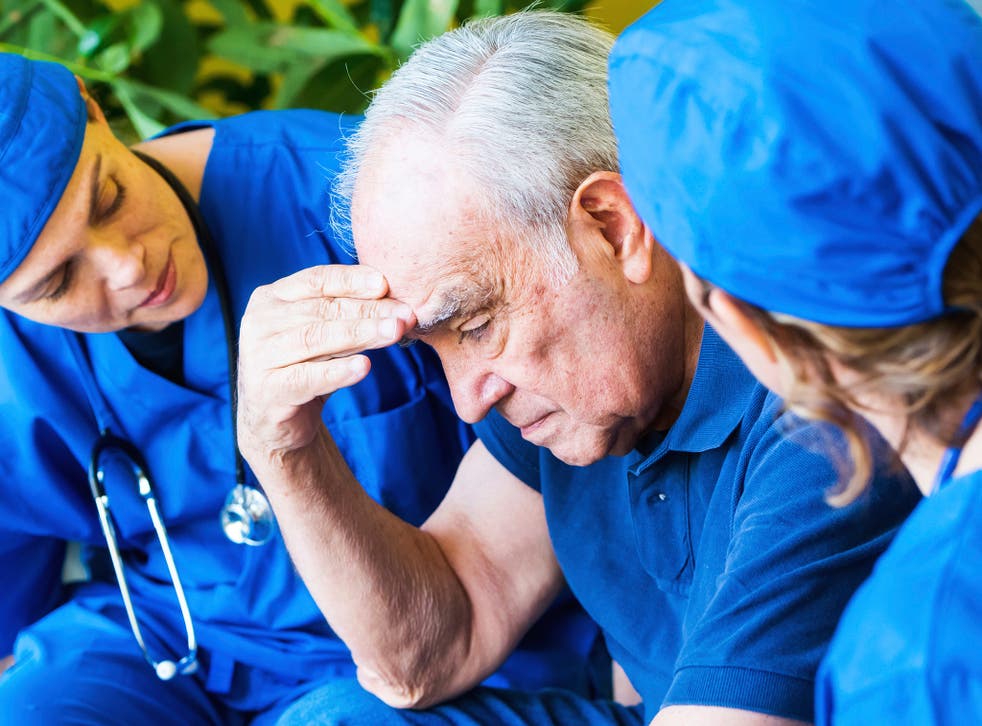 Poor sleep may increase the chances of people at risk of Alzheimer's developing the disease, a study has shown.
Scientists conducted spinal fluid tests on 101 people with an average age of 63 who had a family history of Alzheimer's or carried a gene linked to the condition.
Participants who reported the worse sleep quality or suffered from daytime drowsiness had more biological markers for Alzheimer's than those without sleep problems.
The researchers looked for signs of beta-amyloid, clumps of toxic brain protein linked to Alzheimer's, and "tau tangles", knots of protein within nerve cells also associated with the disease.
Lead scientist Dr Barbara Bendlin, from the University of Wisconsin-Madison in the US, said: "Previous evidence has shown that sleep may influence the development or progression of Alzheimer's disease in various ways.
"For example, disrupted sleep or lack of sleep may lead to amyloid plaque build-up because the brain's clearance system kicks into action during sleep.
"Our study looked not only for amyloid but for other biological markers in the spinal fluid as well."
Not everyone with sleep problems in the study had abnormalities in their spinal fluid, the researchers pointed out.
For example, there was no link between biological markers for Alzheimer's and obstructive sleep apnoea.
The results, reported in the journal Neurology, remained the same after taking into account factors such as medication use for sleep problems, level of education, depressive symptoms or body mass index (BMI).
Dr Bendlin added: "It's still unclear if sleep may affect the development of the disease or if the disease affects the quality of sleep.
"More research is needed to further define the relationship between sleep and these biomarkers.
"There are already many effective ways to improve sleep.
"It may be possible that early intervention for people at risk of Alzheimer's disease may prevent or delay the onset of the disease."
Dr Doug Brown, director of research at the charity Alzheimer's Society, said: "This study adds to previous evidence that poor quality sleep may be associated with signs of Alzheimer's. While it appears that good quality sleep can help to keep the brain healthy, the exact relationship between sleep and Alzheimer's risk is still unclear.
"While the study highlights that investigating any links between sleep and Alzheimer's disease is an avenue worth exploring, it is important to remember that it was a small study that relied on people reporting their own sleep quality, which is not the most accurate measurement.
Health news in pictures

Show all 40
"It remains unknown whether poor sleep is associated with Alzheimer's risk or whether people are sleeping poorly due to Alzheimer's disease."
Press Association
Register for free to continue reading
Registration is a free and easy way to support our truly independent journalism
By registering, you will also enjoy limited access to Premium articles, exclusive newsletters, commenting, and virtual events with our leading journalists
Already have an account? sign in
Register for free to continue reading
Registration is a free and easy way to support our truly independent journalism
By registering, you will also enjoy limited access to Premium articles, exclusive newsletters, commenting, and virtual events with our leading journalists
Already have an account? sign in
Join our new commenting forum
Join thought-provoking conversations, follow other Independent readers and see their replies