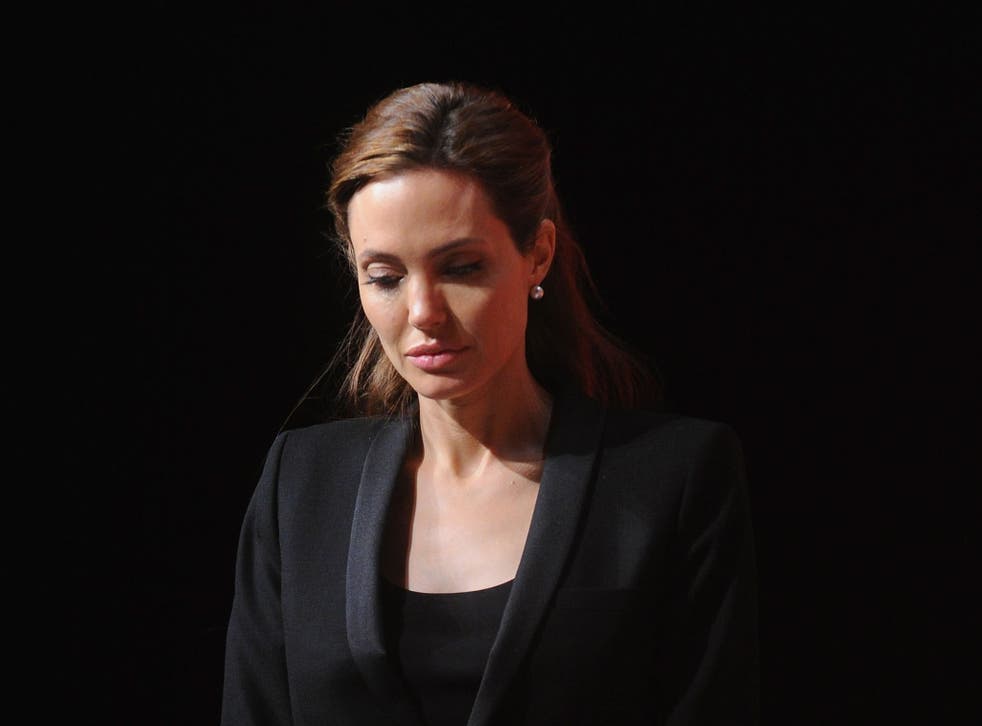 Angelina Jolie ovaries removed: What is the BRCA1 gene, should I get tested and does it mean I'll get cancer?
The actress has written about her decision to undergo preventive surgery to remove her ovaries and fallopian tubes
Angelina Jolie has revealed that she has undergone surgery to have her ovaries removed following a cancer scare, writing in the New York Times that she "wants other women at risk to know about the options".
The actress and UN envoy, whose mother, grandmother and aunt all died of cancer, took the decision after blood tests revealed she carried a mutation in the BRCA1 gene.
The mutation gives carriers an 87 per cent risk of breast cancer – Jolie wrote two years ago about undergoing a preventive double mastectomy – and a 50 per cent risk of ovarian cancer.
But Jolie explained that "I did not do this solely because I carry the BRCA1 gene mutation", adding that a positive test "does not mean a leap to surgery" and urged women to "learn about the options and choose what is right for you personally".
According to the NHS, both BRCA1 and BRCA2 are examples of genes that raise a person's cancer risk if they become altered.
Such mutations can be inherited, and they significantly increase your risk of cancer because the altered genes cannot repair damaged cells – allowing them to build up and form a tumour.
What to do if you're worried
Because high-risk cancer genes run in the family, you could be eligible for a predictive genetic test if the faulty gene has already been identified in one of your relatives or if there is a strong history of cancer in your family.
Testing involves a simple blood test – but must also include a diagnostic blood test of a relative with cancer so that the genetics team knows what to look for.
Should I have the test?
Many people may decide they don't want to get tested, even if a history of cancer in the family allows them to do so on the NHS.
While a positive test allows the patient to take steps towards managing their risk, it can also be a cause of increased anxiety and could ultimately prove inconclusive anyway.
The NHS says it is a personal decision, and one which should be taken after speaking to a genetic counsellor to discuss what it means and how the patient will cope.
If I test positive, should I have surgery?
A positive genetic test does not mean you will develop cancer, and other factors are involved.
But those who do have a mastectomy to remove both breasts will reduce their risk of developing breast cancer to less than 5 per cent – lower than that of the general population. Surgery to remove the ovaries reduces the risk of developing ovarian cancer by up to 50 per cent.
There are nonetheless a wide range of issues to consider with both surgeries, and the NHS warns that recovering from either major operation can be emotionally difficult.
The NHS also advices that the risk of ovarian cancer for BRCA gene fault carriers does not dramatically rise until about the age of 40 – so those under this age will usually be expected to wait until they are older.
As Jolie writes, each patient should speak to one or more health professionals before making this difficult decision.
"It is not easy to make these decisions," she says. "But it is possible to take control and tackle head-on any health issue. You can seek advice, learn about the options and make choices that are right for you. Knowledge is power."
Can I get tested regardless of my family history?
If you do not have a strong history of cancer in your family but are still worried about being a BRCA gene fault carrier, you can pay to have the test done privately.
But the NHS points out that the gene only affects around one in 800 to 1,000 of the general population, and if it doesn't run in the family the chances of you having the gene are low.
Getting tested privately is also expensive – ranging from £2,000 to £3,000 – and usually won't include an offer of genetic counselling.
For more information on your options, what surgery involves and other ways you can check yourself to reduce cancer risk, visit the NHS website.
Join our new commenting forum
Join thought-provoking conversations, follow other Independent readers and see their replies