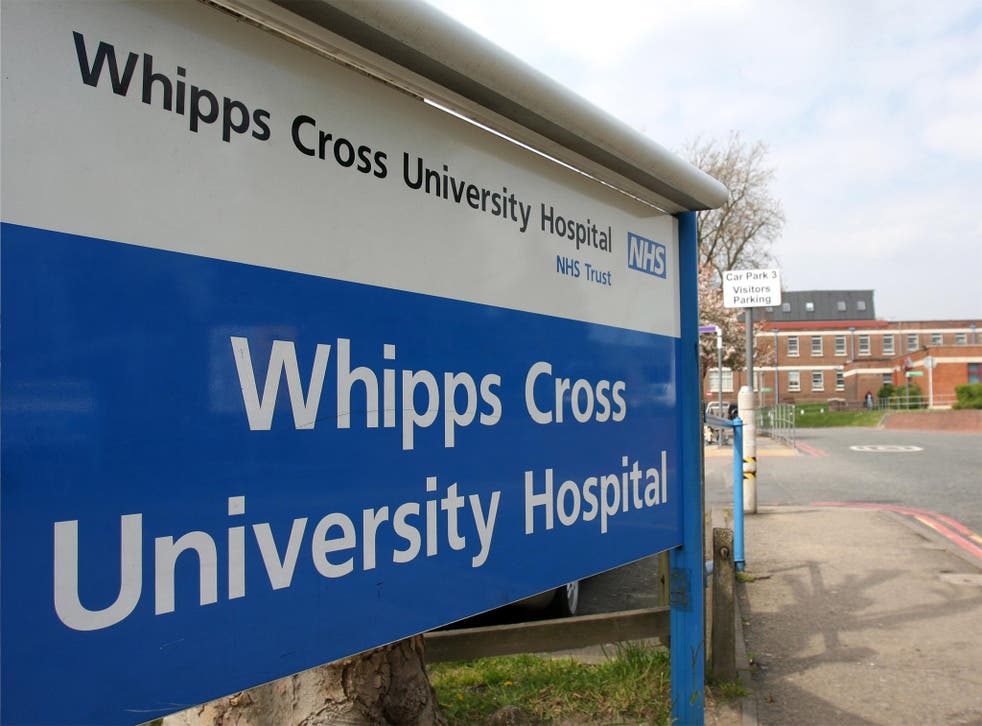 Barts NHS Trust in special measures after newborn and mother deaths
Report highlights bullying, debts and staff shortages
The country's biggest NHS Trust has been placed in special measures, in the wake of a damning inspection report that catalogued unsafe care caused by staff shortages and a bullying culture at one of its main hospitals.
Whipps Cross Hospital, part of the Barts Health NHS Trust, was branded inadequate by the Care Quality Commission (CQC) in a report which uncovered 208 serious incidents last year alone – including the deaths of two unborn babies, a new mother and a newborn baby.
The Trust, which serves 2.5 million in east London and Essex, has been plagued by financial problems since it was formed by the merger of three London Trusts in 2012. It is also projecting a deficit of £93m this year.
Two years ago, managers decided to cut hundreds of nursing posts to help balance the books, after a slowdown in national NHS funding combined with crippling repayments on a Private Finance Initiative (PFI) deal forced the Trust into the red. In total, 220 nursing posts were lost at Whipps Cross, and hundreds of other staff had their pay and responsibilities downgraded.
As a result, inspectors said yesterday, the hospital did not have enough staff to ensure safe care.
While some of the problems highlighted by inspectors are unique to the Trust – which has the highest deficit and the largest bill for temporary agency staff of any in the country – Barts serves as the most high-profile example of pressures now common in the NHS.
The increasing strain on NHS resources

Show all 4
Financial trouble
Despite pledges from the three main political parties to increase NHS funding, the financial crisis within the health service is far from over. According to the latest reports, 66 NHS Trusts and foundation Trusts are in the red, the legacy of an unprecedented squeeze on health funding in recent years. Barts' financial position is particularly precarious. It has a turnover of £1.25bn, but at a board meeting in February managers were predicting a deficit of £93m at the start of the next financial year.
The root cause of the money woes across the NHS is rising patient demand and efficiency cuts to the 'tariff' payments the NHS gives hospitals for treatments. But some Trusts, such as Barts', are also drained by repayments on PFI deals brought in by the last government to build new hospitals and improve existing ones, leading to debts of around £80bn for the NHS as a whole.
Staffing shortages
At the beginning of the austerity era, staff bills were reduced by many NHS Trusts. After the official report into care failings at Mid Staffordshire and inspections of hospitals with high mortality rates revealed low staffing levels were common, the trend of cuts began to reverse. However, there are concerns some hospitals remain dangerously understaffed.
In their inspection report on Whipps Cross, the CQC said that Barts' decision in 2013 to cut 220 nursing posts meant staffing levels were still stretched in many areas, putting patient care at risk, and leaving nurses stressed and demoralised. Across the NHS, more than half of nurses still believe their wards are understaffed.
Bed-blocking
The CQC found that from May to October last year, on average 91 per cent of beds at Whipps Cross were occupied, and a high proportion of patients who were well enough to leave were being kept in the hospital because of delays in paperwork and in organising outside care. Inspectors estimated that, during their visit in November last year, there were 30 beds occupied by patients who didn't need to be there.
So-called bed-blocking is a major problem in the NHS. It hit record levels in January, when hospitals lost the equivalent of 103,776 'bed days' – at an estimated £275 a time.
Missing waiting-time goals
Delays in getting patients out of hospitals contribute to long waits in A&E. Whipps Cross has struggled to meet the national four-hour target for treating patients at the emergency department and was also "persistently failing to meet" the 18-week waiting-time target for routine procedures, the CQC said.
This pattern appears across the NHS. A&Es in England have missed the '95 per cent in four hours' target at A&E for a whole year – the first time this has happened since the figures began to be collected. Also, more people wait longer for cancer treatment, with 20,000 having to wait more than the target 62 days after a referral from a GP.
Culture of bullying and not learning from mistakes
Despite the findings of the investigation into Mid Staffs, and a number of reports since, the culture at many NHS hospitals is still a concern. CQC inspectors at Whipps Cross found a "culture of bullying and harassment" and many staff said they did not want to comment, for fear of repercussions. Poor relations between staff led to poor reporting when things went wrong on the wards, and a failure to learn lessons from mistakes.
Join our new commenting forum
Join thought-provoking conversations, follow other Independent readers and see their replies