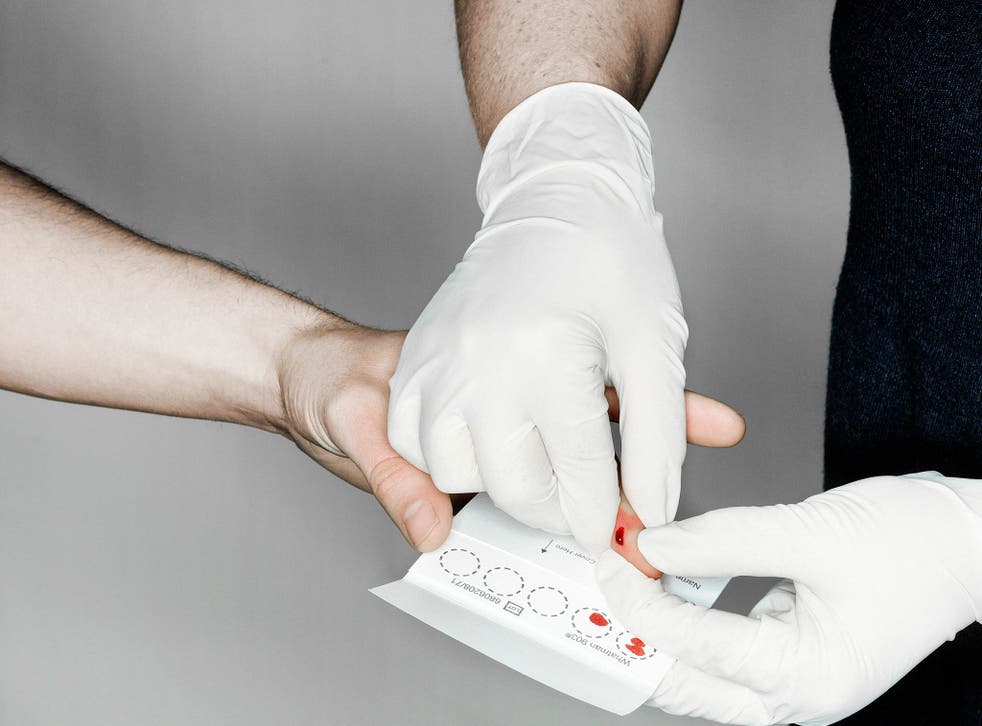 Blood test for breast cancer comes step closer
A simple blood test which could help predict a woman's chance of developing breast cancer is in development, after new research uncovered a genetic "early marker" of risk, scientists have said.
The genetic signature, which can be picked up by a blood test, was encountered in stored blood samples of women who went on to develop breast cancer.
Experts said yesterday that the findings were "promising", and could mean that one day women would be able to know early on if they are at a higher risk of breast cancer, allowing them make lifestyle changes, sign up for more regular screening, take drugs to cut their risk, or consider preventative surgery.
The discovery was made by researchers at University College London. Initially, a genetic signature was discovered in the blood of women who had an inherited predisposition for breast cancer, because of mutations to the BRCA1 gene.
These inherited mutations are the cause of around 10 per cent of breast cancers. However, scientists were then "surprised" to discover that the same genetic marker was present in the blood of women who did not have the mutation, but did go on to develop breast cancer.
Professor Martin Widschwendter, head of UCL's Department of Women's Cancer, said that the gene signature was able "predict breast cancer risk several years before diagnosis".
"The data is encouraging since it shows the potential of a blood-based epigenetic test to identify breast cancer risk in women without known predisposing genetic mutations," he said.
The blood samples analysed in the new study, which is published in the journal Genome Medicnie today, were collected several years before the development of breast cancer, and taken from two large cohorts of women.
It is still unclear whether the genetic marker, produced by a process of change to the gene called methylation, is just an indicator of breast cancer risk, or is actually involved with the progression of the cancer itself.
Breast cancer remains the most common cancer in the UK, with new cases in around 48,000 women every year. It kills more than 11,000 women annually. Prevention is seen as crucial, and any future blood test could be a hugely useful tool to identify women most at risk.
Dr Matthew Lam, senior research officer at the leading charity Breakthrough Breast Cancer, which has launched its own major research project into the causes of breast cancer, said the discovery of a new genetic signature could allow for more accurate assessment of breast cancer risk.
"These results are definitely promising and we're excited to learn how further research could build on these findings," he said. "This could mean that in the future a woman may be able to have a simple blood test to look for this DNA signature, and therefore know if she is at a higher risk of developing breast cancer. If she does have this signature, she could then work with her doctor to explore the options available to help her take control of her own risk. These could include lifestyle changes, tailored breast screening, risk-reducing drugs or surgery."
However, Dr Kat Arney, science communication manager at Cancer Research UK, cautioned that while the findings were "intriguing", more research would be needed to understand how the gene changes affected breast cancer risk, before the findings could be turned into a new screening test.
Register for free to continue reading
Registration is a free and easy way to support our truly independent journalism
By registering, you will also enjoy limited access to Premium articles, exclusive newsletters, commenting, and virtual events with our leading journalists
Already have an account? sign in
Register for free to continue reading
Registration is a free and easy way to support our truly independent journalism
By registering, you will also enjoy limited access to Premium articles, exclusive newsletters, commenting, and virtual events with our leading journalists
Already have an account? sign in
Join our new commenting forum
Join thought-provoking conversations, follow other Independent readers and see their replies