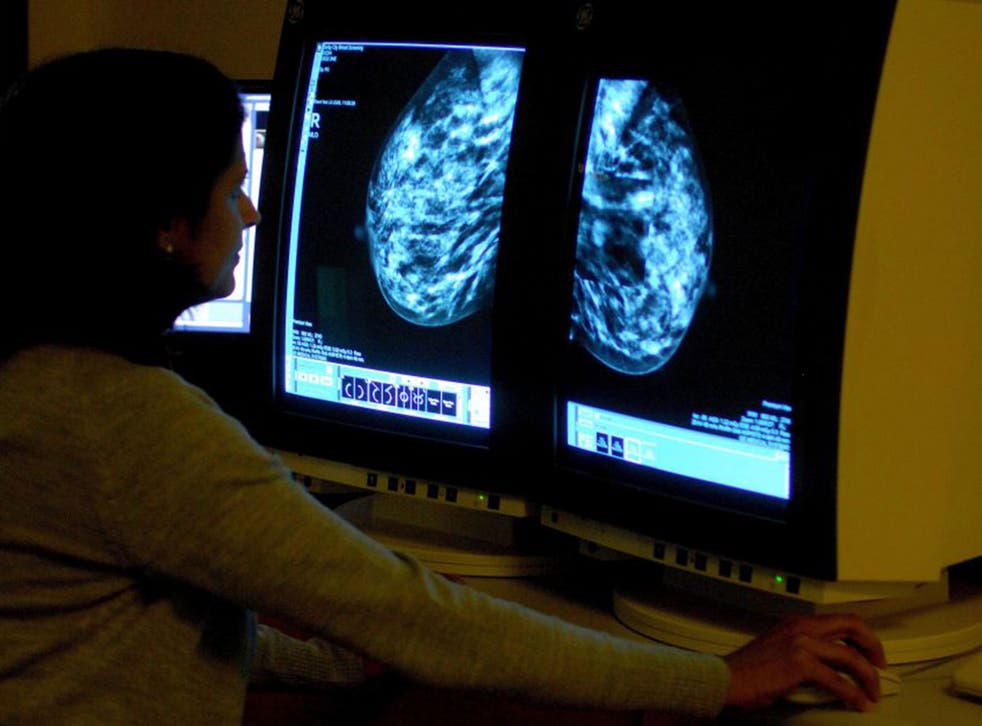 Breast cancer: Pills that cost 5p could treat women with the illness
The pills, prescribed to strengthen bones, could save 1,000 lives a year
Five pence pills already routinely prescribed to strengthen bones could save 1,000 lives a year if used to treat breast cancer, according to eagerly awaited new evidence.
However, experts have warned that unless the Government intervenes, many patients could miss out because the drugs are not licensed for use against cancer.
The drugs, known as bisphosphonates, have been used for years to treat the bone-weakening condition osteoporosis.
A new analysis of evidence from 18,766 patients, published in The Lancet medical journal, reveals that among post-menopausal women with breast cancer, the drugs reduced 10-year mortality risk by 18 per cent.
About two thirds of all women with breast cancer could benefit from the drugs, and according to the leading research charity Breast Cancer Now, 34,000 women could benefit and their routine use could save up to 1,000 lives a year.
Bisphosphonates are now off-patent, meaning they can be made by any drug company, and are therefore available at a very low cost. However, this means that there is no commercial incentive for any company to go through the sometimes lengthy and costly process of securing a licence for the drug to be used in a new way.
Lack of a licence has, according to charities, made doctors reluctant to prescribe other so-called "re-purposed" medicines in the past, including another breast cancer drug, tamoxifen, as well as novel treatments for Parkinson's and multiple sclerosis.
Members of the Association of Medical Research charities last year called on the Government to intervene by assuming responsibility for seeking licences in the event of new evidence of a drug's benefit for a new group of patients.
A Private Members Bill was rejected amid Government concerns of a conflict of interest. However, a new Off-Patent Drugs Bill, brought forward by the newly-elected Labour MP Torfaen, Nick Thomas-Symonds, has now gone before Parliament and will have its second reading in the autumn.
New evidence on the lifesaving potential of bisphosphonates will increase pressure on the Government to act.
Baroness Delyth Morgan, chief executive of Breast Cancer Now said that the Lancet findings were one of the "most important steps forward in breast cancer treatment" since the introduction of the landmark drug, Herceptin, more than 10 years ago.
"But this time we're talking about a few pence rather than thousands of pounds, and millions saved by the NHS," she said.
She urged governments and regulatory bodies across all four UK nations to look at ways of ensuring patients had routine access to repurposed, off-patent drugs.
Doctors can and often do prescribe drugs for purposes outside their licence. General Medical Council guidelines state they may do so if, for medical reasons, they consider it necessary. However, Breast Cancer Now said that doctors made themselves personally liable if they prescribed off licence, and have heard encountered many examples of GPs and even specialists being reluctant to do so.
In the case of tamoxifen, for example, a breast cancer drug previously only used for treatment, but later shown to have preventative benefits as well, no increase in prescribing was seen between the drug being recommended for the new use in summer 2013, and a review of National Prescription Records a year later. The drug was not licensed for the new use.
Professor Robert Coleman, lead author of the Lancet study, said the results showed bisphosphonates prevented around a quarter of breast cancer recurrences in the bone, and one in six of all breast cancer deaths in the first decade of treatment.
"These simple, well-tolerated treatments should now be considered for routine use in the treatment of early breast cancer in women with either a natural or medically induced menopause," he said, adding that they could also reduce the adverse side effects of another class of cancer drugs, aromatase inhibitors, when used in combination.
The most common site for breast cancers to spread is the bone, with tumour cells released from the primary cancer remaining dormant in bone for years, before spreading, or metastasising, to other parts of the body.
Bisphosphonates, which prevent loss of bone mass, are thought to work by making the micro-structure of bone less prone to cancer cell development.
Nick Thomas-Symonds MP, who introduced the Off-patent Drugs Bill, said: "This is a chance to unlock the wider properties of these low-cost drugs for hundreds of thousands of people that could benefit."
A Department of Health Spokesperson said: "Clinicians can already prescribe medicines outside the terms of their licence if they believe it is right for their patients. We are considering how we can best support clinicians to prescribe medicines off label appropriately and with confidence."
Breast cancer survival rates have improved significantly in recent years, with 78 per cent now surviving for 10 years or more. However, there are still more than 50,000 new cases a year, and there were 11,716 deaths in 2012, according to latest figures from Cancer Research UK.
Join our new commenting forum
Join thought-provoking conversations, follow other Independent readers and see their replies