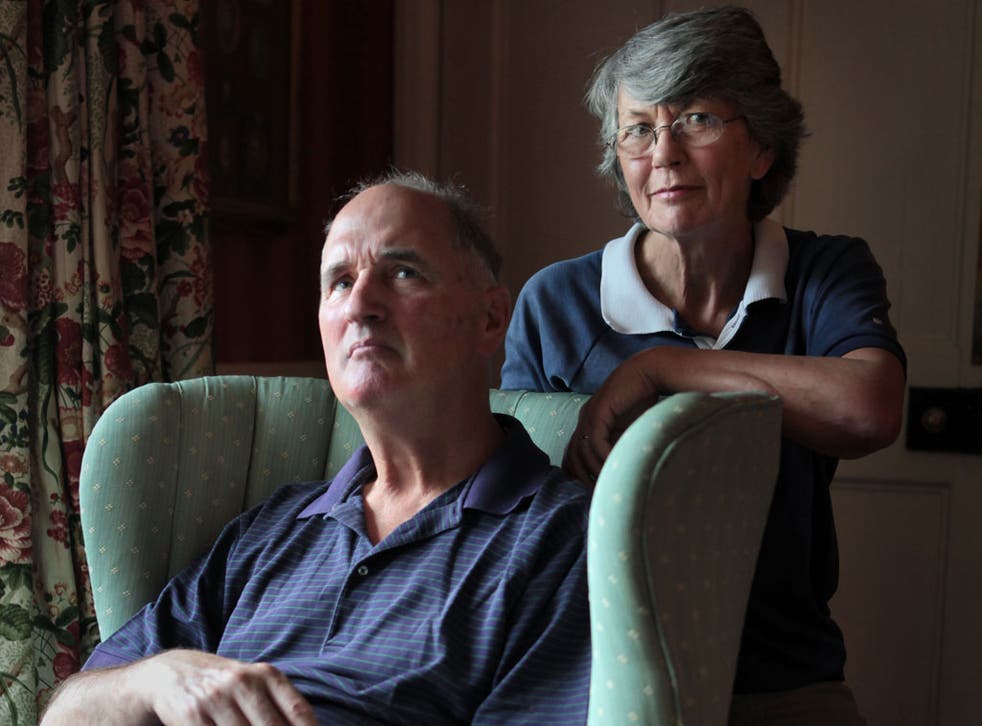 Britain unprepared for 'tsunami' of dementia patients
More than one million people are expected to be living with the disease in 10 years, but there are not enough care homes. Sarah Morrison reports
Britain's dementia crisis is so huge that care homes and the health system will soon be unable to cater for the "tsunami" of people expected to be living with the condition, health experts warn. Unless a radical overhaul is taken, they say that hundreds of thousands of patients will face a future defined only by neglect.
Days before World Alzheimer's Day and the start of a three-month national dementia awareness campaign launched by the Department of Health (DoH), researchers and former government advisers told The Independent on Sunday that if current trends continue, the healthcare system will reach saturation point in coming years.
One in three people over the age of 65 will go to their grave with dementia – a group of symptoms that slowly cause the mind to deteriorate. More than 800,000 people in this country live with the condition, and the number is expected to rise to more than a million in less than 10 years' time. Britons now fear dementia more than cancer or death, according to a national poll, but new research by the Alzheimer's Society shows that fewer than one in 10 people aged 55 or over have a plan in place to deal with a family member's diagnosis.
Clive Ballard, professor of age-related diseases at King's College London and director of research at Alzheimer's Society, said that if the current system carries on unchanged, "we will be accepting a model of neglect, because that's the only one possible". He continued: "If we start planning for numbers in 10 years' time, it will probably be too late. It's like an ostrich keeping its head in the sand.
"The capacity of the system is now just about saturated. In care homes in the 1980s, about 20 to 25 per cent of people had dementia. Ten years ago it was about two-thirds, and now it is probably greater than 80 per cent. Soon we are going to need a lot more care homes. It's the whole social and medical care structure, too – the system hasn't had to expand yet, but very soon it will."
Earlier this year, the Prime Minister referred to the issue as a "national crisis". The DoH is launching an awareness campaign in England on Friday, in an effort to ensure potential sufferers know how to spot symptoms and where to go for help. Almost 70 per cent of people with dementia are undiagnosed, and in some parts of the South-west of England, only 27 per cent of people with the condition are aware they have it. While there are an estimated 10,000 vacancies in care homes per year, according to the DoH, the number of homes is falling.
The care and support minister, Norman Lamb, told The IoS that dementia "is one of the most feared and misunderstood conditions". "Many people think that the symptoms are an inevitable part of ageing and little can be done to help, but this isn't the case," he said. He hopes that the campaign, which will offer families advice on how to have difficult conversations with loved ones, will help "everyone to understand dementia better – to put an end to the stigma that holds us back from coming together to tackle this growing problem".
This week's campaign is part of the Prime Minister's Challenge on Dementia, which pledged to double the funding for research into dementia and neurodegenerative disease to more than £66m each year by 2015, as part of its drive to transform the UK into a leader of dementia care and research. There are now 35 million people living with dementia worldwide, according to recent statistics, 10 million more than recorded in 2005. But while Shirley Cramer, chief executive of Alzheimer's Research UK, said the increased funding was a "great start", she admitted it "wasn't enough".
Dementia costs the UK economy £23bn a year – twice that of cancer, three times that of heart disease, and four times that of strokes, but only 2.5 per cent of the Government's medical research budget is spent on research into the condition. A quarter is spent on cancer, according to the most recent figures, which receives 12 times more government and charitable investment than dementia.
Ms Cramer added that the strains of the adult health and social care system, as well as changing demographics, have created the "perfect storm". She added: "If we don't look at it, 10 years down the line, we'll see an absolute catastrophe. We won't be able to afford the care needed for all these people; the NHS won't be able to cope, and they'll end up in beds when they should be looked after in communities."
The Government's reforms will look at supporting people at home, according to the DoH, which said the coalition's new £200m fund will support the development of specialised housing for older and disabled people. But in England, Wales and Scotland, people with dementia fill an estimated one in four of all hospital beds.
Jeni Bell, the first specialist nurse to train staff in dementia, located at Southampton General Hospital, said: "Generally, nobody is set to deal with it properly. Little pockets are doing it right, and there are individuals getting something right, but we haven't got a whole system approach." Her ward has been redesigned to help dementia patients – bed numbers switched for symbols and colour-coded doors for simplicity – but she added: "There's only one of me. We all need to recognise we need to make changes and support staff in hospitals to sustain them."
Janet Crampton, a former DoH programme manager who worked on the Government's national dementia strategy, is now leading a report on how to make York a "dementia-friendly" city for the Joseph Rowntree Foundation, to be published next month. She warned: "This is almost a tsunami of people who are going to need some support; unless we start thinking about it quite radically we are going to have our services full of people needing support at more intensive levels.
"The national dementia strategy promotes early diagnosis, but there's no point unless we have something to offer them. Statutory agencies aren't good at planning ahead; we have all the statistics, but they aren't necessarily investing in the future."
Case Studies
"The issue has been swept under the carpet"
Vicki Graham, 67, from Malmesbury, Wiltshire, is a carer for her husband, Jamie, 65, who was diagnosed with early-onset Alzheimer's five years ago. The former IT manager is unable to read or write and finds it difficult to express himself.
"It started when Jamie, who was used to standing up and making speeches, suddenly found he was lost for words. Now, he can understand everything, but can't explain why he's doing things. My goal is to have him stay at home, but I don't know what's going to happen. Dementia has been swept under the carpet."
"I've seen the end results and know, unless someone finds a cure, what I'm headed for"
Norman McNamara, 54, from Torquay, has dementia with Lewy bodies. Diagnosed five years ago, he suffers from night terrors and hallucinations and is no longer able to fasten his buttons or tie his shoelaces. Cared for by his wife, Elaine, Mr McNamara has just published guidelines for local businesses on dementia symptoms.
"When I was diagnosed, I was absolutely devastated. I've seen the end results and know, unless someone finds a cure, what I'm heading for. I felt like I was on the scrapheap. I give conferences now on dementia in my suit and tie, and what people don't know is that my wife has to shower and get me ready in the morning; it's so frustrating. Some days I can't go out as I don't know where I live. I have 18 grandchildren – the easiest thing would be to give up, but they know their granddad is fighting this."
Join our new commenting forum
Join thought-provoking conversations, follow other Independent readers and see their replies